We had another wonderful week, but we are finding ourselves getting a little lazier and lazier every day. The mercury creeps into the 90s, and we don't have air conditioning. There's a lot of napping, and we're both spending too much time on our computers. What happened to our plan to meditate and practice yoga every day? That has happened exactly zero times since our summer break started.
Today, we set a goal to ride our bikes every day this week. Let's see if we can make that happen.
Also, our Spanish classes have gotten pretty intense. It would behoove us to get our butts out of the house to practice with some real Chilenos.
Here is a roundup of the staycation fun we enjoyed this week:
Movie al Fresco
The annual Festival de Cine Wikén 2017 filled the nearby park – Parque Bicentenario – with moviegoers, including us. Monday evening, we walked from our apartment with friends and paused at a funky wine bar for a cheese platter and wine, but we got so distracted, we had to take a taxi for the last stretch to the park in order to arrive before the movie started. After picking up our tickets at the "will call" window, we found our seats and settled in. I kicked off my sandals and put on some socks, a pashmina and a scarf to keep me comfy in the cool evening breeze. Because of our barely on-time arrival, Tony and I didn't scope out the food and drink vendors this time, but Wikén is definitely on my radar for next year. We saw the film "Captain Fantastic," which was wholly entertaining and thought-provoking. A few times, I forced myself to look away from the gigantic screen to notice the mountains, the city, the sky. I felt really lucky. I meant to take a picture, but I forgot. So, here's one from the neighborhood website.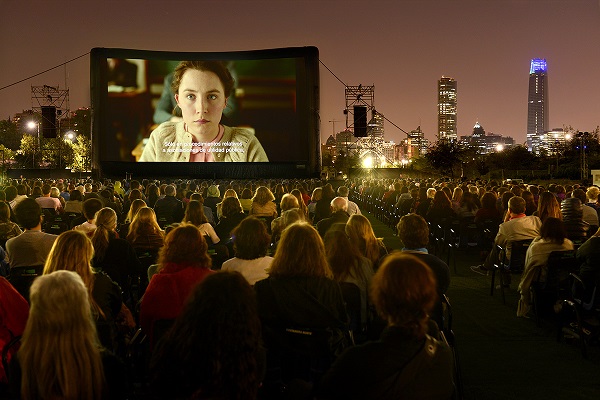 Our Second Favorite Santiago Cerro
Our best touristy outing this week occurred Wednesday. We took the metro to The Blue Jar (which Brie and I discovered on our Hop On Hop Off bus adventure). They served a simple breakfast of a soft boiled egg (mine came in this quirky guinea pig egg cup), toast, avocado, juice and coffee.

I got a call in the middle of breakfast from a massage therapist who was waiting at my house for me. I had already rescheduled once, and now I had forgotten my appointment altogether! I'm such a moron. Anyway, she very kindly agreed to reschedule again for the next day.
We then metro-ed two stops back to explore Cerro Santa Lucia. Buses and cars zoomed by under the pedestrian bridge to the hill. You would never suspect such a lush oasis in the middle of the gritty city center. The rocky cerro (hill) got a facelift at the end of the 19th century when Santiago Mayor Benjamín Vicuña Mackenna launched a series of urban improvements, including development of the 629-meter park. Tony and I signed a visitor's log and then began the climb to the top. A network of paths and stairways crisscrossed the hill, leading us to shady nooks and plazas with sculptures, fountains, manicured gardens, and ivy-draped stone walls. At the top, we got a 360-degree view of Santiago.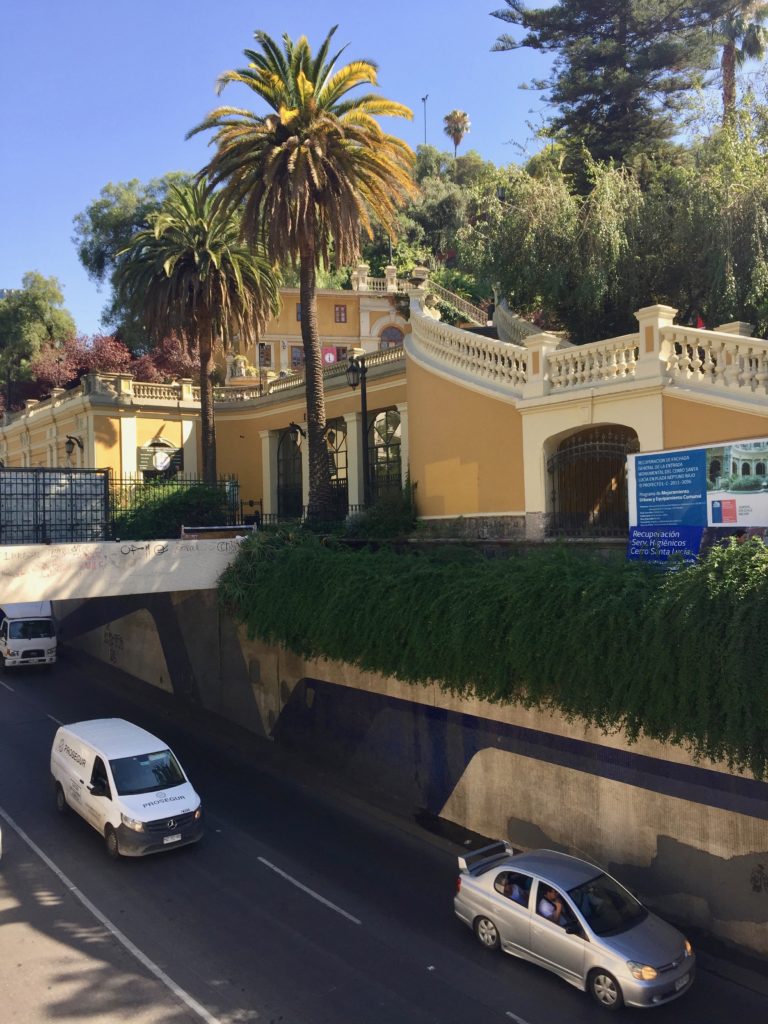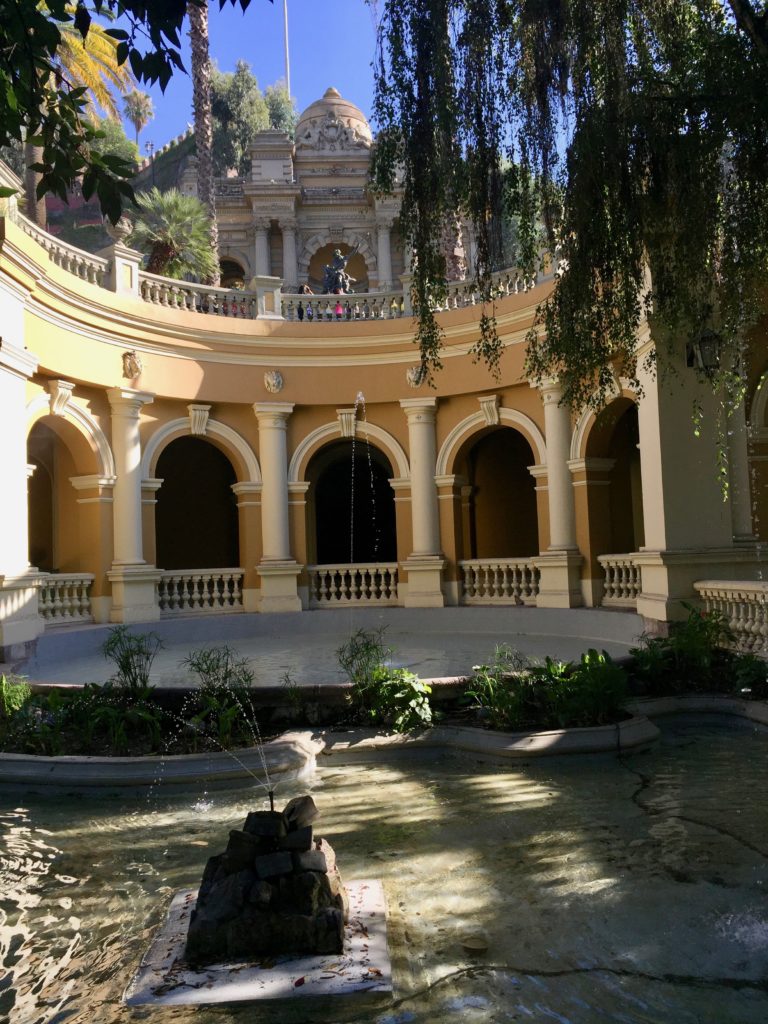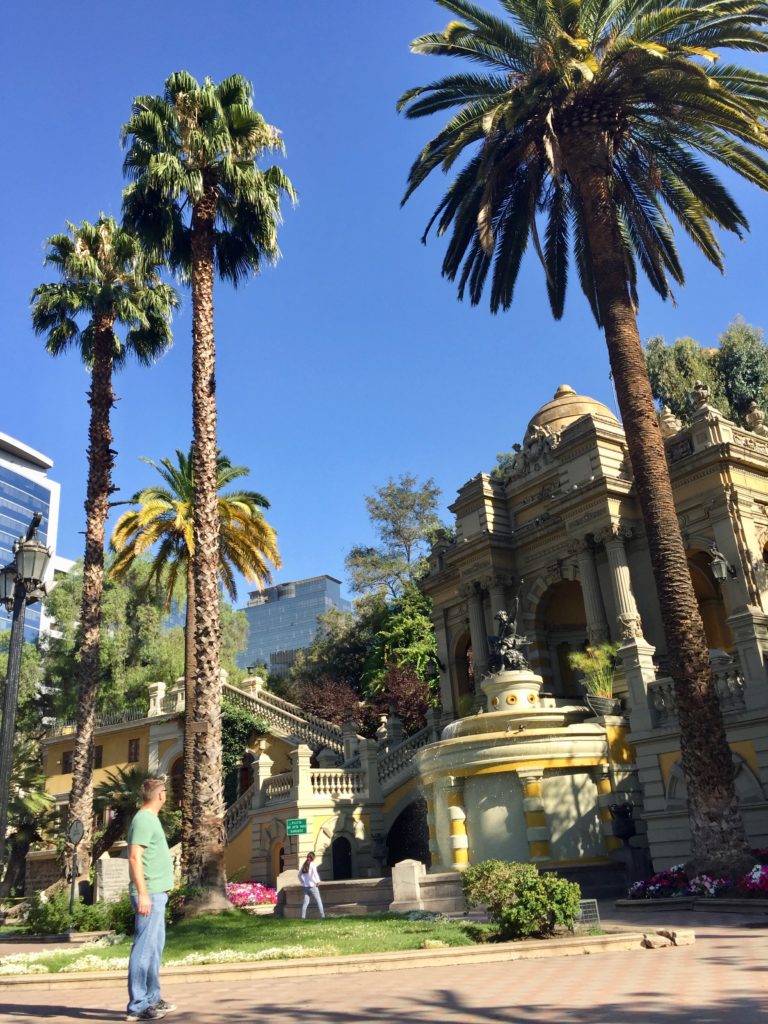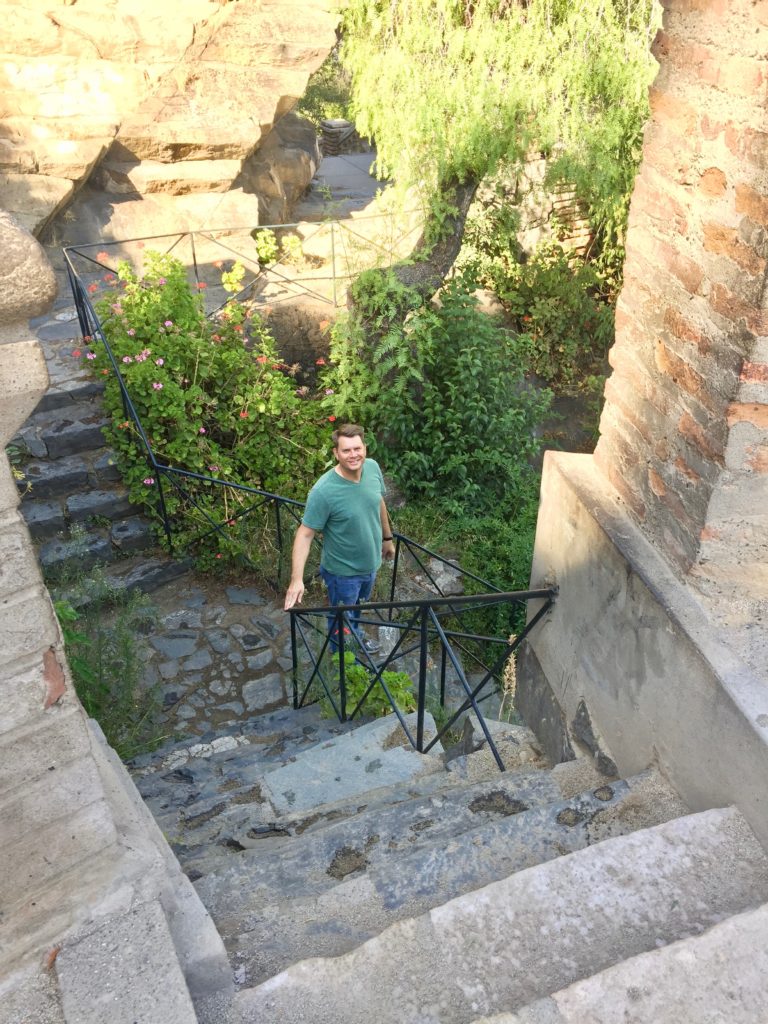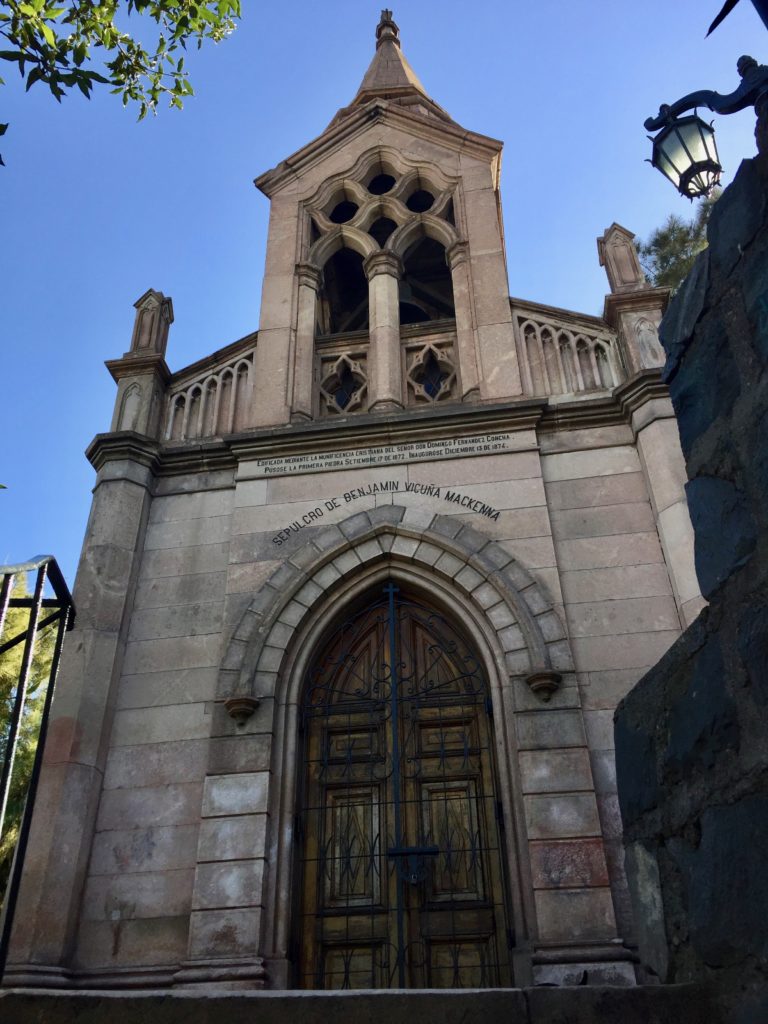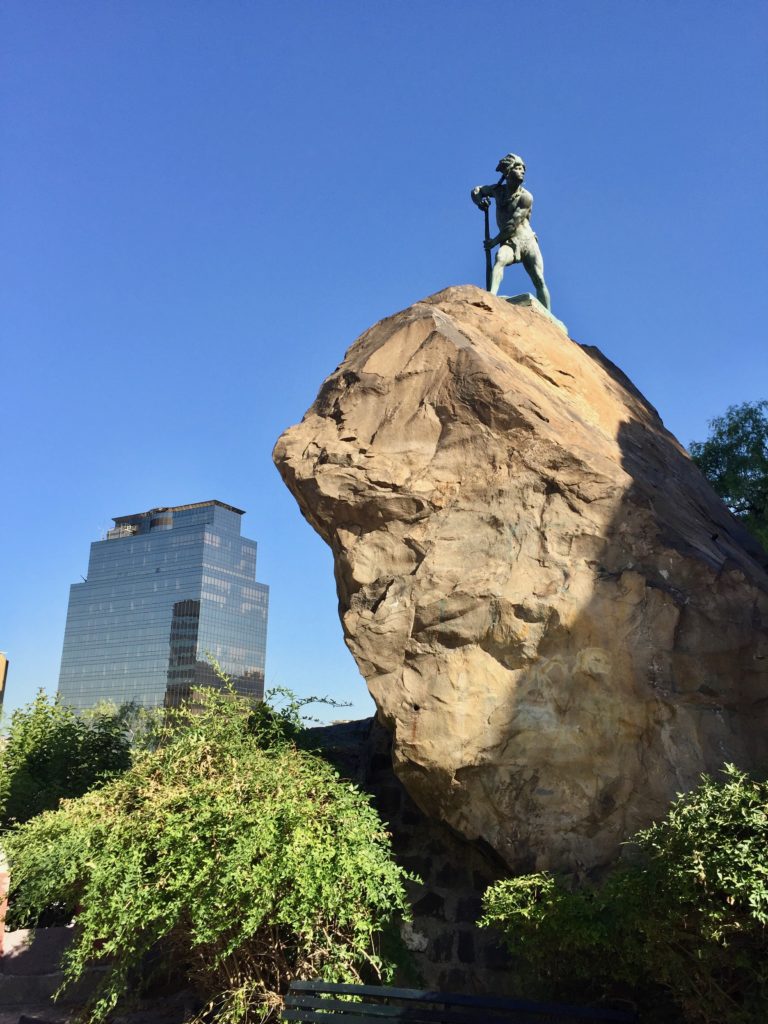 You can see Cerro San Cristobal in the distance.
That's our usual cerro.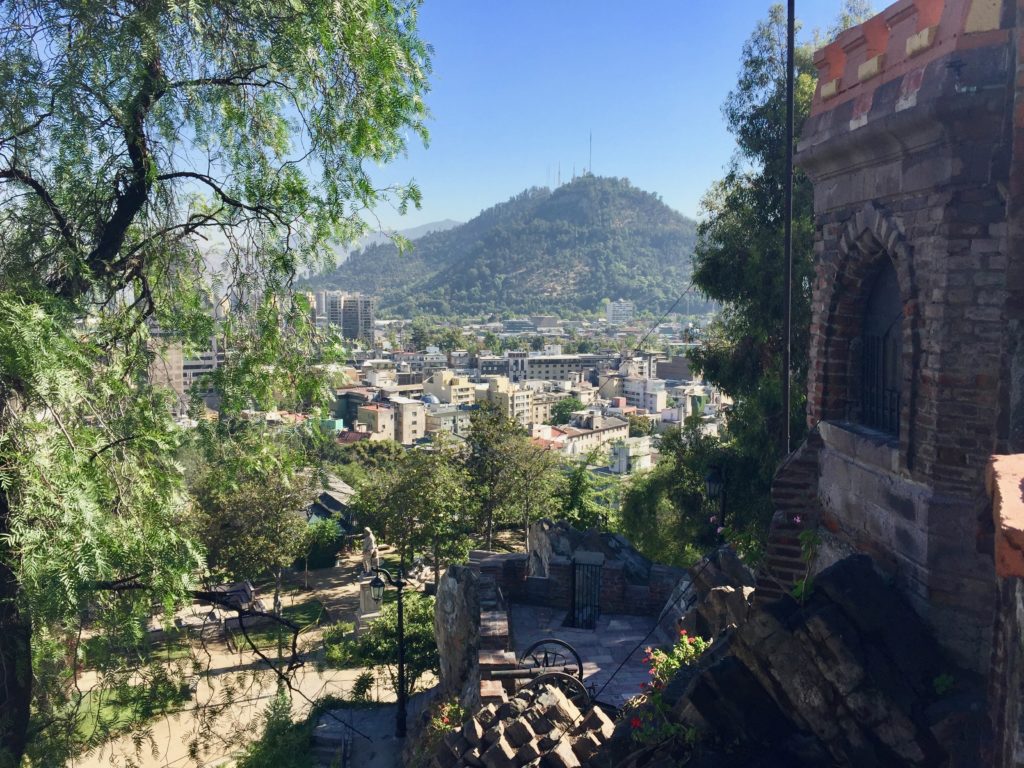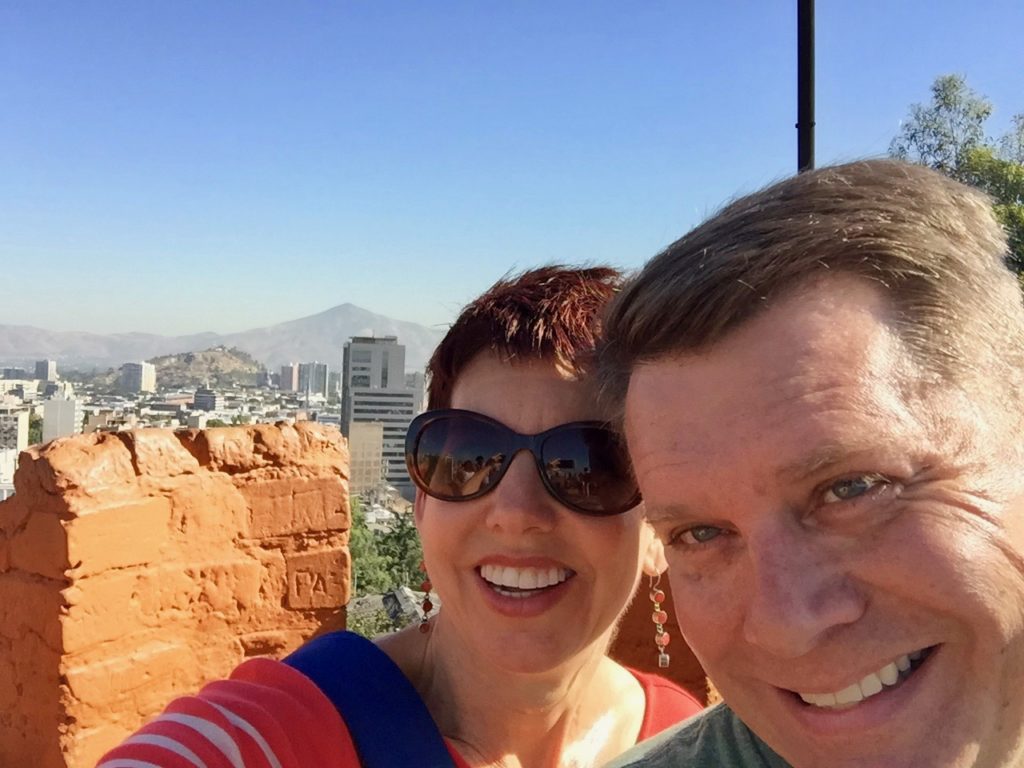 The next day, as planned, I stayed home and waited for Taralee, a massage therapist from the U.S. living here in Chile. I'm so glad she was willing to reschedule after I blew her off. The massage was dreamy!
Hanging Out
In addition to the movie in the park, we enjoyed a few fun social outings this week.
Thursday, we met friends for dinner at one of our favorite local restaurants, Tiramisu.
Friday, we celebrated "Old New Year," a tradition from the Russian Orthodox Church, with my colleague Samantha and her husband, Misha, who is from the former Soviet republic of Georgia.
Saturday, my friend Craig came back to town after spending Christmas with his family in the States, so we wished him a happy birthday with a gathering at the traditional Chilean restaurant Doña Tina.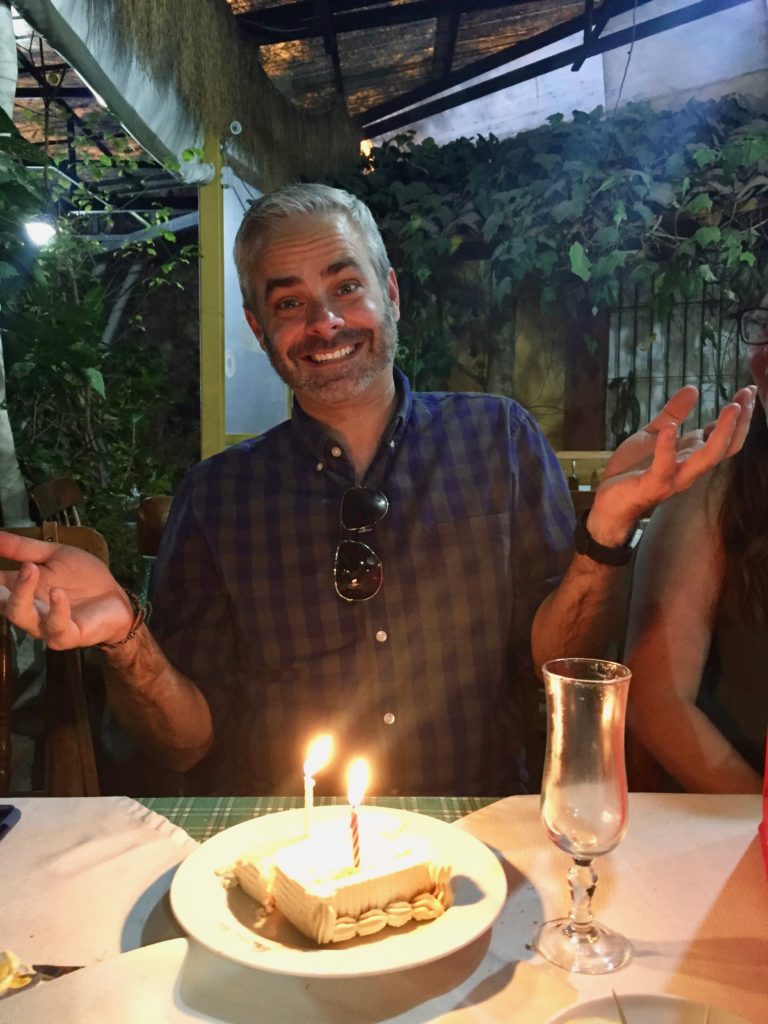 Summer Reading
Otherwise, I've been reading like crazy, which is such a treat! I curl up on the balcony sofa with Ella and my kindle and let myself get distracted by the squawking parakeets darting through the trees.
So far this holiday, I've read:
The Cuckoo's Calling by Robert Galbraith (aka J.K. Rowling)
The Neruda Case, by Roberto Ampuero (Historical fiction that takes place near Santiago and includes poet Pablo Neruda as one of the main characters.)
Truly, Madly, Guilty by Liane Moriarty (I love everything she writes!)
The Serialist by David Gordon (Is anyone else frustrated about the free book choices on amazon prime? Meh.)
Candide by Voltaire (This is Tony's favorite book of all time, so I thought I should read it.)
And now, I'm devouring My Invented Country by Isabel Allende.
My parents visit one week from tomorrow!