Spring Break! Off to the Maldives – a garland of islands in the Indian Ocean off the southern tip of India. Woo hoo!
According to Visit Maldives:
The Maldives lies in two rows of atolls in the Indian Ocean, just across the equator. The country is made up of 1,190 coral islands formed around 26 natural ring-like atolls, spread over 90,000 square kilometers. These atolls structures are formed upon a sharp ridge rising from the ocean, making way for their secluded uniqueness.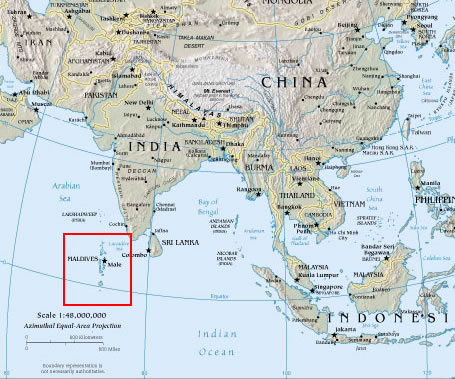 Sunday, March 24
Air India recently cancelled our short flight to the Maldives via Colombo, Sri Lanka. We felt lucky the savvy travel experts of Sun Tours had our backs and rebooked us on another flight. It's probably a good thing I was too busy to process the new schedule. On paper, it seemed OK: Delhi to Kochin (southern India). Kochin to Male (capital of the Maldives). Seaplane to our resort in the Lhaviyani Atoll.
Here's how it really played out: We left for the airport at 4:30 a.m. About half way into our "direct flight" to Kochin, the flight attendants made the stow-everything-and-get-ready-to-land announcement. After panicking momentarily that we had boarded the wrong plane, we soon realized we had been duped by the "fake direct flight" ploy. Grrr… uncool, Spice Jet. We dropped off about half the passengers in Hyderbad, stayed on board while the crew cleaned the plane, and then waited for the new group to board. Eventually, we reached Kochin and caught our connection to Male, where we traveled by seaplane to the Kuredu Resort (after a quick stop at another resort). We finally reached paradise after 13 hours and FIVE separate flights.
Our first seaplane ride ever!

View from the seaplane.

Unloading at our island.

And now I'll stop whining and start gushing … this place was fabulous! We came here at the recommendation of my brother and his wife, who vacationed on this island last year. Kuredu Resort has the whole island to itself. For six glorious days, Tony and I were living large in a beachfront villa overlooking the Indian Ocean. See?

By the time we arrived and checked in, we barely had time for dinner before crashing for the night.
Monday, March 25
A compulsory informational meeting gobbled up much of our morning. We bought a power adaptor, signed up for a few excursions, and did a little exploring around the island.
At 2:30, we joined about 12 others for a snorkeling boat trip. Our guide, Greg, was from South Africa, but we and he were the only native English speakers. His onboard presentation about the snorkeling site was quite funny as he tried to make himself understood. Surely the Europeans spoke enough English to get the gist, but he kept miming ridiculous concepts like "brain coral." Our favorite line was when he asked, "How do you say snorkel in German?" The Germans replied in unison: "Schnorkel." Ha! Now Tony and I cannot stop saying, "Do you vant to schnorkel?"
Oh, snorkeling was super fun. We swam around two different sites teeming with fish and took a few mostly lame photos with a borrowed underwater camera.
That evening, we were back on a boat for the complimentary sunset cruise. About 30 people sat stiffly on the benches of a dive boat, and I was beginning to wonder whether this was really worth our time. After motoring around for half an hour, the crew began shouting and clapping. Dolphins! They seemed to respond to the cheers, swimming right alongside our boat and leaping into the air. One baby dolphin repeatedly jumped out of the water and spun around like a corkscrew. Their playful demonstration had us all laughing and cheering. One of the crewmen pulled me to the front of the boat, so I sat on the deck with one foot in the water, getting soaked by the waves but loving every moment.
The boat crew looks for dolphins.

Jackpot!

Tuesday, March 26
My favorite way to start the day here was sitting on this porch bed with a strong cup of coffee (Nespresso machine in our villa!), cherishing the salty air, rolling surf, gentle breezes clicking the palm fronds together, and the sea's gradual transition from clear cerulean at the shore to turquoise to jade and ultimately nearly black as it drops off the horizon.

But enough with the poetic ruminations… there was no time to sit around trying to name the exact color of the water. I decided I wanted to walk the perimeter of the island today, so that's what we did. Kuredu is part of the Lhaviyani Atoll, created gajillions of years ago when a volcano erupted. The volcano's crater now forms the center of the atoll – a relatively shallow and calm lagoon with sloping reefs – ringed by small islands. That means one side of Kuredu faces the atoll's interior, while the other side faces the open sea. Our walk revealed interesting differences on the two sides of the island – coarser sand, broken coral, crashing waves, and refreshing winds on the Indian Ocean-facing side (where our villa was located) and babypowder sand with gently lapping waves and no breeze on the interior-facing side. At one point, we peeled off our cover-ups and left them inside my sunhat on the sand while we walked, waded and eventually swam from a long skinny sandbar cutting through perfectly clear water. The strong current seemed to deter most fish, but we did see a small black-tipped reef shark. It felt like a Disney moment. You know that blue water in the Splash Mountain log ride? This water was THAT blue. How is that possible?
By the time we fully circumnavigated the island, we were exhausted. After a nap, a dip in the pool, a quick snorkel outside our villa, lunch, a visit to one of the wifi hotspots (which was not so "hot" of a spot as it lost power after a few minutes), we decided to go for another swim in the pool created by concrete pylons a short distance offshore in front of our villa. However, the low tide left little water for swimming. Instead, we donned a scuba mask, sat on the sandy bottom and bent over the rocks and dead coral to observe the tidepool ecosystem. Tiny technicolor fish, hermit crabs, eels and sea slugs seemed unconcerned about the receding tide. I guess they knew it would be back again soon.
Low tide. That's me standing out by the concrete pylons.

High tide. Hundreds of crabs crawl onto the pylons and hang on for dear life.

With set meal times at one of the three restaurants, we built our day around food, and then – like the street cows of New Delhi – we paraded en masse to the next feeding. Breakfast and lunch featured standard buffet fare, but the dinners raised the bar with culinary themes. Tonight's "Arabian" seafood kebabs ranked among my favorite meals in recent memory.
The "O Resort" restaurant.

Tony photobombing my pic of this cool bird.

Wednesday, March 27
Because we hadn't gone scuba diving in two years, we decided to refresh our skills with a scuba orientation class. Our instructor, Sebastjan, introduced us to the Prodivers dive center and the island's "house reef," a vibrant coral reef literally a short jump off the end of the jetty. It was our first time diving in water warm enough to ditch the wetsuit. (around 30C; 86F. Perfect!) We carried all our gear to the end of the pier (except for the tanks which arrived via wheelbarrow). I had a little trouble with a hissing inflator on my vest, so Sebastjan had to run back to the dive shop and switch it out for a new one. Once in the water, we went over a few basic skills: flooding and clearing your mask (I am an EXPERT at this because my upside-down-lightbulb-shaped face makes every mask leak…), losing your regulator (the oxygen source), and running out of air and using your dive buddy's "octopus" (the extra regulator everyone carries).
Getting ready to dive. A man cut in front of me to steal the pink tank, but I got a funky orange one. Why does that matter? I don't know, but it does.
After ensuring we knew the basics, Sebastjan led us on an hourlong dive. We cruised along next to a nice coral reef and visited a boat wreck. Highlights: a sea turtle, puffer fish, a school of about 20 huge translucent orange-and-white angel fish, tons of geeky looking pointy-nosed unicorn fish, and zillions of colors darting in and out of the coral. One of the most amazing experiences on earth has to be floating silently into a huge crowd of ambivalent rainbow fish who make space but otherwise ignore your presence.
We loved this dive so much that we signed up for an afternoon boat ride to another dive site: Tinga Giri. It took just 10 minutes to get there, and it was such a treat not to wrestle into a wetsuit on a rocking boat. We just attached our BCDs to our tanks, slipped on our fins and masks and jumped in. This was another gorgeous coral reef with brilliant diversity. At one point, a huge tuna swam by. I thought it was a dolphin at first and I nearly hyperventilated with joy.
I had borrowed a mask from the dive shop to testdrive it before buying, and it worked beautifully! Sucked right on to my mutant face and didn't leak a bit. It fogged up repeatedly, though, so good thing I'm a pro at taking off and cleaning my mask underwater. Later, we got some great tips from the divemasters: coat your mask with toothpaste overnight and don't wear any sunscreen on your face. What?! I didn't try the toothpaste, but the sunscreen advice made a huge difference. Who knew creams caused mask fog? Geez.
Thursday, March 28
Lazy breakfast.
Eventually, we headed to the dive shop to rent snorkel gear, and I turned in my borrowed mask and bought a new one. We walked out to the pier and hopped in the water for a snorkel on the house reef. My new mask leaked like crazy! So frustrating. It was the same exact model as the one that worked so well yesterday. I tried adjusting the straps a million times. If I let it fill about half way, I could still sort of see. Aaarrgghhh!
We did spot a turtle munching grass on the sea floor. She swam right at my face when she came up for air; I actually had to move out of her way.
Back in the room, we rinsed the mask and discovered it had a piece of plastic missing, which caused the leak. After lunch, we took the leaky mask back to the shop, and they exchanged it for a new one. We repeated our morning snorkel with much more success in the mask department. Overall today we saw three sea turtles (although Tony thinks the one I spotted was the same one we had seen earlier). Several massive buck-toothed parrotfish chewing on the coral kind of freaked me out, but like all the other intimidating sealife, they left us well enough alone. (Photo from cruisemaldives.travel.)
Another ubiquitous underwater attraction is the schooling of hundreds of fish into a blob that appears, from a distance, to be one enormous sea creature. I was fooled more than once, and believe me your stomach flips over when that happens.
We saw schools like this one many times. (Photo from US News Travel.)
Friday, March 29
We snorkeled the house reef again and saw a huge turtle! Tony chased a ginormous black fish – a grouper, maybe? – which kept just out of reach with a quick flick of its tail. We also found three lionfishes like this one in a little coral cave. (Photo from Travel For Passion website.) Pretty, but venomous, so we didn't linger.
While I'm a strictly stick-to-the-surface snorkeler, Tony bravely held his breath and dove to explore the depths, including the tip of the boat wreck.

Later, we walked out to the barely visible sandbar at high tide. It was obvious how the sandbar was formed; waves crashed onto it from both sides. We struggled to stay upright, unstable on the soft sand with the surf pounding our shins, but we looked rather Biblical, as if we were walking on water. After trudging quite a ways out into the sea, we wondered whether the sandbar ever disappeared completely when the tide got very high. Just in case, we quickly paddle-sprinted back to shore.
For our last dinner at Kuredu, our waiter, Shareef, had set a fancy table for us with flowers and sand stencils of a turtle, dolphin and letters spelling out "See you soon."
Bittersweet.

Windy evening.

Every night after dinner, we sat outside at the seaside bar, sipping drinks and staring at the underwater floodlights for passing sharks and big fish. Night after night, we watched between one and four large fish circle one of the lights repeatedly, hypnotically, breaking stride only when a reef shark or another unwelcome visitor approached.
Saturday, March 30
We were sad to say good-bye to our utopian island, but it was time for the long journey home. Even though Spice Jet tricked us with its pretend "direct flight," we have to give them kudos for being on time or early each leg of the trip. We left Kuredu around 11 a.m. and got home shortly after midnight.
Have I piqued your interest in the Maldives? Check out the Visit Maldives website for more facts, photos and awesomeness.