It's January. It's January. It's January.
I have to keep telling myself that because it's almost 90 degrees F outside today with gorgeous blue skies and a gentle breeze. I'm sitting on our balcony sofa, listening to the neighbor kids playing in their pool. School is on summer break for seven weeks. It should be July.
But it's January.
We made no plans for this vacation, other than enrolling in Spanish classes. Although I get pangs of jealousy when I see friends on Facebook frolicking at beaches in Asia, hiking in southern Chile, or hanging out with family wherever home is, I am cherishing this time as a way to really get to know our home, our neighborhood, and our city.
Here's what we've done so far as tourists in our new hometown:
We like to move it, move it.
Every day, we either take a long walk or hit the bike trails – or both. Sometimes we stroll through our residential neighborhood, occasionally stumbling upon a café we hadn't seen before or a hidden little park. Sometimes we join the throngs of commuters and tourists in the busier parts of town, window shopping and stopping for ice cream or beer. We bike up Cerro San Cristobal several times a week with Tony going for distance and me going for time (we both beat our personal records yesterday!). On one of our bike rides, I was determined to reach the mountains. They looked so close! But after a very long time on a trail along the man-made Canal San Carlos, the mountains continued to elude us. ("They don't even look any closer," Tony said, as we finally turned around to head home.)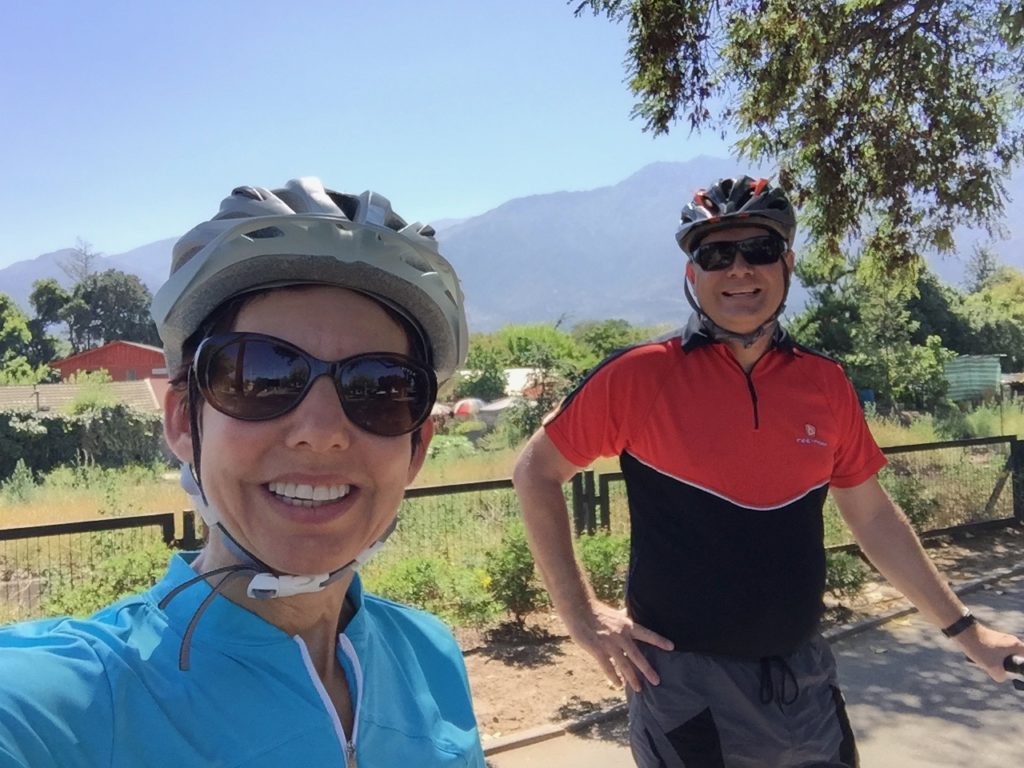 In addition to our walks and bike rides, Tony and I continue to sweat our booties off twice a week in our neighborhood park, Plaza Las Lilas, with trainers Anton and Andrea. Here, Anton helps me with my form as I struggle with the suspension training exercises.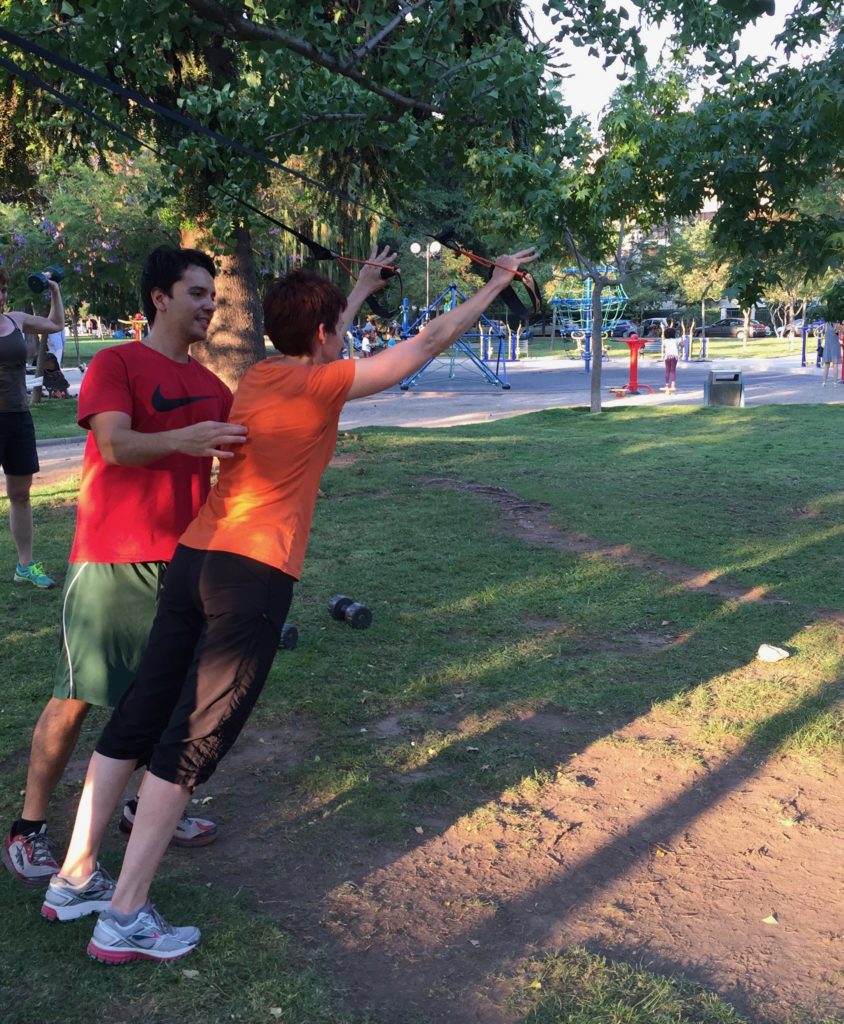 Hop On Hop Off.
My friend Brie and I spent Dec. 27 exploring Santiago with the Turistik Hop On Hop Off Bus. Maybe a bit overpriced, the tour nevertheless featured well-marked stops and an informative audio tour in English (as well as Spanish, Portuguese, German, and French).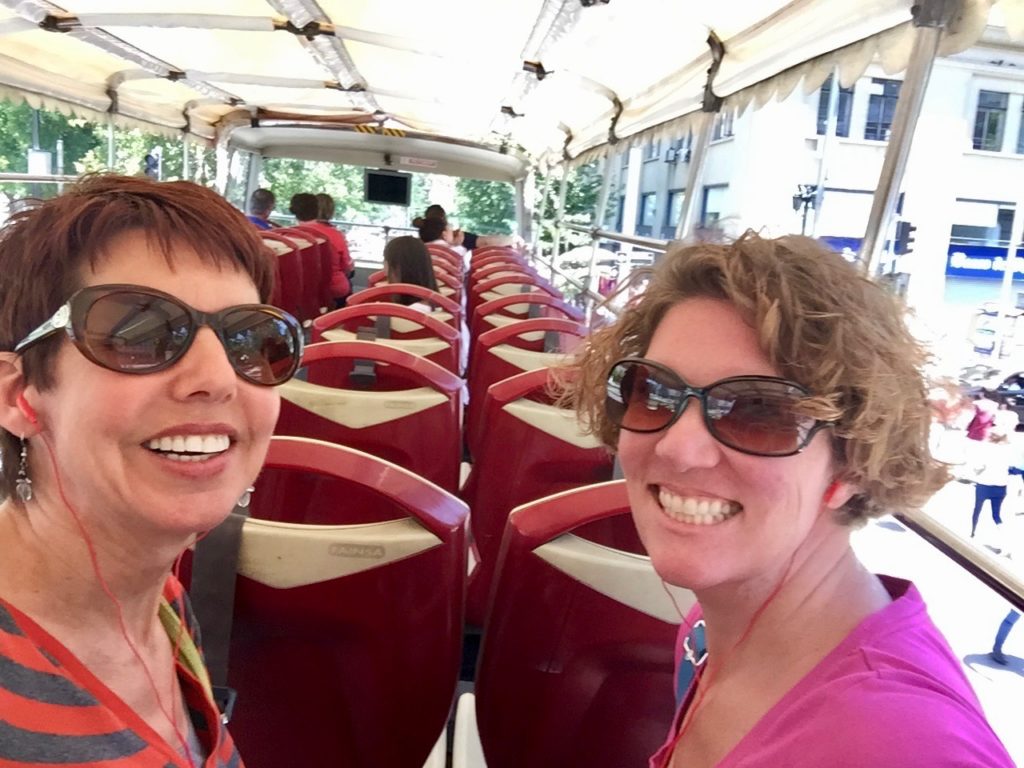 We first hopped off in Bellavista to catch the funicular up to the top of Cerro San Cristobal. As I mentioned, Tony and I cycle that hill regularly, but Brie had never been there and I had never ridden the funicular. So up we went after a short wait in line at the Pio Nono station, which was inaugurated in 1925.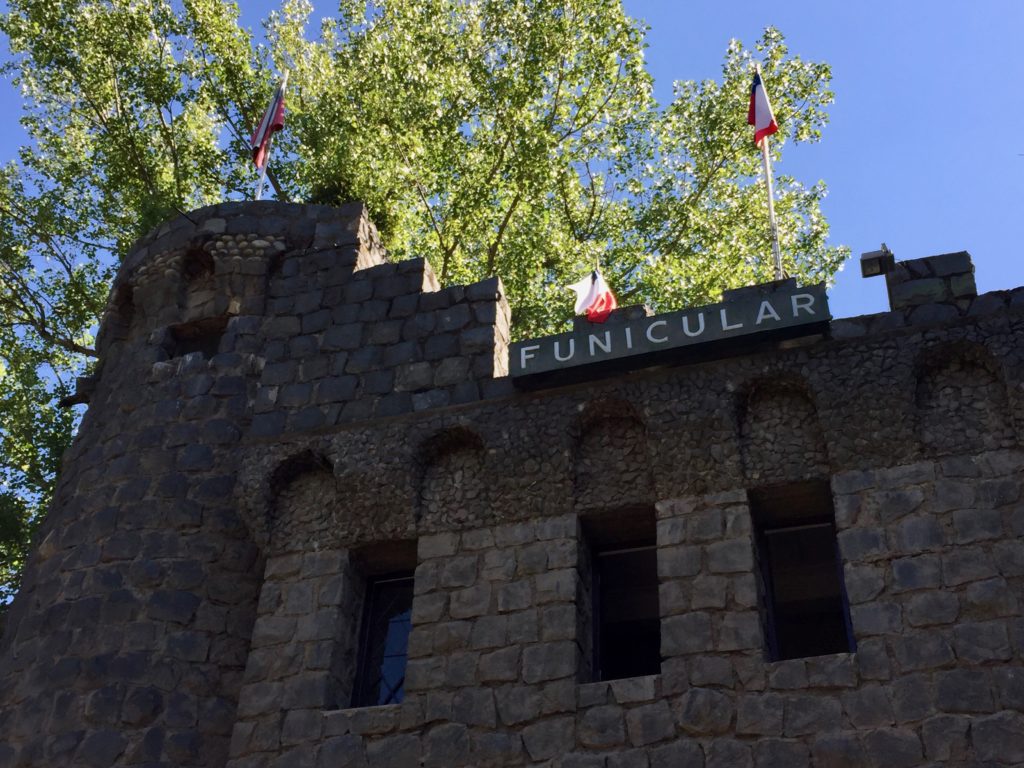 At the top, 820 meters above sea level, several painted crosses line the path up to the statue of Mary, but I couldn't find any information online about who painted them.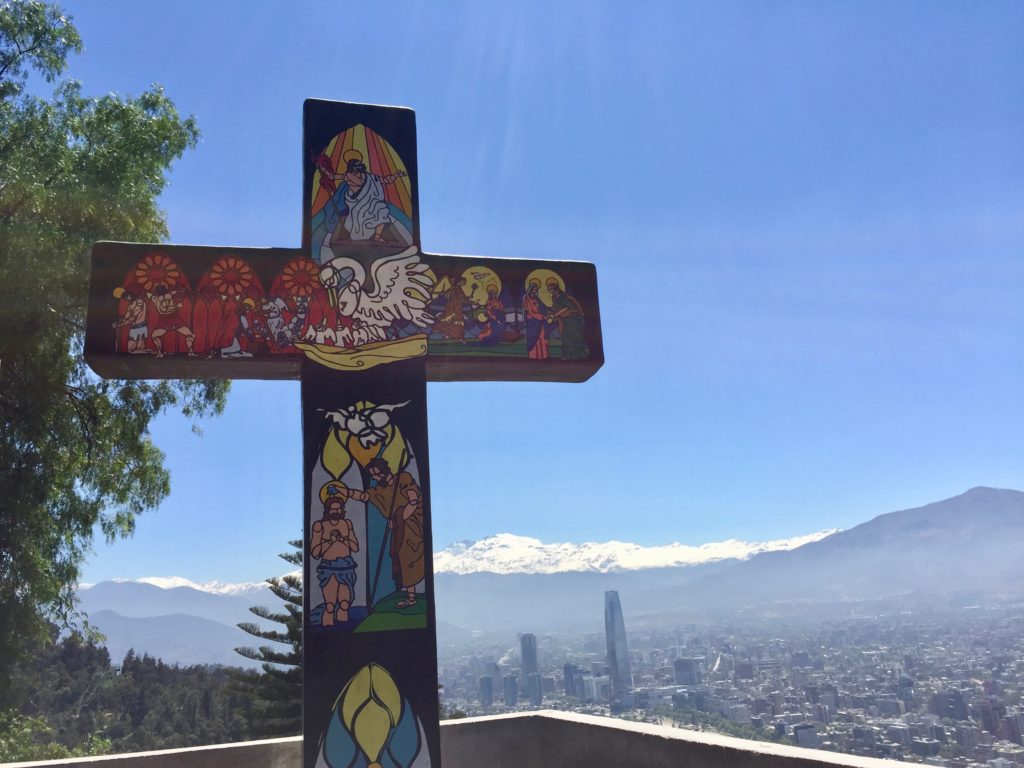 I never get tired of this.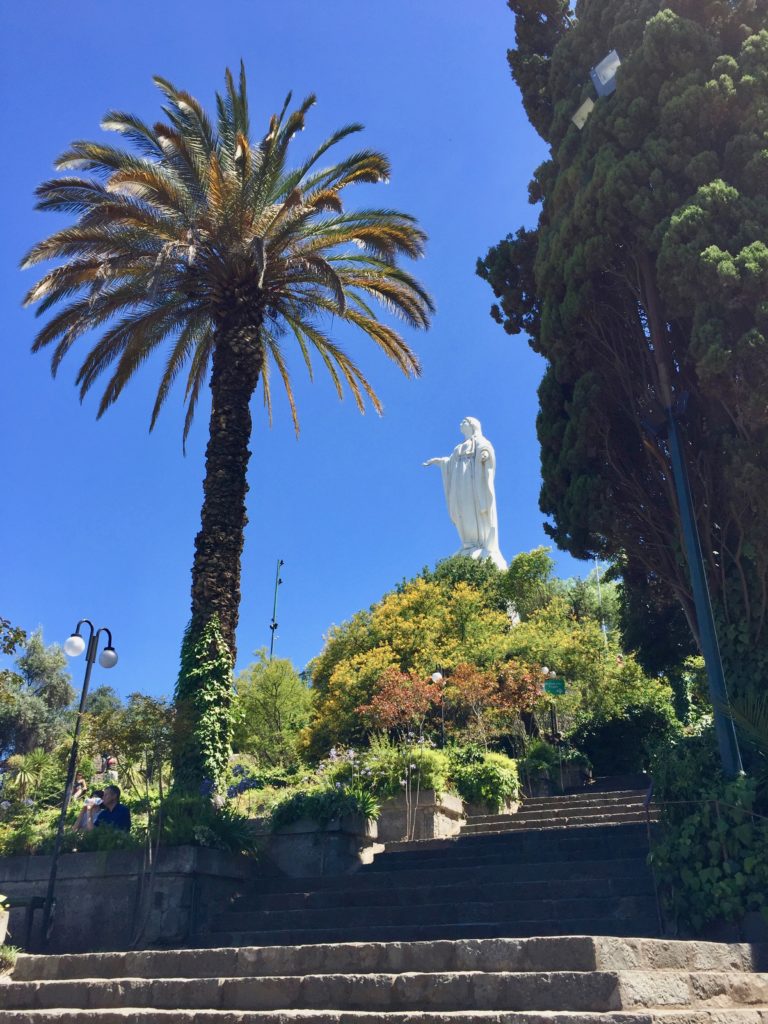 The funicular station at the top.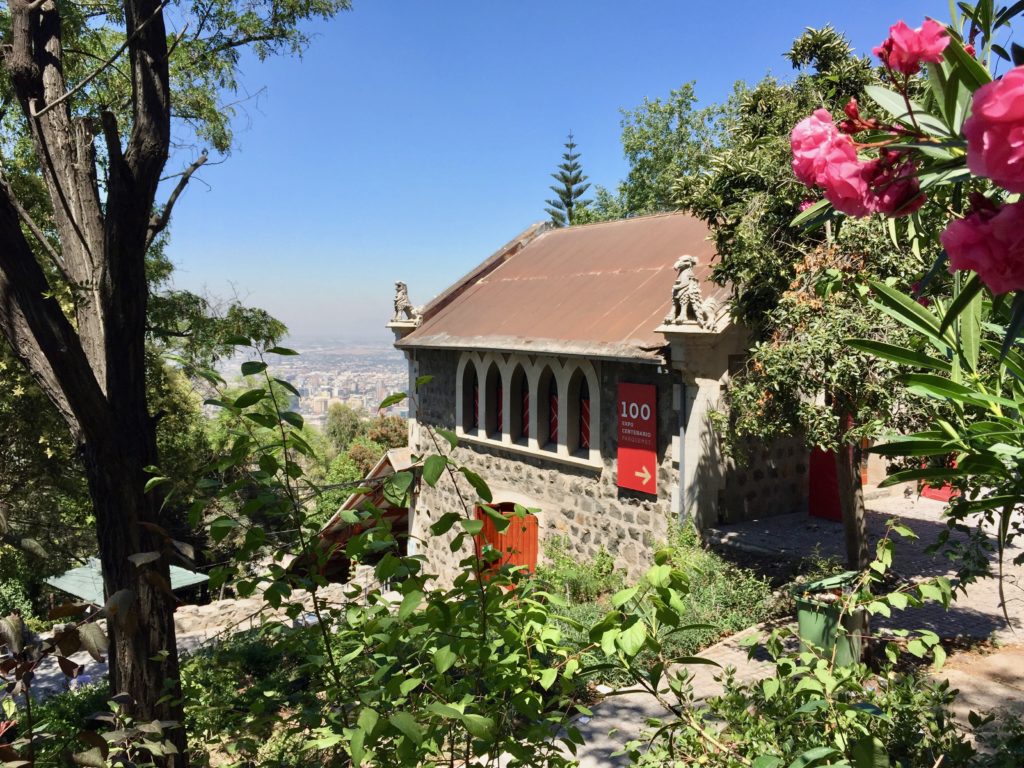 Heading back down.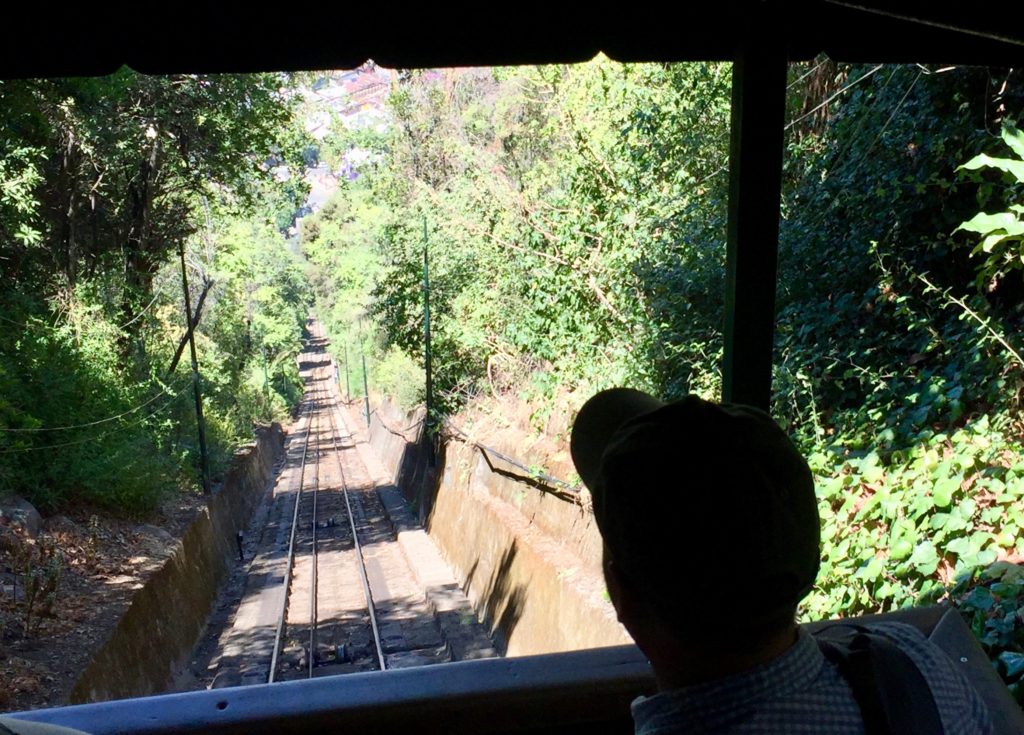 As soon as we exited the funicular station at the bottom, we saw the Turistik bus approaching and we hopped back on. Our next stop for disembarking came at Plaza de Armas, the original city center established by Santiago founder Pedro de Valdivia in 1541. I look forward to coming back here to tour the Metropolitan Cathedral of Santiago, the Central Post Office, and the former Royal Palace, which now houses the National History Museum.
At the base of this Christmas tree, there was a life-sized nativity scene. Tourists kept inserting themselves in it for photos, which just seemed wrong.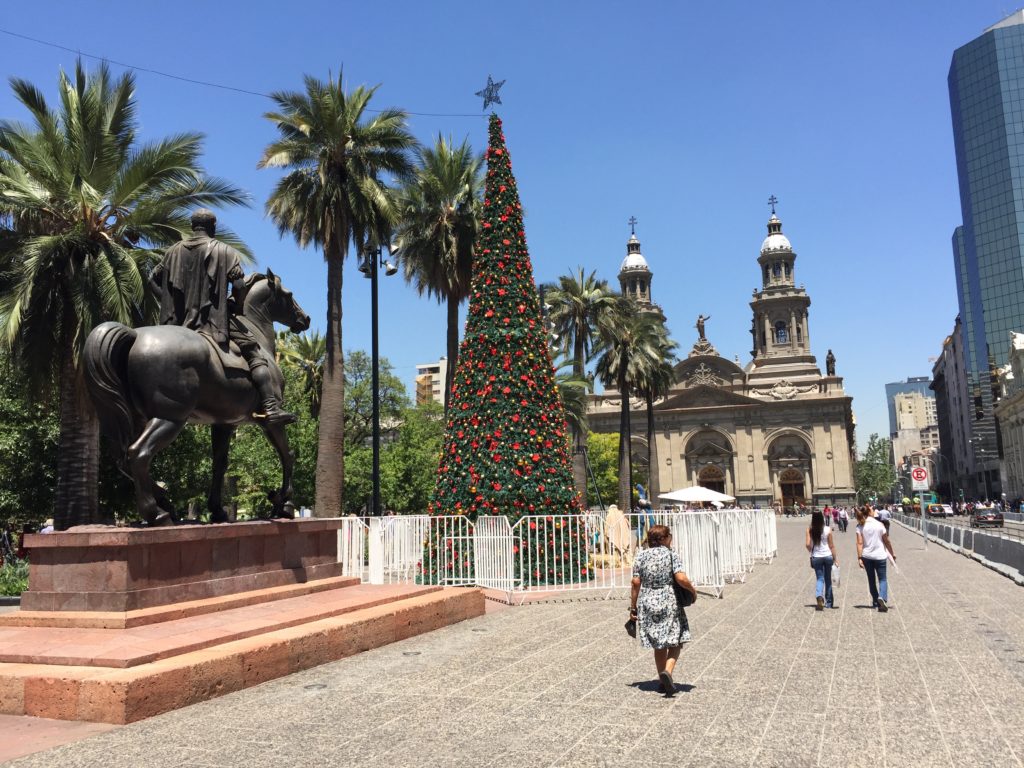 Among many vendors in the plaza's park, this photographer snapped pictured of kids posing in costumes on the stuffed horses. Soooo tempting…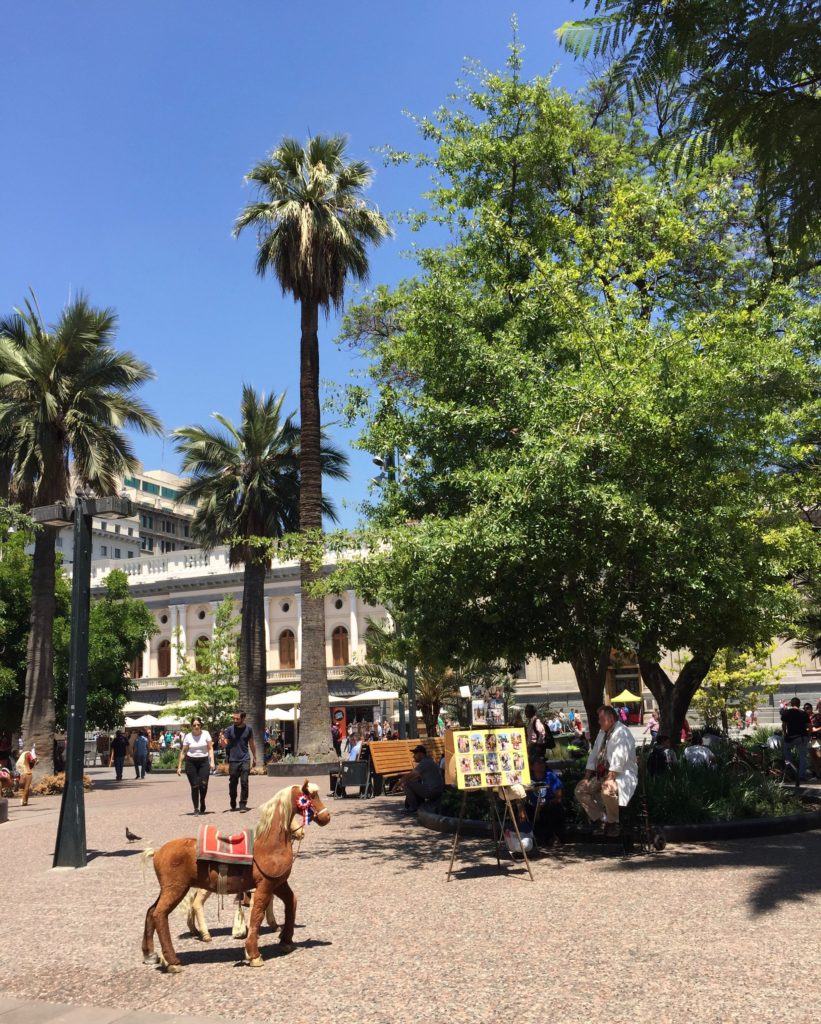 Again, it was easy peasy to catch the bus, but we hopped off after a few blocks at Plaza de la Constitución to see the Moneda Palace. The palace was originally a colonial mint; "moneda" is Spanish for coin. It served as the presidential residence for a short time. During the military coup of 1973, troops surrounded and bombarded the palace, where President Allende ultimately took his own life after broadcasting his last speech to the country. Moneda Palace presently serves as the seat of the president and houses several government offices. I've since learned about the changing of the guard at the palace, so I'll be sure to return for that.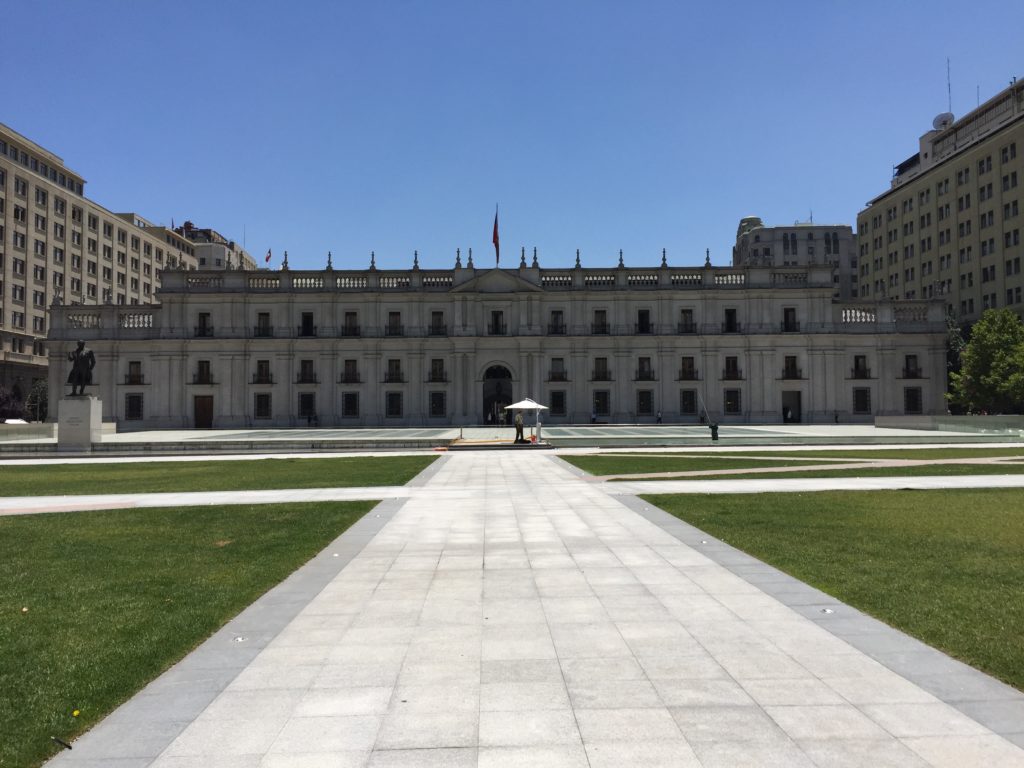 By now, Brie and I were getting peckish. Google Maps showed us a nearby restaurant, The Blue Jar, which turned out to be a great choice. We had a nice lunch and even ran into a family from school, who were also touring the city.
Back on the bus, we felt too hot and tired to hop off again, but we both felt the tour offered us a glimpse of Santiago's hot spots. I'm looking forward to a longer linger.
Masters of public transportation – sort of.
Jonesing for some cherries, I decided we should visit La Vega Central Market. In my quest to master public transportation, I also decided we would take the bus. It was so easy! There's a bus stop right at the corner of our block. We each have a rechargeable Bip! card, which works on the bus and metro (and, weirdly, even lets me make copies at school), so we caught the turquoise 517, found seats, and cruised straight to the market.
We have also bopped all over town on the metro, with only one peculiar experience. We were waiting for a train, and when it arrived a few people got on and the others in front of us made a solid blockade so nobody else could get by, even though there was plenty of room still on the train. The next train arrived, and it happened again! The third time, we walked around them and boarded the car, which was crowded but not packed. Perplexed, we tossed around some theories … Maybe they were waiting for a train with open seats so they could sit down? Maybe there had been some announcement in Spanish that we didn't understand?
Anyway, we prepared to exit at our station, but the train zipped right past it.
At the next stop, we jumped off and rode the escalator to street level feeling completely confused. On the walk home, we paused at the pet store to buy cat food. One lady there speaks English, so we told our story and asked why the train didn't stop at Cristobal Colon. She explained that during certain hours, this metro line runs express trains – red and green – that stop at alternate stations, so you have to get on the green train to stop at Cristobal Colon.
"That's confusing," I said.
"It is to us, too," she said.
"Why do you think those people were blocking us?" I asked.
She shrugged. "There are just people like that, I guess."
So, mystery partially solved.
Soaring over Santiago.
The same day we bused to the market, we met up with friends, Stella and Ian, and their kids, Mane and Berlin, to master yet another mode of transportation at one of our favorite places in the city. Yes, you guessed it, we were heading back to Cerro San Cristobal, our urban mountain. I have walked, biked, and funicular-ed up this hill, but there was still one way to reach the top that I hadn't tried: the newly reopened Teleférico Parque Metropolitano, or gondola lift. The gondola opened in 1980, but a series of mechanical malfunctions in 2008 and 2009 shut it down. After an expensive renovation, the system reopened in November.
I stood in a short line to buy tickets, and then we all climbed into a gondola for the 2-kilometer ride.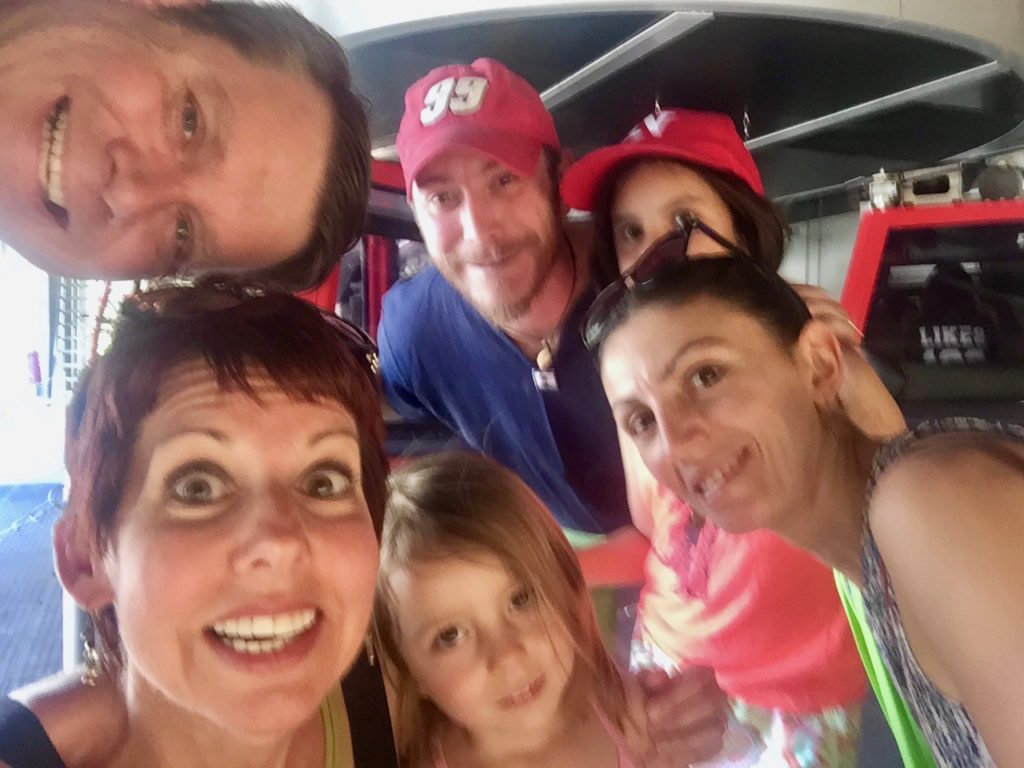 Without a doubt, the gondola offered the best views of Santiago.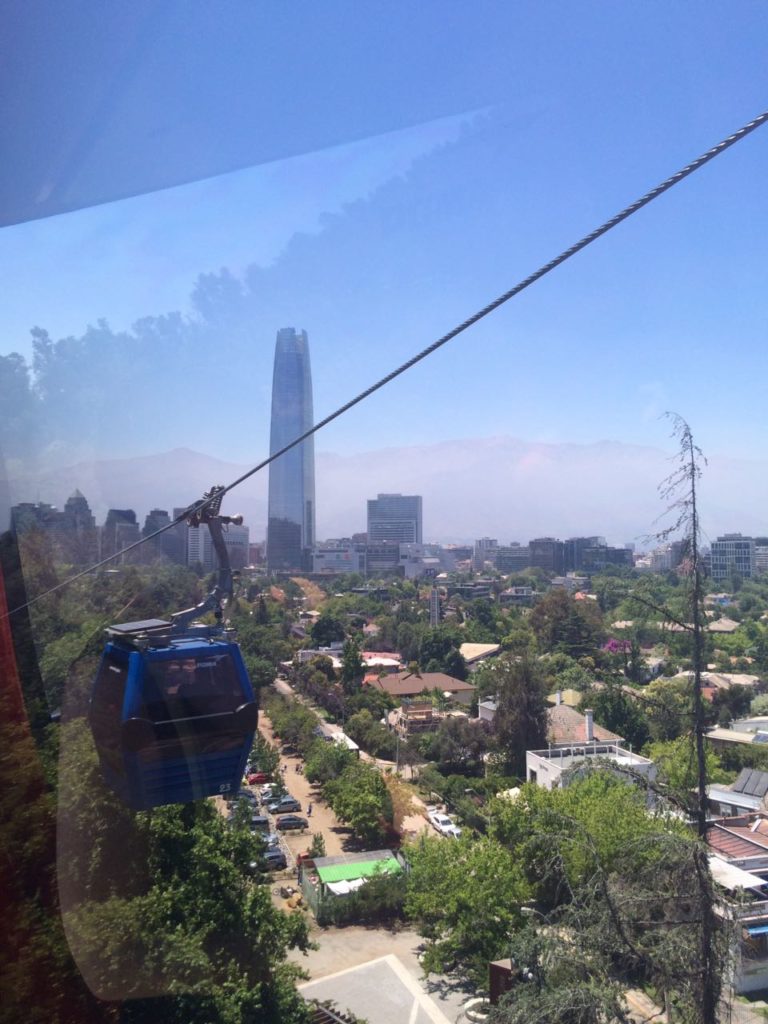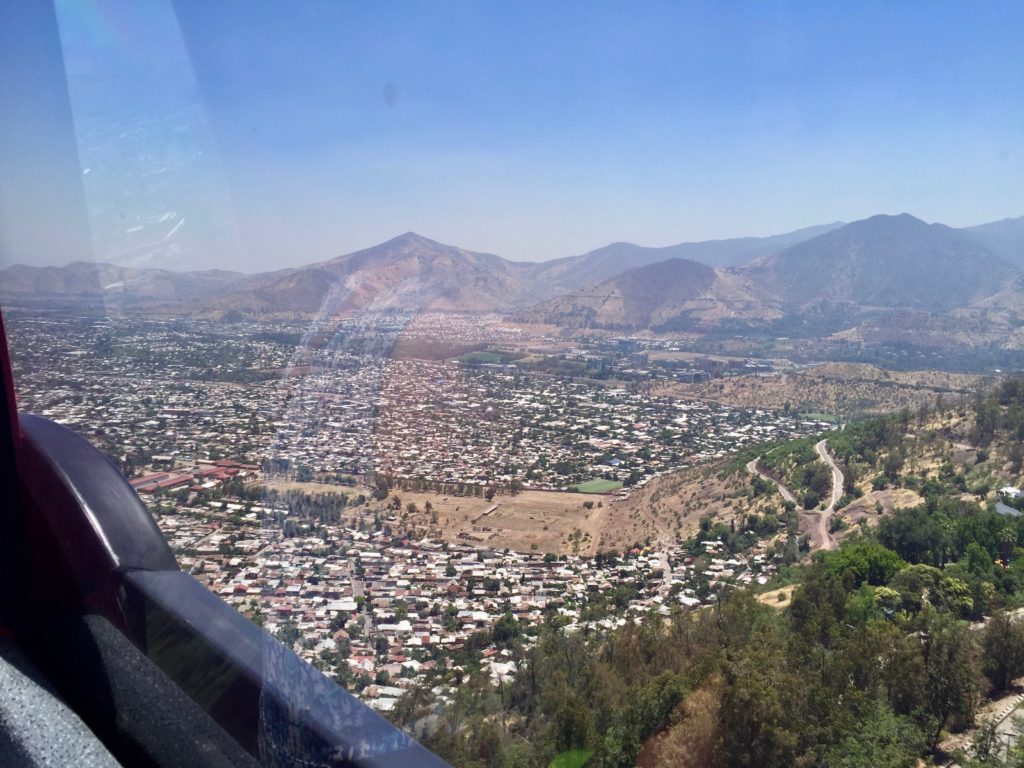 Despite many previous visits to this hill, I had never entered the tiny chapel at the base of the Virgin Mary statue. The little girls and I ran up the steps and sat on the benches in the chapel for a few minutes until the other adults showed up. We tried to figure out the Spanish Bible verses painted on the walls. I can see how this would be a peaceful place of prayer if you weren't accompanied by two giggly goofballs.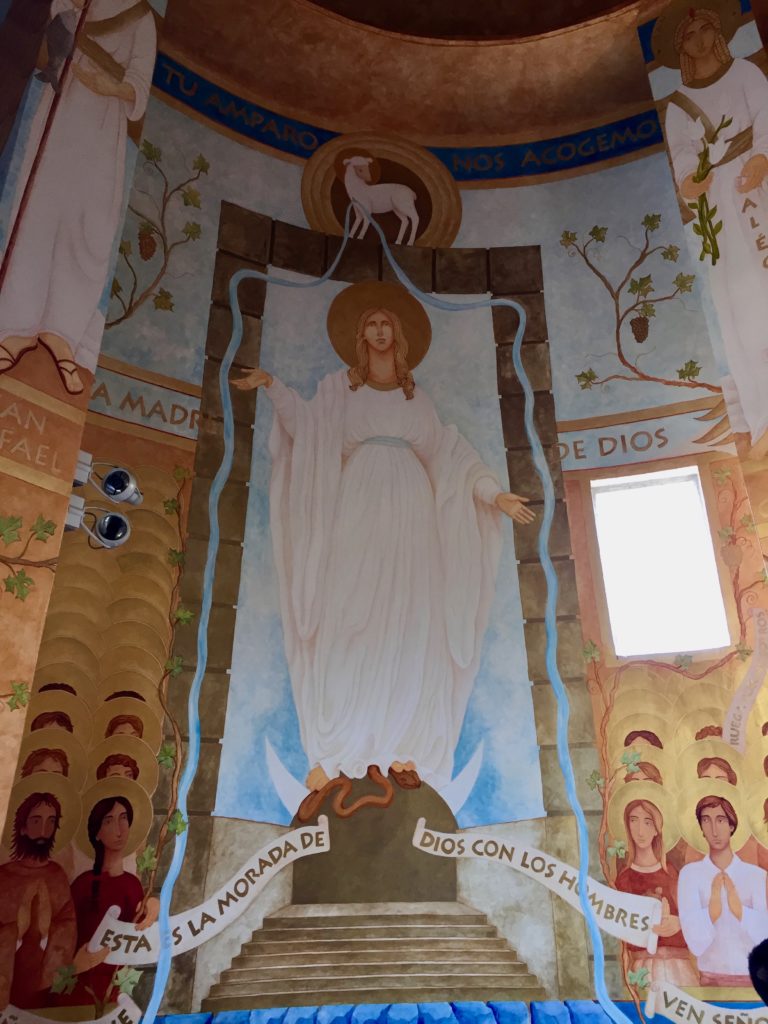 So much museum, so little time!
On Friday, Tony and I took the metro to the Museo de la Memoria y los Derechos Humanos (Museum of Memory and Human Rights). Everything was labeled in Spanish, but the English-language audio tour was excellent. In fact, it was so informative that we lost track of time and had to rush through most of the museum or risk being late for our Spanish class. We realize now that this place would take most of a day to appreciate. We'll be back.
Estudiamos español.
We started Spanish classes on Tuesday at the Goethe Institut, just a 15-minute walk from our apartment. It may seem odd to study Spanish at a German organization, but we had heard good things about the teachers there. In my fantasy world, our class would include fun, outgoing professionals who lived in Santiago and wanted to be our new best friends. In reality, the group comprises mostly shy Chinese businessmen and a couple shy Asian students. However, the teachers really are great, and I already feel more confident using Spanish in our daily life.
Spanish is essential in this city. Here's an example. Tony took our car to Portillo, the Toyota dealership, Friday morning for routine maintenance. He picked it up Friday evening. On Saturday afternoon, we decided to drive across town to our favorite supermarket. On the highway, a motorcyclist honked and gestured at the back passenger-side tire. I looked in the sideview mirror, and the tire did seem wobbly … but I had never looked at it that way before so I had no basis for comparison. We decided to skip shopping and drive straight to Portillo instead. When another driver honked and pointed, we worried that we shouldn't continue on the wobbly tire. Tony pulled in to a gas station, and we pondered our options. Obviously, the mechanic at Portillo had screwed up. I wanted them to come fix the problem. I used google translate to write a text, which Tony sent to his contact there, Jorge. He never responded. I called a couple Spanish-speaking friends, who all recommended an English-speaking mechanic, Julio. I called him and interrupted a family party. He was very kind but said he was heading out of town after the gathering. I beseeched him to call Portillo for us, which he did. They refused to send help! Julio must have sensed our desperation because he offered to fix our tire on his way out of town, two hours later. As we waited, feeling guilty and stupid, Tony decided to take a stab at solving the problem himself. He pulled out the car's manual, figured out the complicated jack, took off the tire and re-attached it – properly this time. I texted Julio to say he didn't need to come, but thanks anyway, and we resumed our shopping expedition.
So you may be saying, "Well, hey, you got out of that pickle without using Spanish!" But the thing is, I want to be fluent enough to storm into the Portillo office and go bananas on them. I mean, they freakin' attached the tire wrong! It could have flown off the car in the middle of the highway. And then they refused to help us? Are you kidding me? For now, I can only speak in present tense, and I pretty much only know the vocabulary for describing my family members. But I promise you this: Whether it takes months or even years, I will eventually give Portillo a piece of my mind in Spanish.
Anywho… the staycation continues, and we have plenty of fun on our Santiago bucket list, including a visit from my parents just two weeks from today!