Our last full day in Amman, and we had more castle storming to do!
(For those of you who don't get it, Tony and I are just a wee bit obsessed with "The Princess Bride," so every time we visit a castle, we feel compelled to quote the movie: "Have fun storming the castle!")
In fact, the castles weren't castles at all. George drove us east today to check out what are commonly called "desert castles" or "desert palaces" but are most likely rural retreats for the hoi polloi of the 8th-century Umayyad Dynasty. Actually, nobody knows for certain why these structures were built. According to the government website, The Hashemite Kingdom of Jordan:
There are various theories about the purpose of the desert palaces, yet the lack of a defensive architectural design suggests that most were built as recreational retreats. The early Arab rulers' love of the desert led them to build or take over these castles, which appear to have been surrounded by artificial oases with fruit, vegetables and animals for hunting. Other theories suggest that they came to the desert to avoid epidemics which plagued the big cities, or to maintain links with their fellow Bedouin, the bedrock of their power.
We spent the morning near the Saudi Arabian border visiting three sites.

Qasr Al Kharaneh
Scholars think this "castle" was probably an inn or caravanserai for camel trains passing through the area. Built in 710 AD, it has features of a defensive fortress, such as arrow slits and towers, but those may have been merely cosmetic.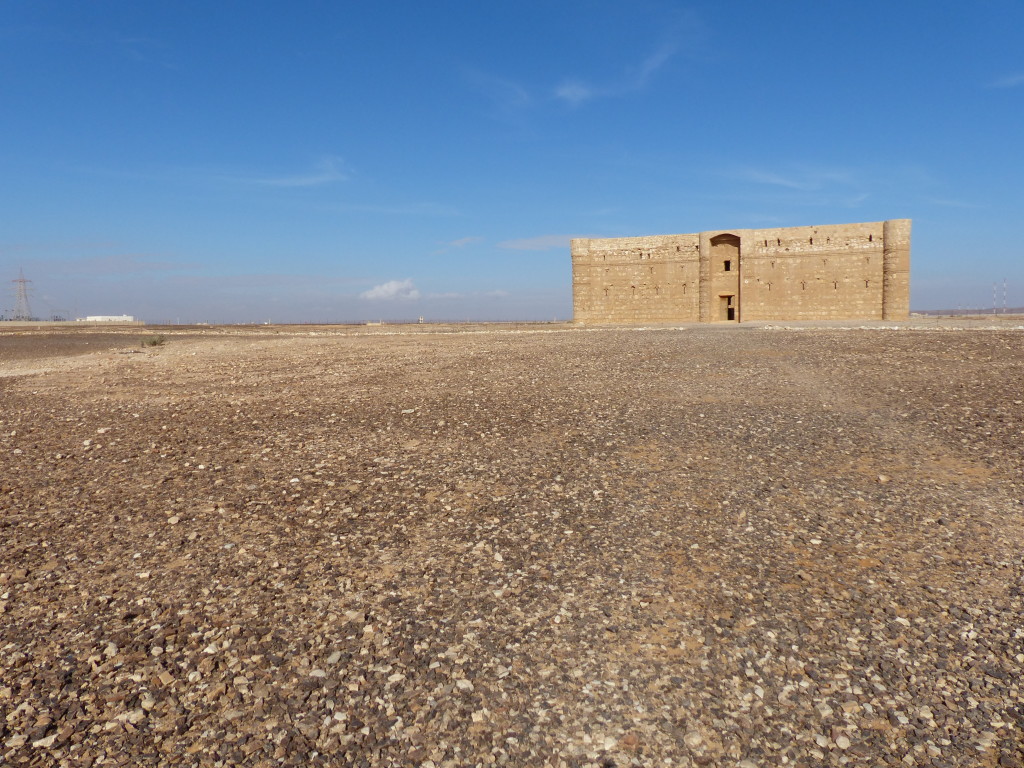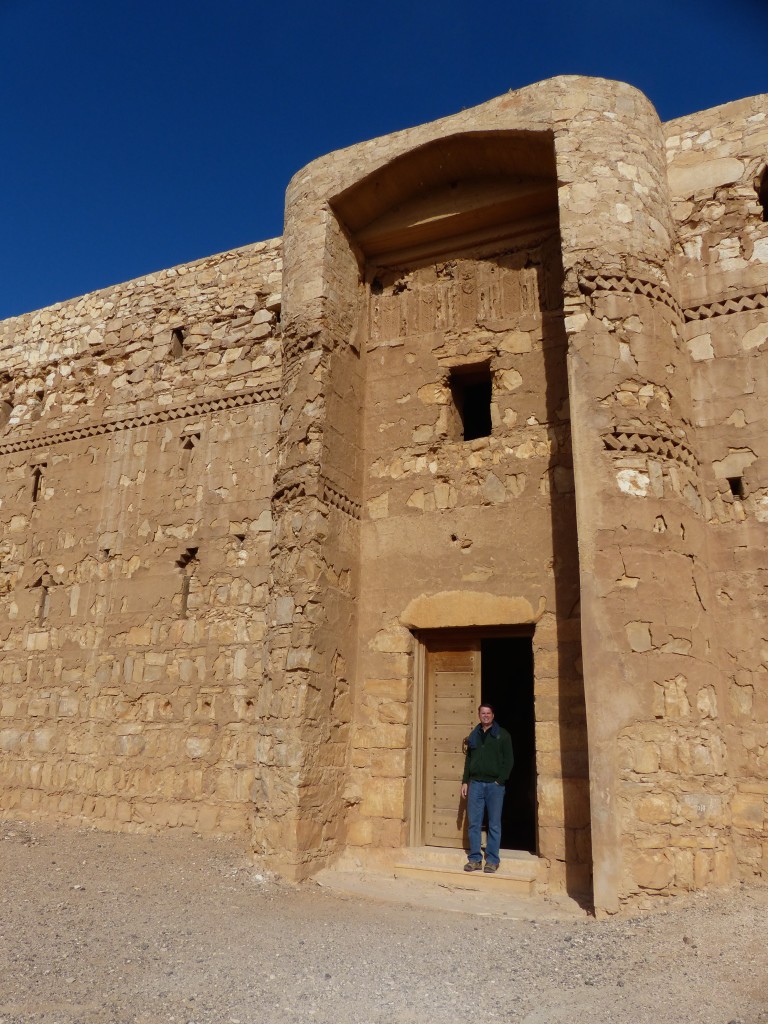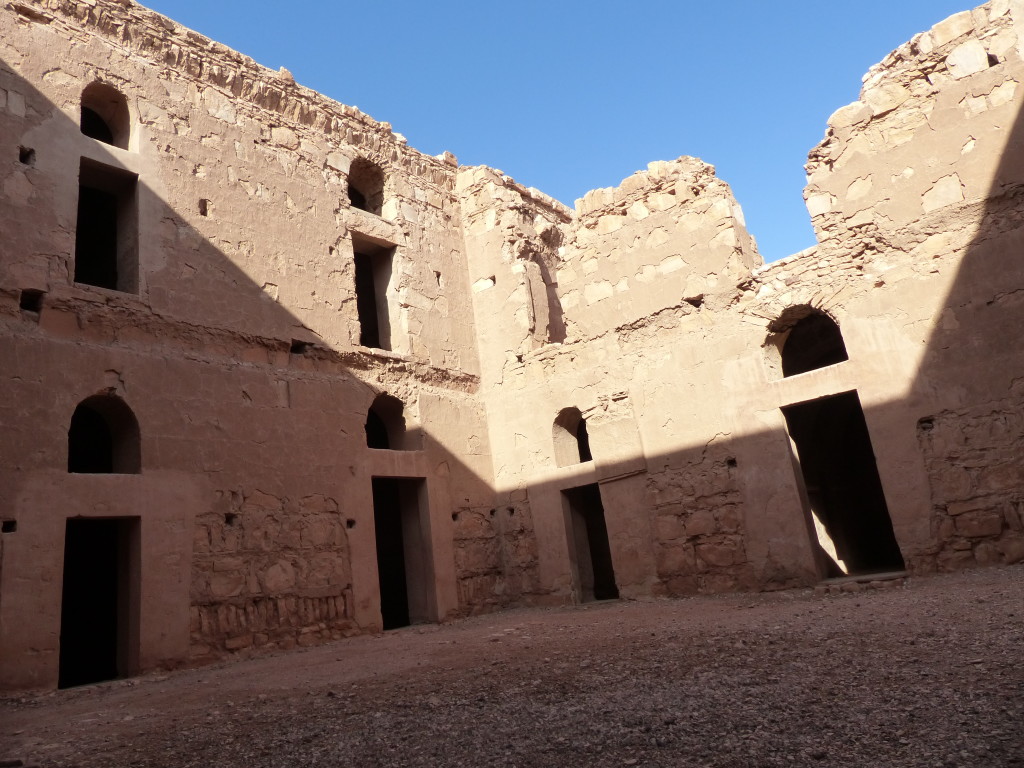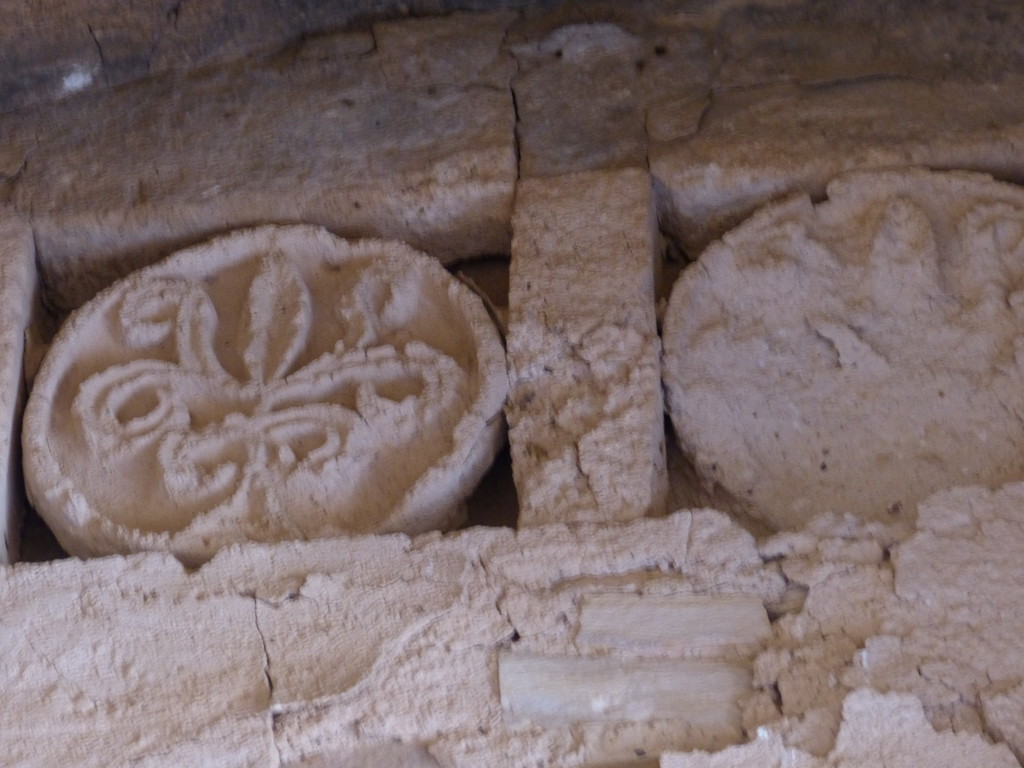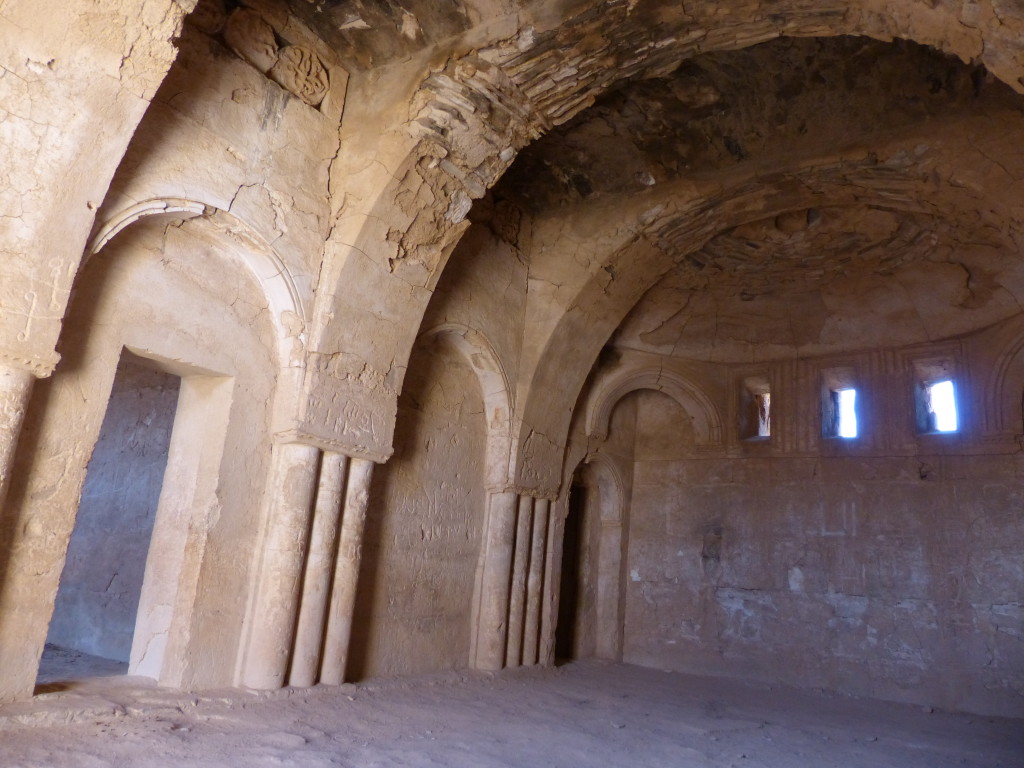 It saddens me when tourists deface historical buildings. In one tiny space, we saw graffiti in Arabic, English and Italian.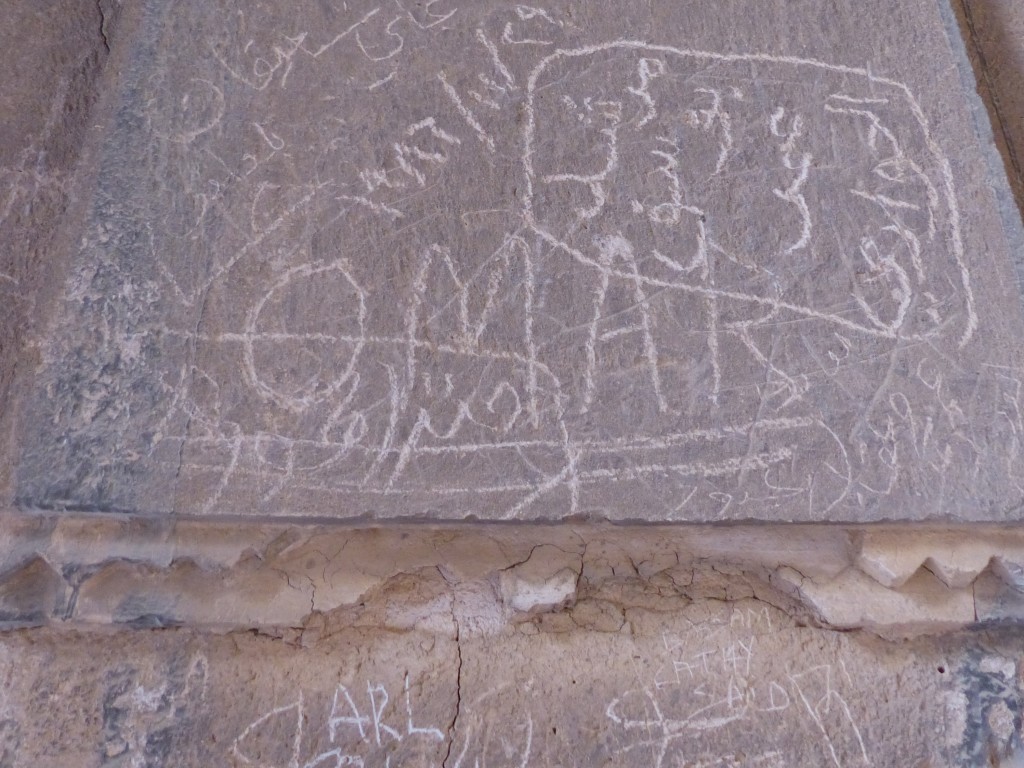 Qasra Amra
After the first structure, I had expectations of unassuming rustic buildings in our desert castle tour. Imagine my surprise when a friendly greeter unlocked this "castle" to reveal colorful frescoes, mosaic floors and a domed hamam! Ali explained that the region used to get a lot of rain. At least, I think that's what he was saying. He held his hand at chest level and said, "Here water. Today here water no." He then modeled how a donkey would have turned the wheel ("No donkey, so I am donkey," he said.) to draw water from a very deep well, which has now run dry. The water then poured into a storage area and flowed into the bath area of the main building.
The Jordan Jubilee website says:
It is believed that it was built between 711 and 715 by one of the Omayyed caliphs, who had also built the great mosque bearing their name in Damascus and the Dome of the Rock in Jerusalem. These great buildings were ornamented with gorgeous mosaics: in contrast, the bath-house, the private retreat of the caliphs, was decorated with frescoes of luxurious flowers and fruit, naked musicians, hunting scenes and some of the scenes of their conquest of neighbouring lands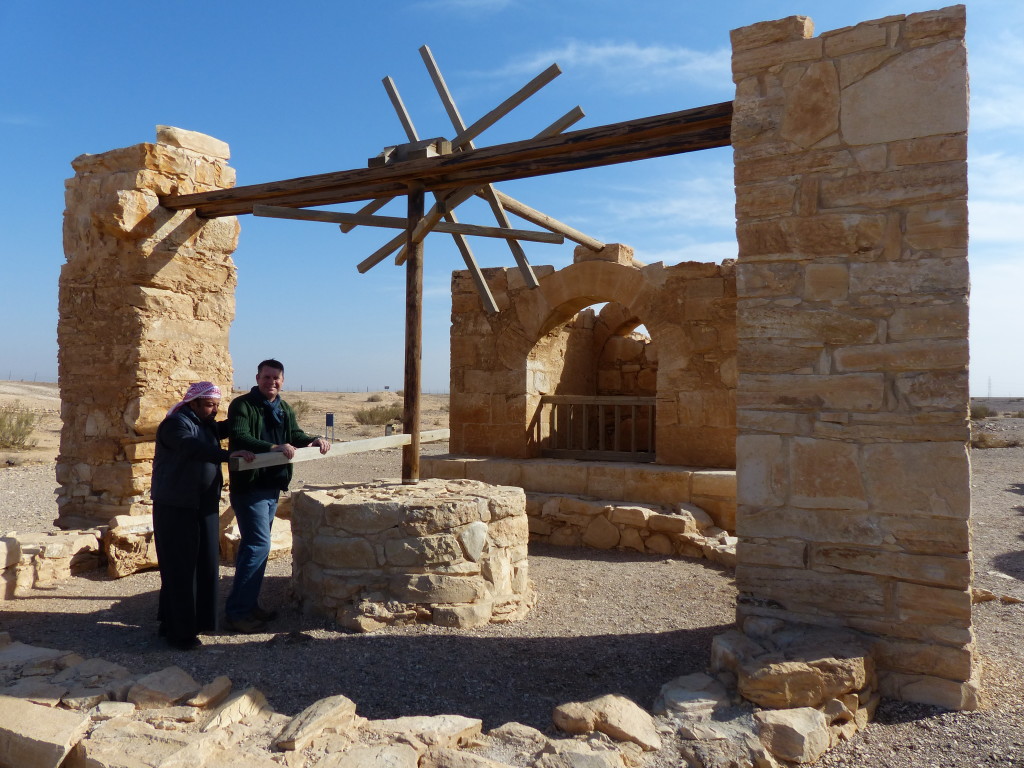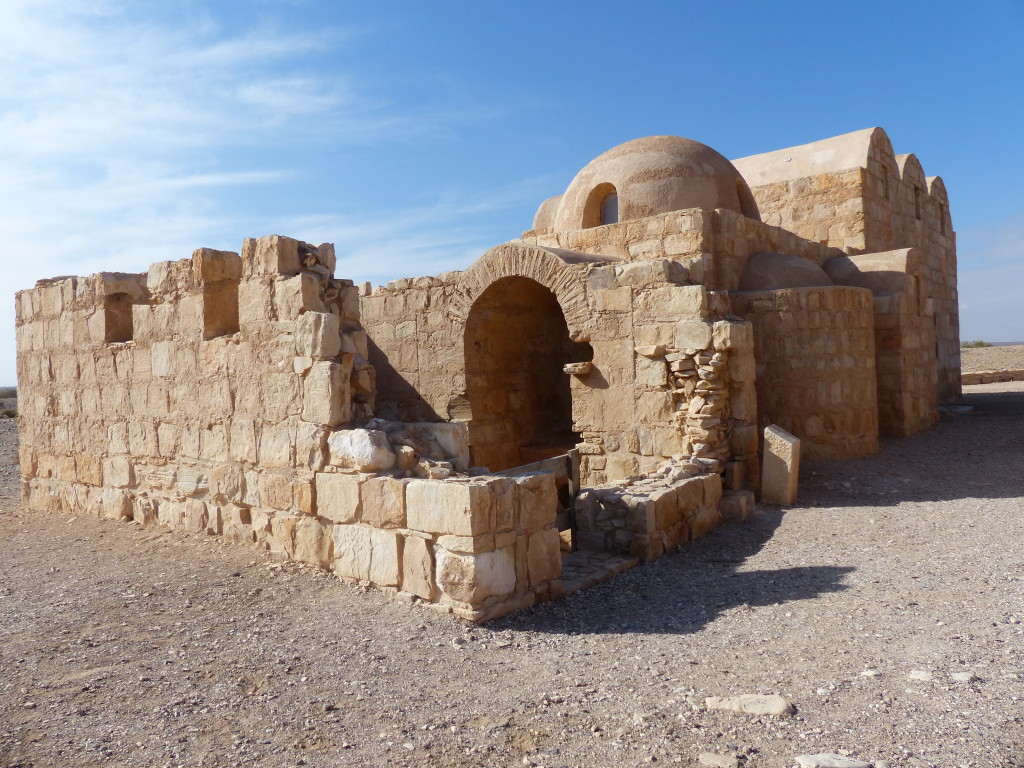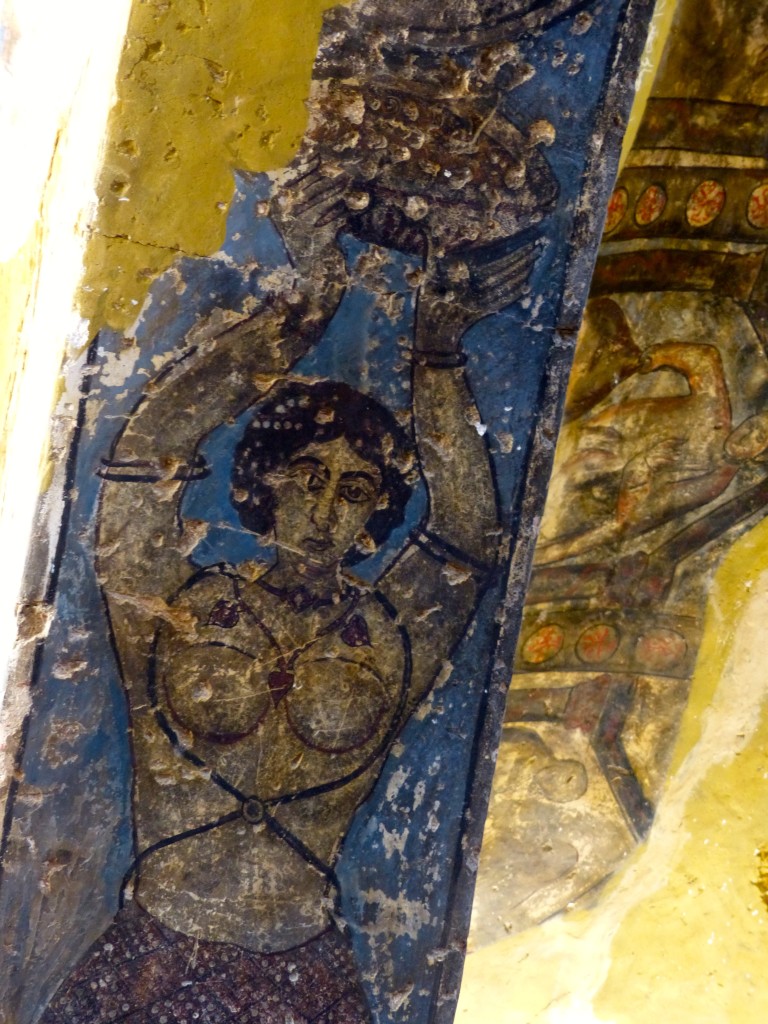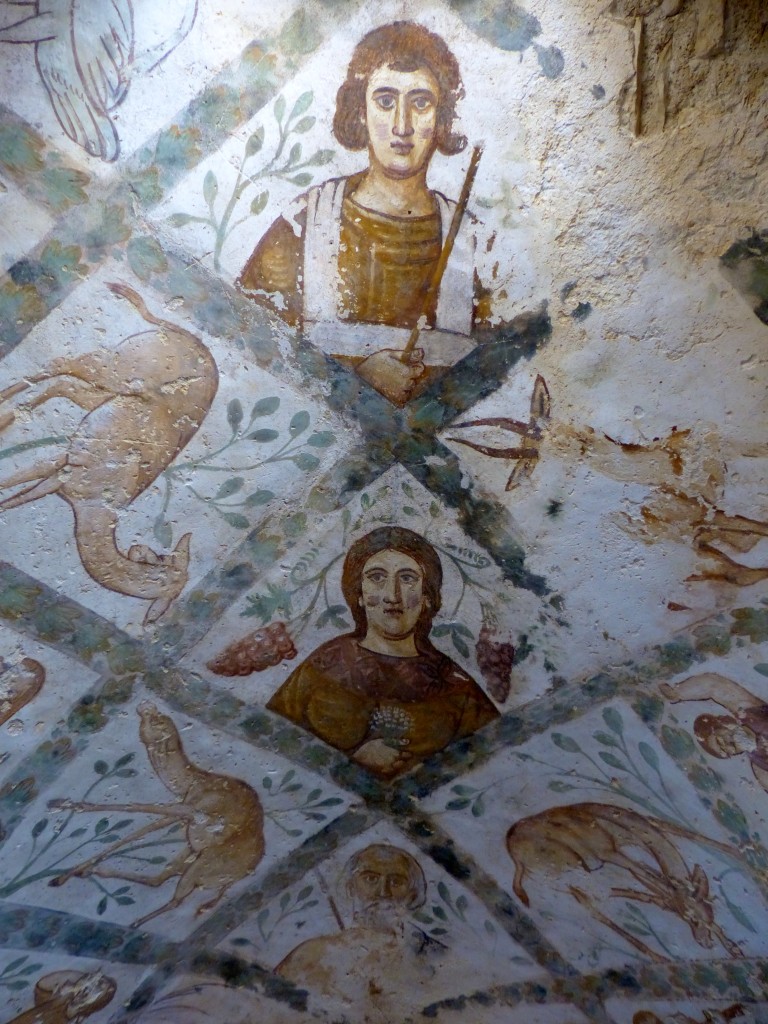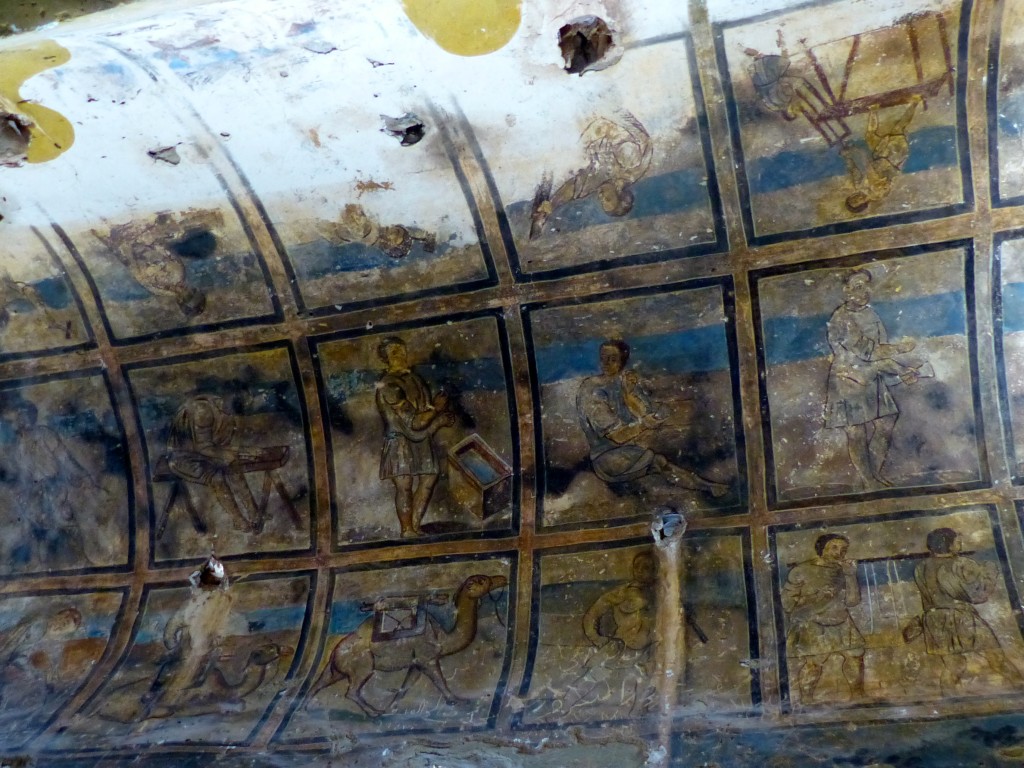 Qasr Azraq
This "castle" really was a Roman fortress, built in 300 AD and modified in 1237 AD by the Mamluks. However, now it resembles a pile of basalt rubble with a few recognizable features, such as a mosque and small rooms with original stone doors. It's another stop on the "Lawrence of Arabia tour," but this one is verified. He stayed for about three weeks in 1917 in the room above the entrance.

Castles, consider yourselves stormed!
Amman Citadel
George popped into MFC – Mecca Fried Chicken (!) – to pick up sandwiches for lunch, and then he dropped us off at the Amman Citadel, on the top of Jebel al-Qala'a (about 850m above sea level).

We sat on a bench overlooking the city sprawled out below, eating our sandwiches in a chilly breeze. I'm fascinated at the juxtaposition of ancient and modern, especially when they literally butt up against each other. From our perch, we saw tourists climbing around the 2nd-century Roman theatre wedged into a hill spilling over with 21st-century buildings.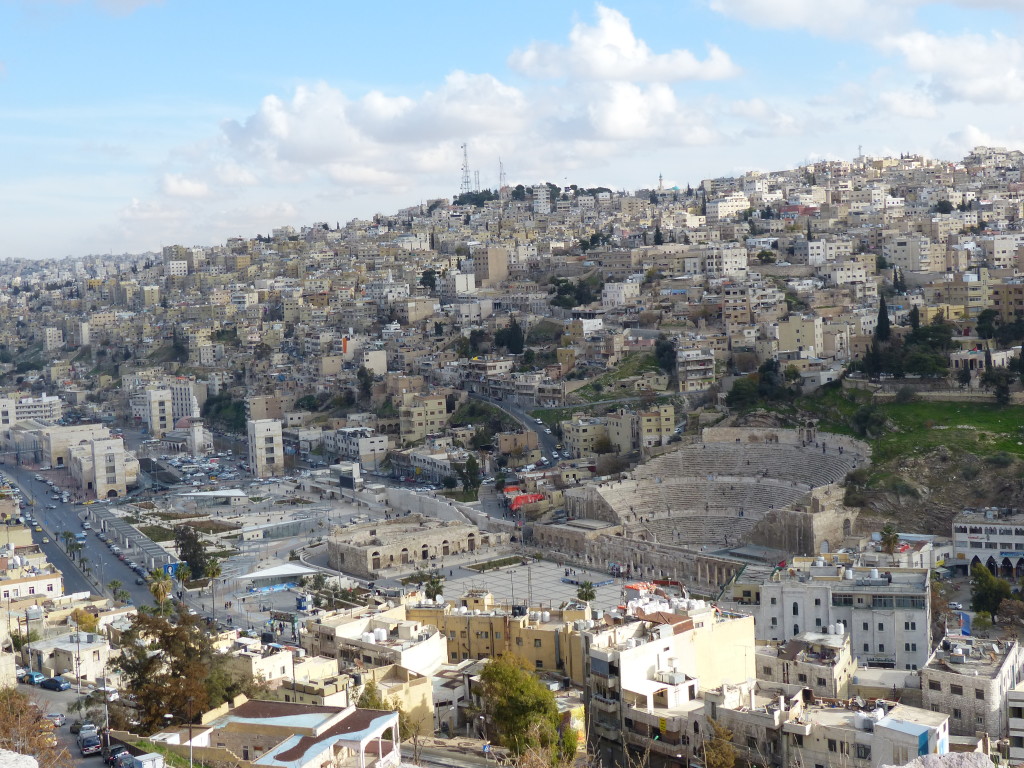 Humans have settled on this hill for the last 18,000 years, but the ruins that remain are mostly Roman and early Islamic. Known as Rabbath-Ammon in ancient times, it was renamed Philadelphia after Greek occupation in the 4th century. Arab rulers in the 7th century changed the name back to Amman. Excavation has been ongoing since the 1920s and there's still much left unearthed.
Archaeologists think this was a temple for the worship of Hercules.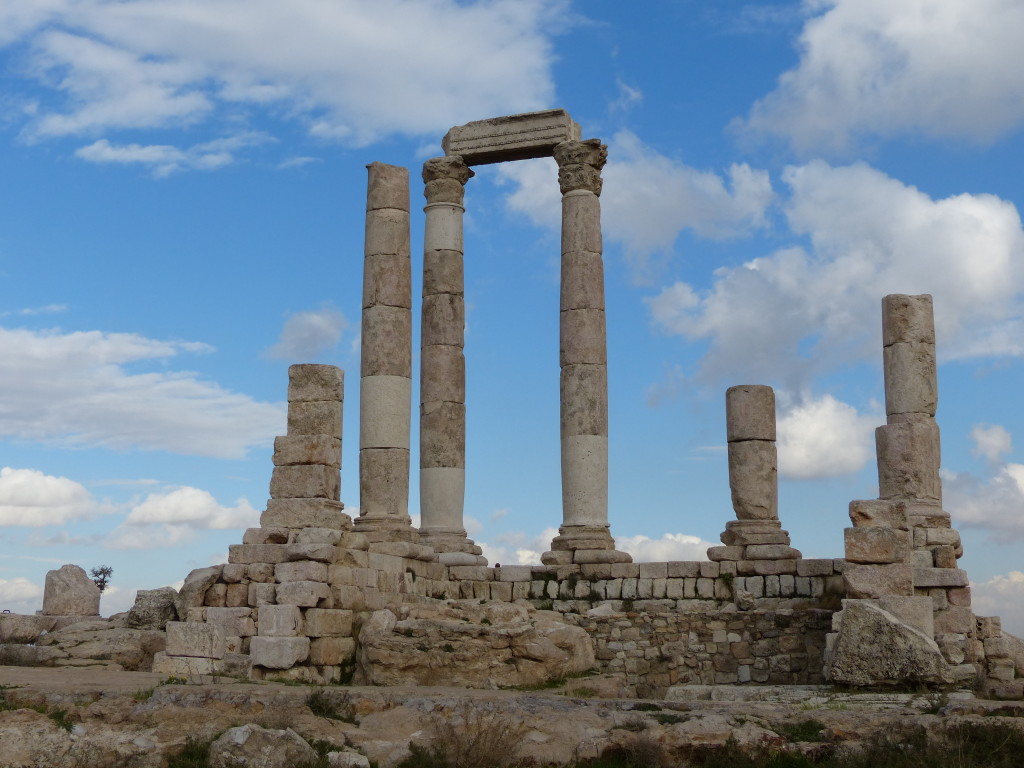 The Umayyad Palace was built around 720 AD and destroyed in an earthquake just 30 years later. The domed audience hall is the most intact building and has been restored extensively by Spanish archaeologists.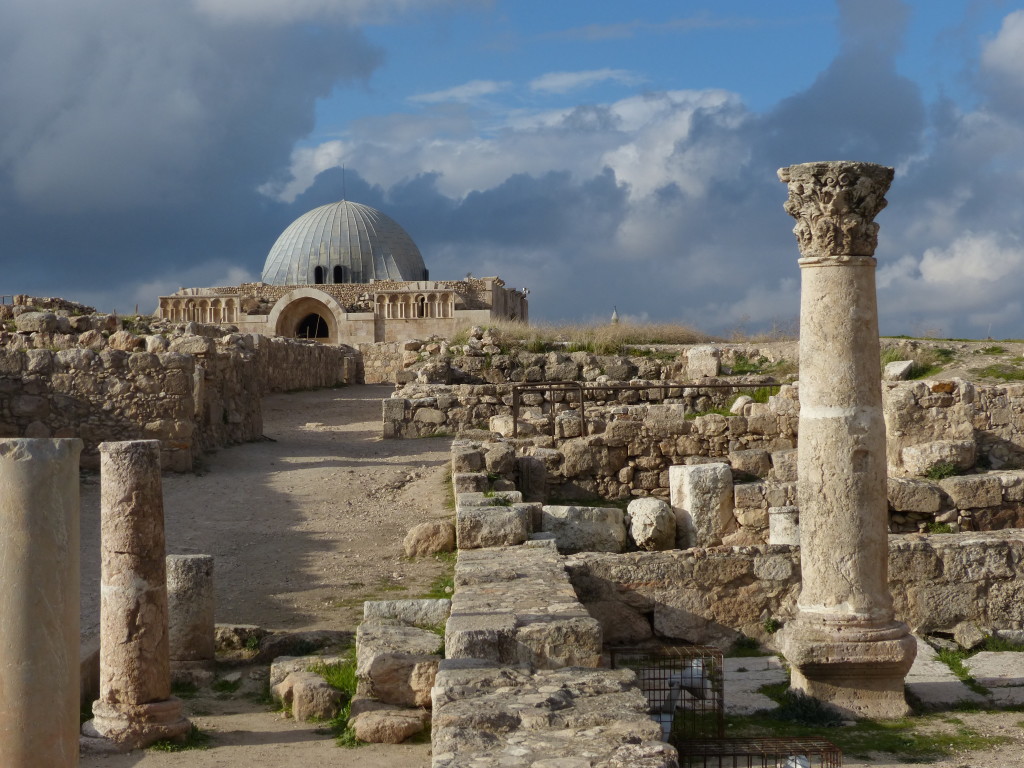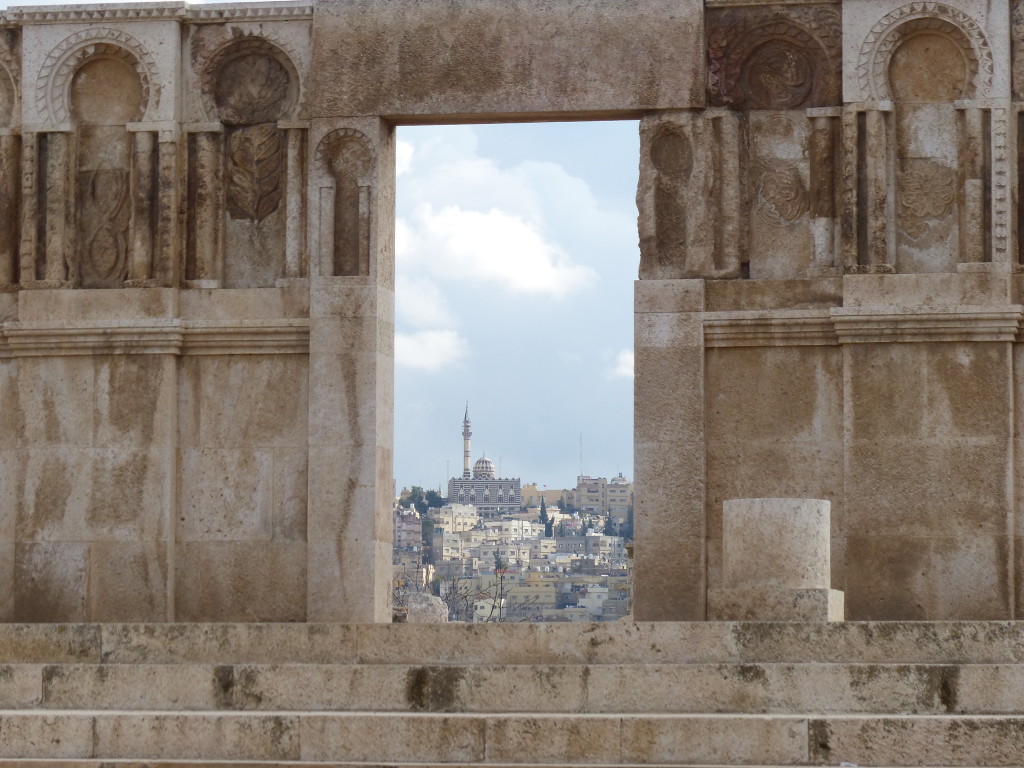 If it hadn't been our last day in Jordan and Tony hadn't been feeling so cruddy, we could have spent much more time exploring the Citadel and other historical sites in downtown Amman. Instead, I snapped a few pictures and took my poor sick hubby back to the hotel to rest up for the trip back to India.