This is our 15th year living overseas and only the second time we've returned to the States for Christmas. Winter break is our longest vacation from school, so we usually want to take that time to check out exotic destinations, explore unfamiliar sites, engage with interesting locals and immerse ourselves in an unfamiliar culture. Well, no need to travel internationally to meet those requirements. We hit the jackpot this year at The Villages, a retirement community that bills itself as "Florida's Friendliest Hometown."
My parents recently joined the snowbird set, wintering at The Villages and gushing about their new lifestyle. I wondered, what is all the fuss about?
Well, now I know: fun. The fuss is about lots and lots of fun. First of all, there's golf galore. You can play at 12 championship courses in The Villages (including ones built by Arnold Palmer and Nancy Lopez) or tee off at countless courses nearby. Not my cup of tea, but it sure keeps a smile on my dad's face. More up my alley, every golf course has a fantastic club with a restaurant, bar and pool. Just a short golfcart ride up the hill, my parent's neighborhood club features a fabulous pool with a big waterfall. Ah, resort living! Can't cope with all that relaxing? There's literally a group or a class for every imaginable interest you may have. Wood working? Archery? Languages? Check, check, check. The Villages Lifelong Learning College offers fascinating courses and lectures on every topic you can imagine. (I'm truly disappointed to miss the lecture, "Gone With the Wind: Fact versus Fiction in Historical Memory," which is happening Jan. 14.)
Maybe you just want to meet up with some like-minded people: from your state, college alumni, sports fans, military veterans, former expats, etc. Trust me, they are here. Maybe you'd rather just hang out with your friends and listen to live music. Well, you can do that every single night in any number of venues, including the Spanish Springs village square outside our hotel. We couldn't believe the crowds that gathered each night to drink, dance and mingle.
One of the most attractive aspects of The Villages to me was the fact that everyone is a transplant. As someone with high "belonging needs" but with no roots anywhere, I appreciate the idea that almost everyone living here came from somewhere else. Nobody is an outsider. The weather's not too shabby, either.
Mom at one of the village squares: Sumter Landing.

Nico and Paul splash in my parents' country club pool.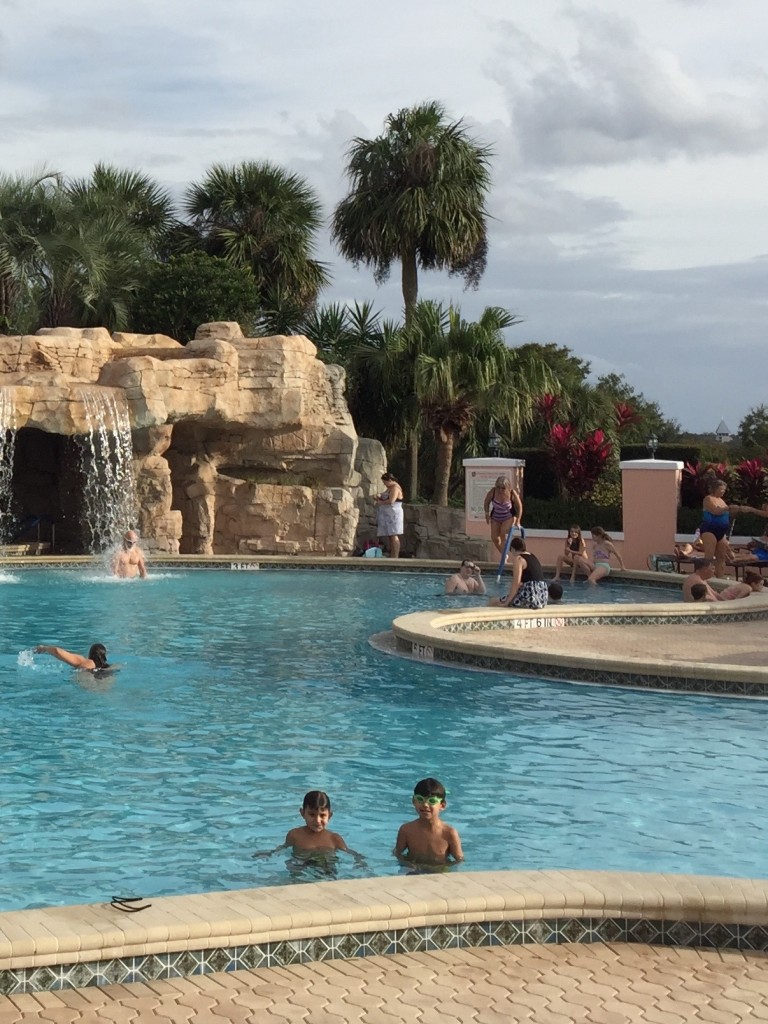 Sunset view from my parents' backyard.

Golf carting with some cute cargo.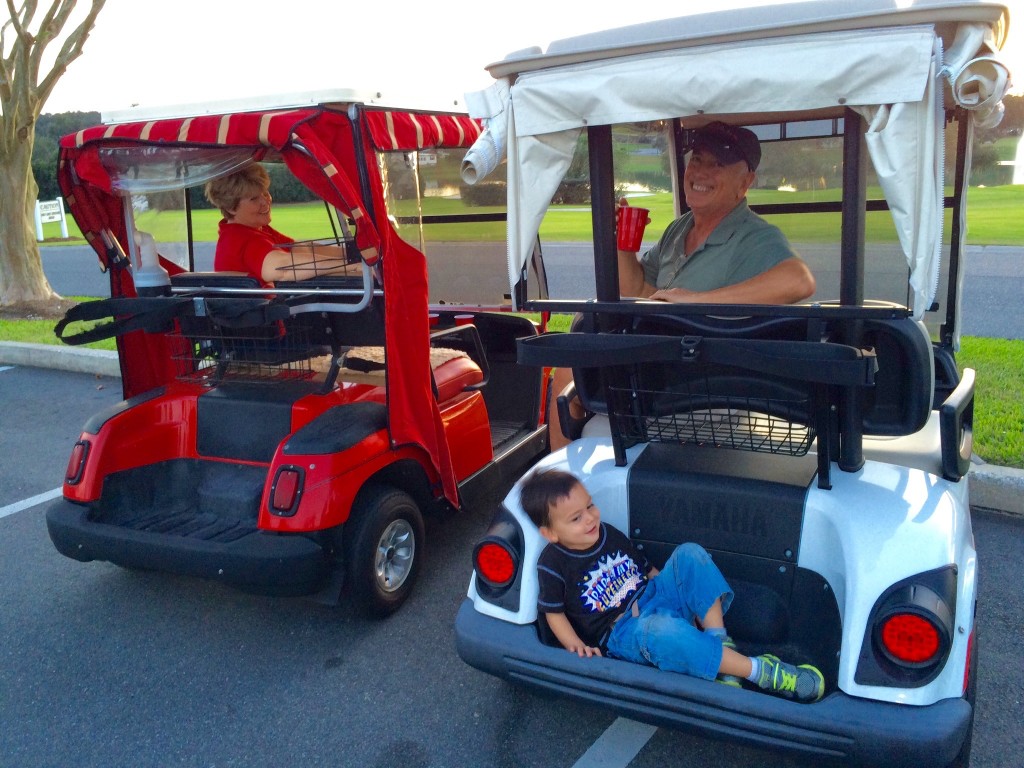 So, I get it. I can totally understand why my parents gush about life down here. It's a little weird and a little surreal, but I get it.
Tony and I stayed at the Marriott Hotel, just a short golfcart ride from my parents' neighborhood. (They played host to my sister Kate, her husband and three boys, so it was a full house.) Jetlagged, we crashed early and rose early, so it was nice to return to the quiet hotel and enjoy sunrise walks in the fresh air.
My mom whipped up a delicious Christmas Eve dinner, although Tony and I were so exhausted we could barely stay awake for it. Christmas morning, Nico and Paul excitedly opened their presents, but little Jack flat-out refused. He threw a tantrum when Kate tried to help him rip off the paper. What a goofball!
A pretty Christmas Eve table.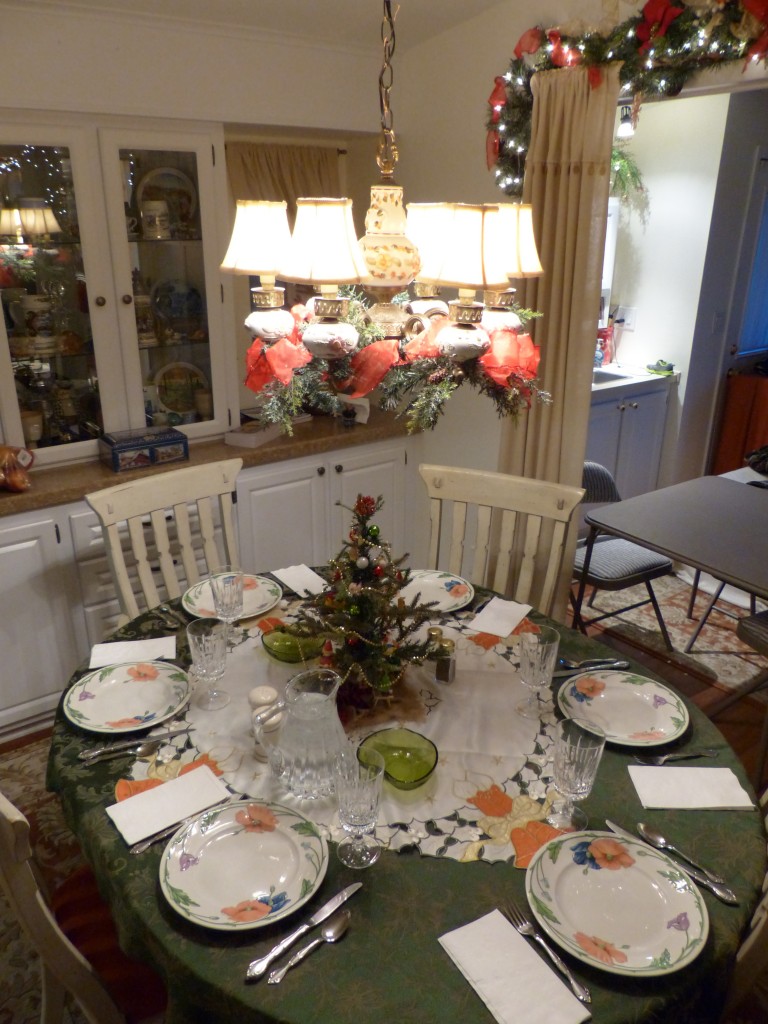 Happy nephews!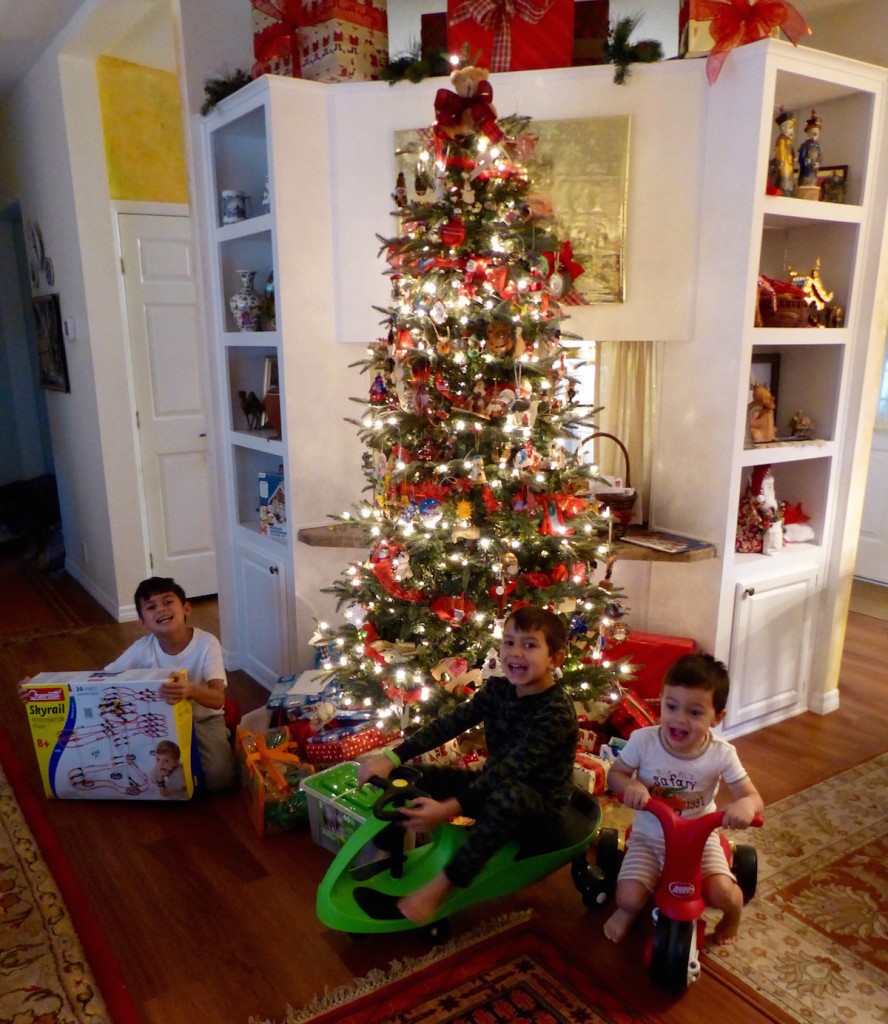 Jack doesn't want to open presents … but Tony does!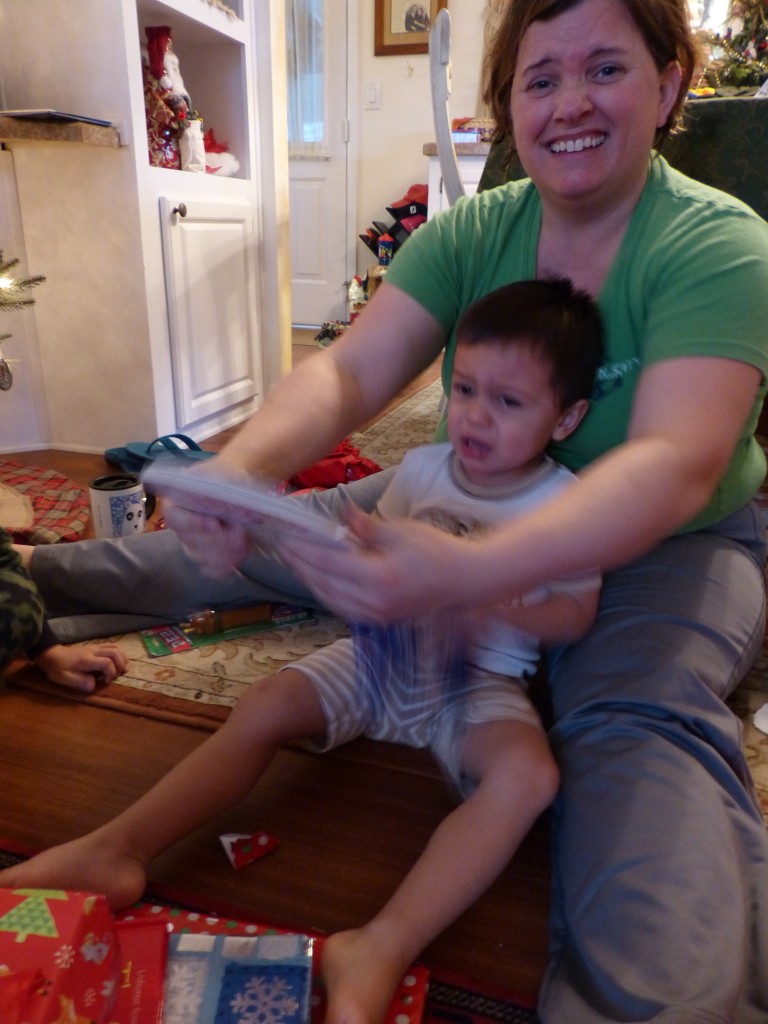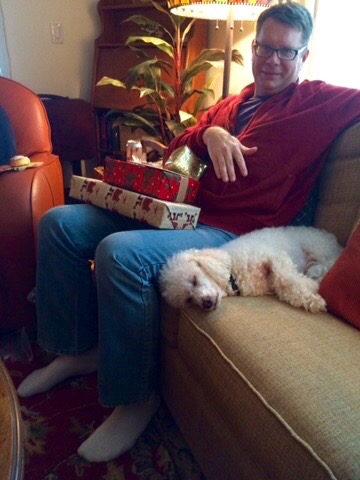 A highlight of the morning was opening the presents that Nico and Paul picked out and bought with their own money. They watched with big smiles and wide eyes, waiting for our reactions. I gushed to Nico about my fantastic charm bracelet with blinking Christmas lights, and I promised Paul I would keep my earrings in the little bedazzled orange box he gave me. It's pretty special to see kids learn the joy of giving.
Our traditional Christmas War was a bust. (See 2012's blog post for details on how it SHOULD play out.) Only my dad had prepared. The rest of us were sitting ducks. In our defense, Tony and I went to Target to get weapons, but the only Nerf guns they had were $25 each! Arriving in the States just a few days before Christmas, we simply didn't have time to plan a proper strategy. I don't know what Kate's excuse was…
Dad's sneak attack.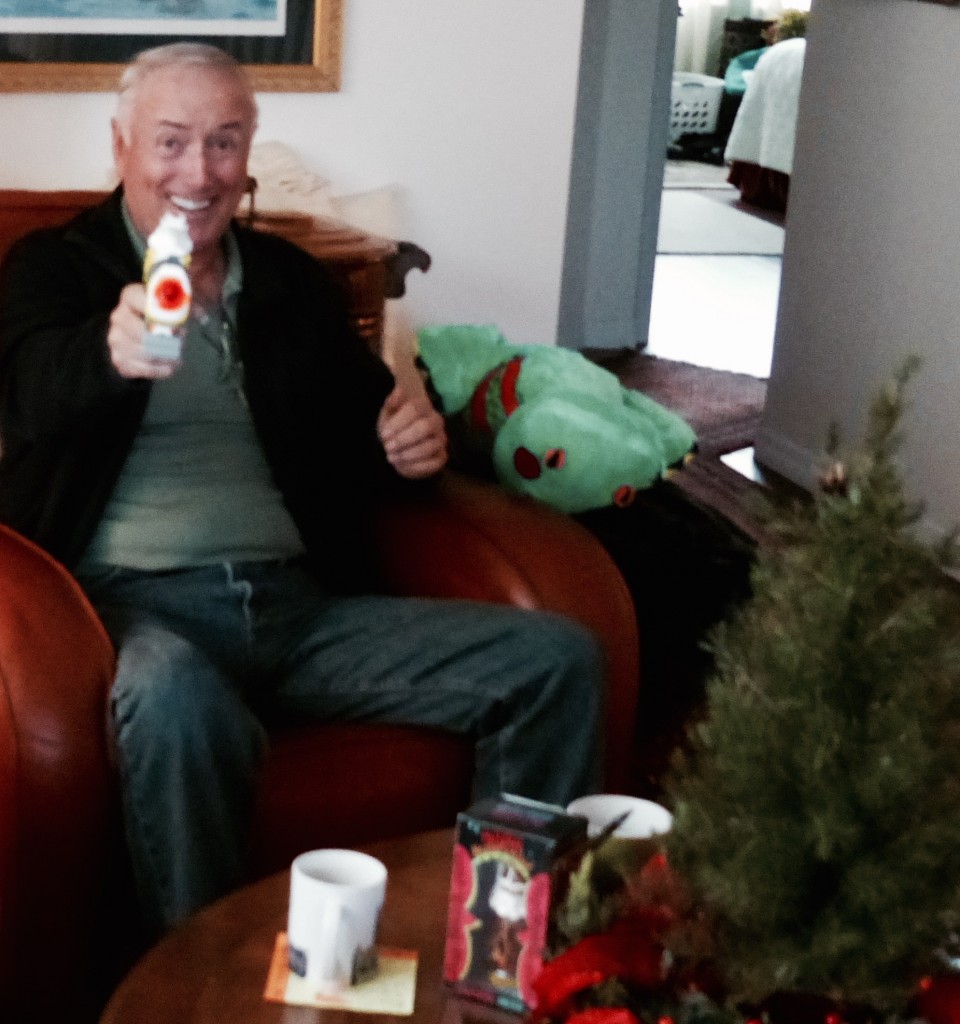 Kate had ammo but no guns. What?!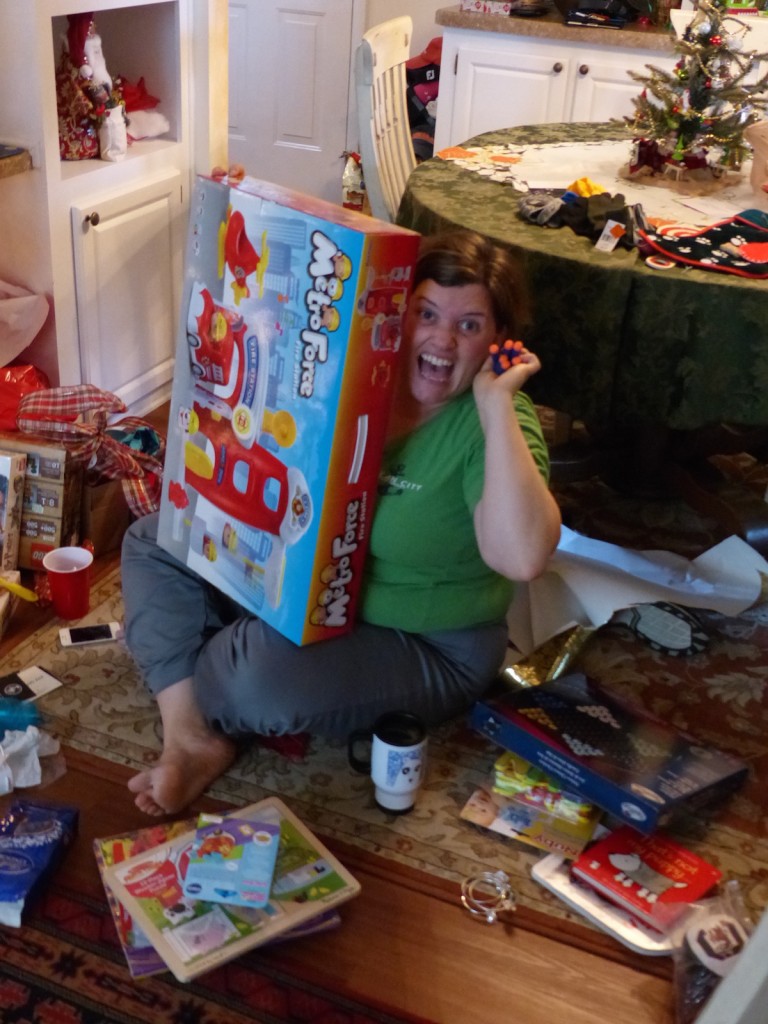 For New Year's Eve, we partied octogenarian style! Katie Belle's, a favorite Villages venue had undergone a facelift, and this was the unveiling – sort of a "soft opening." The place had apparently been a raucous dance club with a nice perimeter restaurant upstairs overlooking the dance floor. Rumor has it the owners were trying to cash in on the upscale clientele attending shows at the ritzy theater across the square and wanted to create a more refined dining experience, so they remodeled. It really was lovely, and the food was great (lobster and salmon for me, thank you!).
Waiting to get in…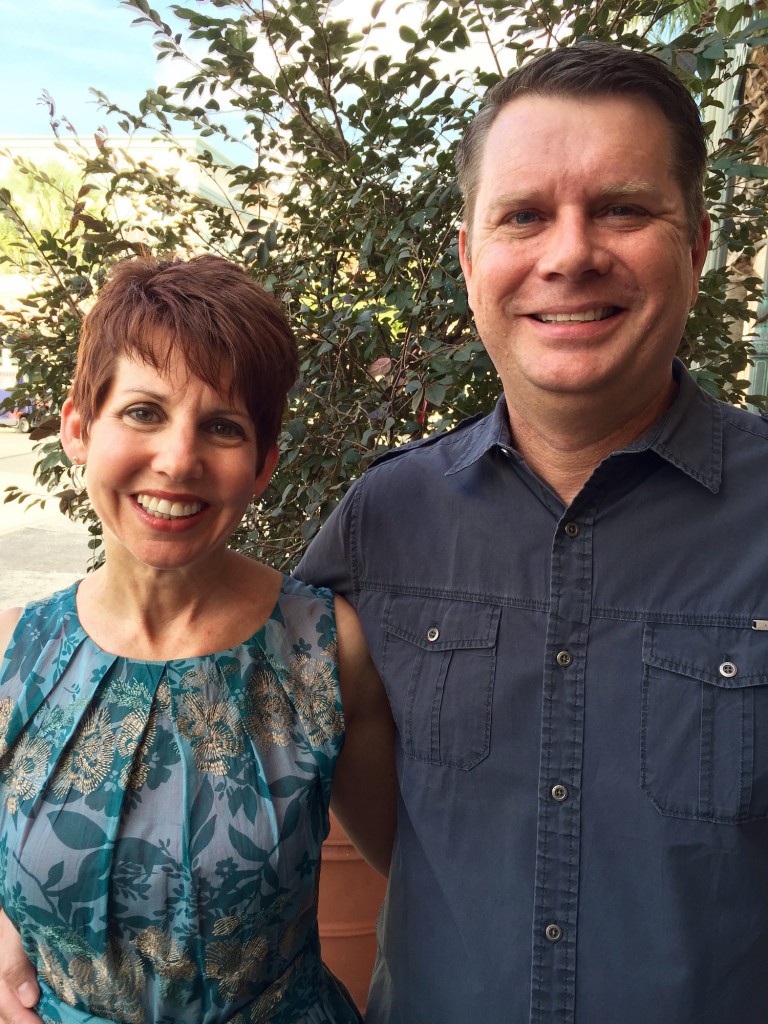 Me, my mom and Bev

However, we had to laugh at the timing. My parents, their friend Beverly, Tony and I joined the crowd outside Katie Belle's for the 3:30 p.m. seating. The musical act (a sort of karaoke lounge singer, who deftly impersonated singers such as Neil Diamond, Frank Sinatra and Johnny Mathis) kicked off around 5:30. At 6:19 p.m., waiters circulated to fill our champagne glasses, and the singer started a countdown. We all shouted "Happy new year!" and kissed each other as though it were midnight. That was odd enough, but then a huge group joined hands in a circle on the dance floor to sing several patriotic songs, including "God Bless America" and "Proud to be an American." It was like some strange cult. I told my mom, "I'm afraid they're going to sacrifice a virgin!" and she said, "Good luck finding a virgin here!" So that was different. By 7 p.m., the lights were blaring and we were ushered out the door. Perfect for a couple of jetlagged only-barely-too-young-to-live-in-the-Villages party animals like Tony and me!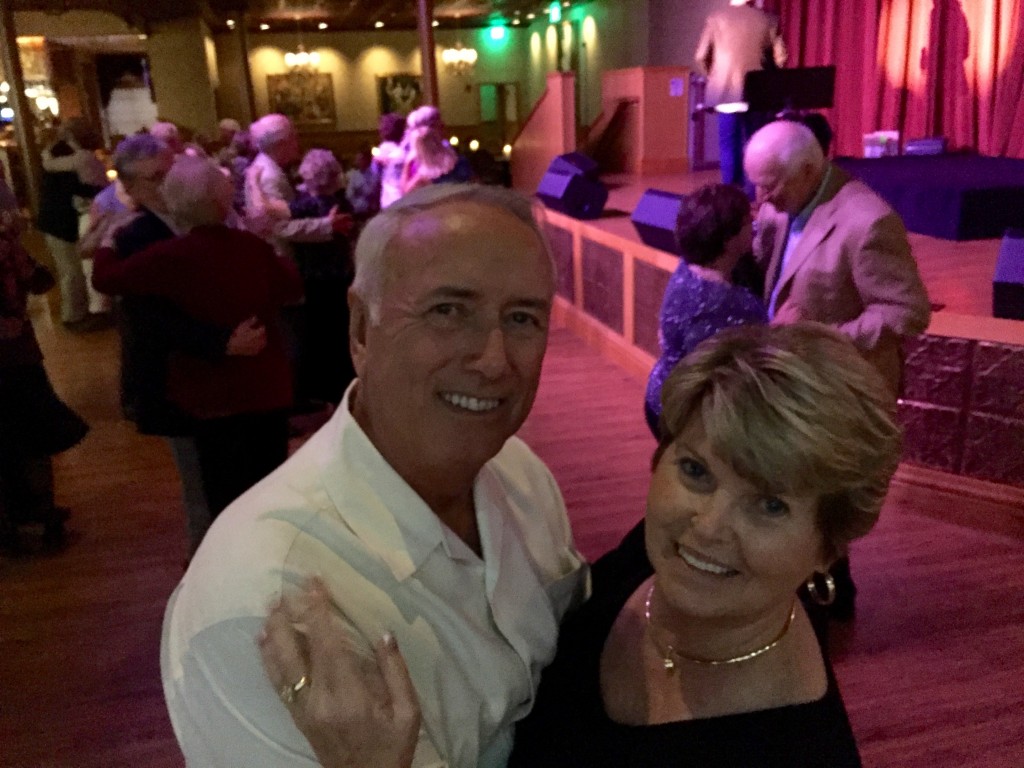 Happy New Year (6 hours early)!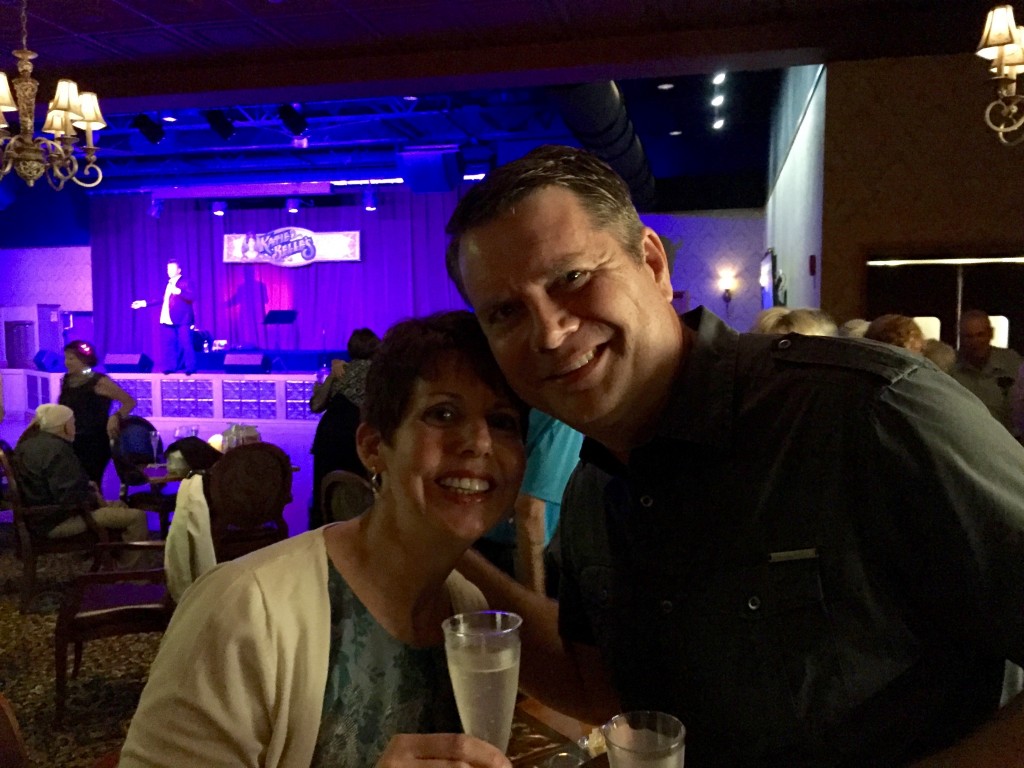 It's going to be a great year! (The newspaper article referred to The Sharon, a popular venue for theatrical and musical shows, but it was a pretty good headline to kick off 2016!)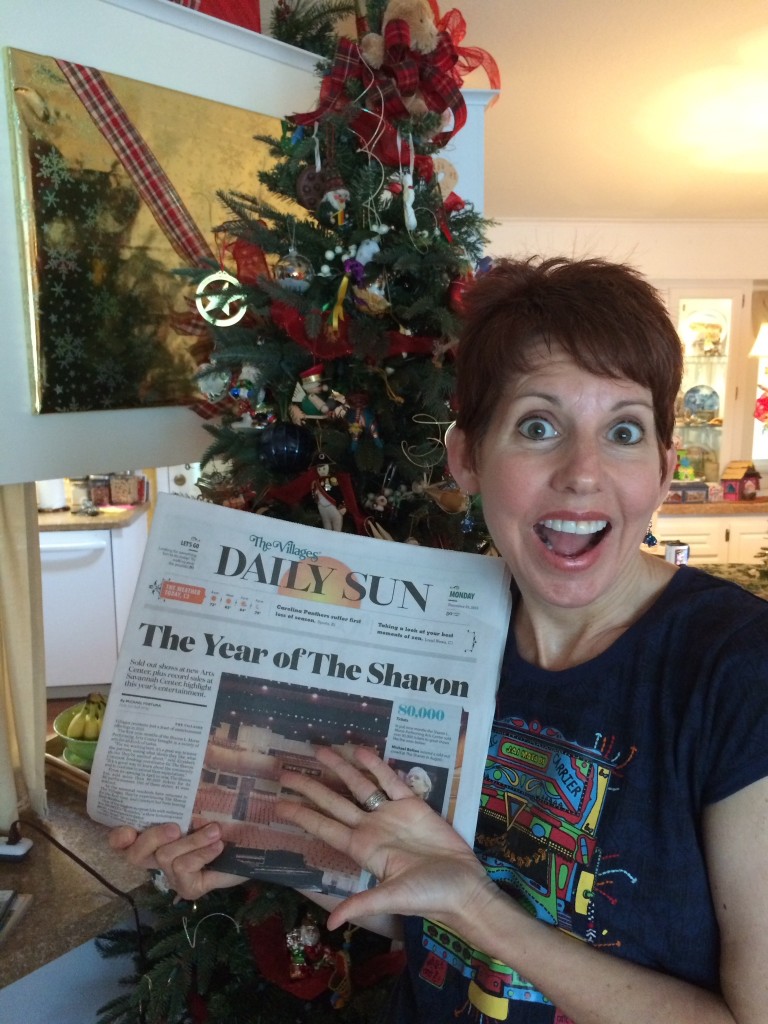 Kate's husband, John, is a saint. He drove with his family from Michigan to Florida, stayed for just a few days, flew back to Michigan to put in a week of work, and then flew back to Florida to drive them all home! The day they left, the Dickinsons and the Dents embarked on a Country Club Crawl. I had joked earlier in the week about having a cocktail at every club in The Villages before leaving Florida. Instead, my dad planned out an abbreviated route that took us to five country clubs. We popped in to each one, had a quick drink on the veranda, and sped off to the next one. My dad, Tony and I split beers or otherwise cheated to stay relatively sober, but my mom discovered the Malibu Bay Breeze and got one at every stop. She may have been a bit sloshed by the time we met their friends Jim and Nancy for dinner (and our last club cocktail).
Stop 1: Evans Prairie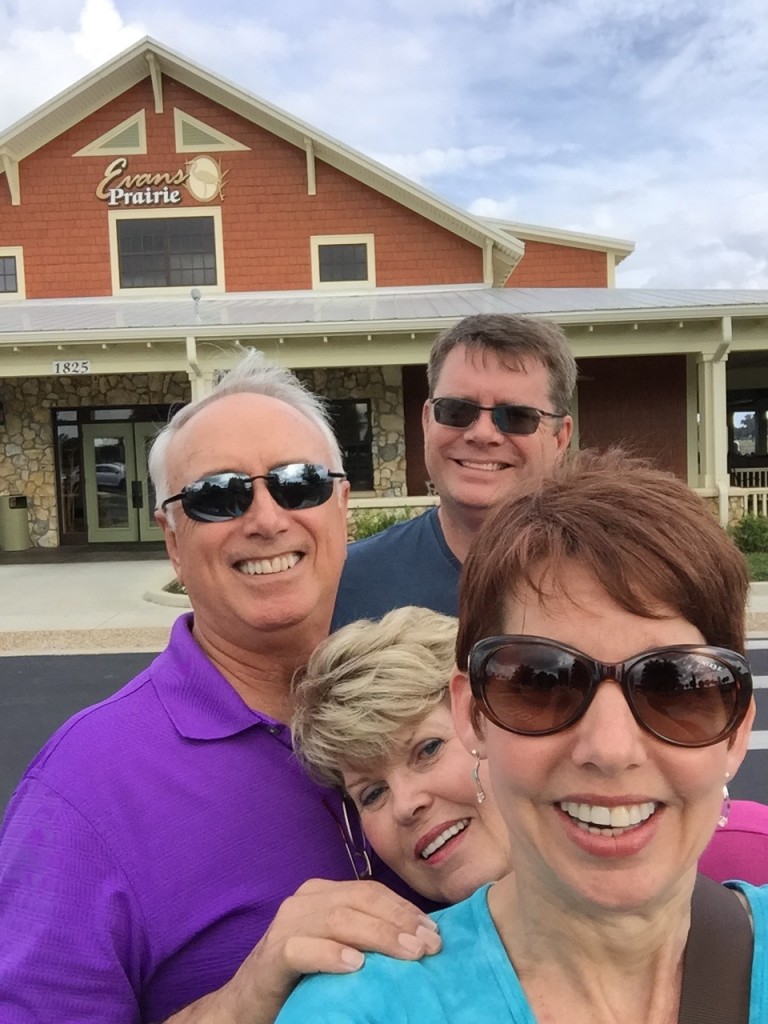 Stop 2: Palmer Legends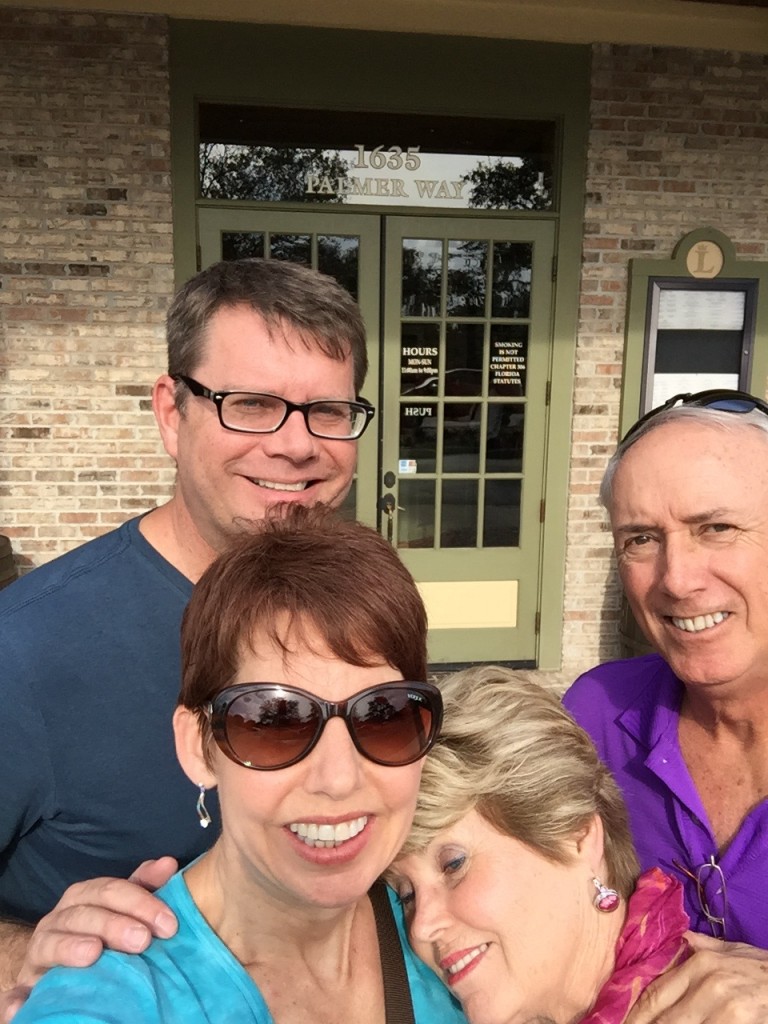 Stop 3: Glenview

Stop 4: Hacienda Hills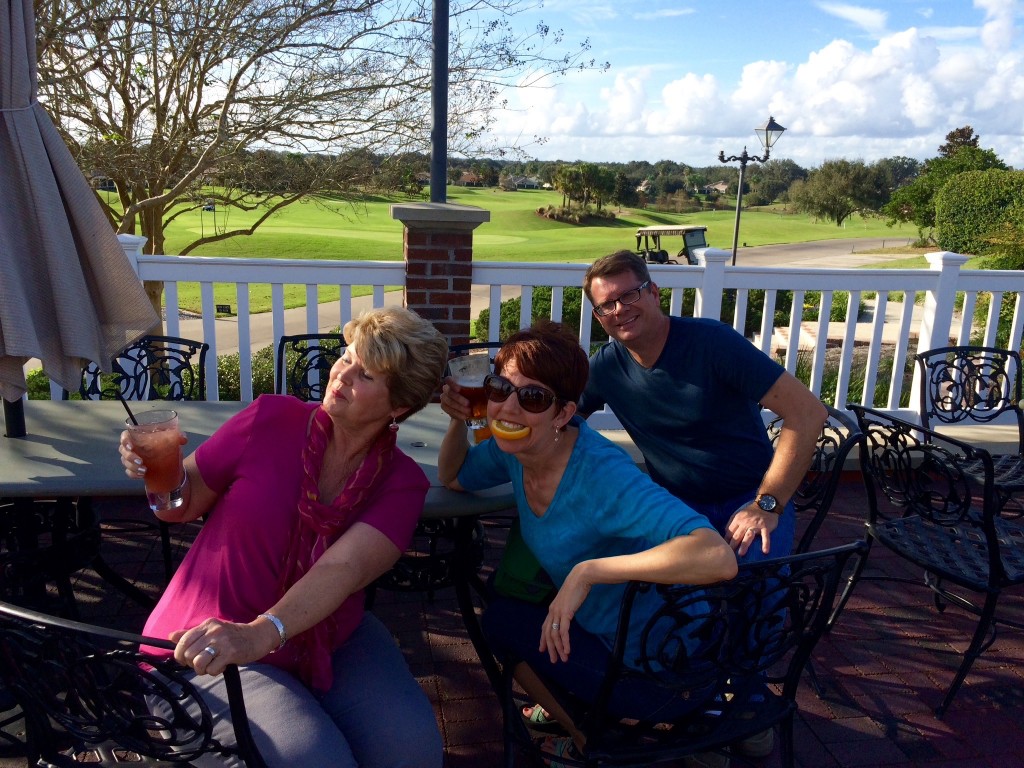 Stop 5: Nancy Lopez
(We couldn't remember if this was stop 4 or 5…)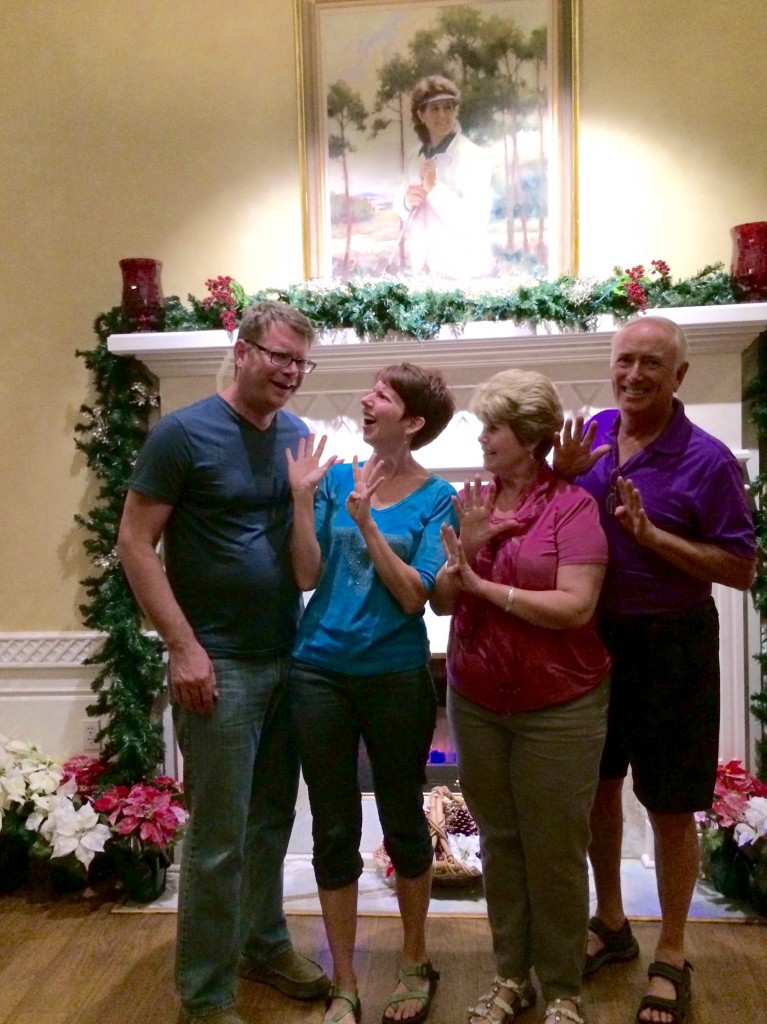 During our two weeks at The Villages, we spent a lot of time eating and chatting, two of my favorite things, but we managed to fit it a few outings.
Mount Dora is a funky small town with oak-lined streets, antique shops and sidewalk cafes with intriguing names such as The Goblin Market and Pisces Rising. After a little rest at the historic Lakeside Inn, we walked to the edge of Lake Dora to board a pontoon boat for a 2-hour eco-tour with Premier Boat Tours.
Mom posing with some residents of the Lakeside Inn lobby.

Dad waiting to board the boat.

We zipped across the lake while listening to a recording about the area's history and then slowed down for a cruise through the twisting passages of Dora Canal. Parts of the canal were residential; lucky homeowners sit on their back porches to enjoy the wildlife and tranquility among the towering cypress trees draped with Spanish moss (which we learned is neither Spanish nor moss, but rather a relative of the pineapple – crazy!).

However, backyards can be dangerous places. This alligator was sunning herself among some Christmas yard art, while her babies hung out at the nest across the canal.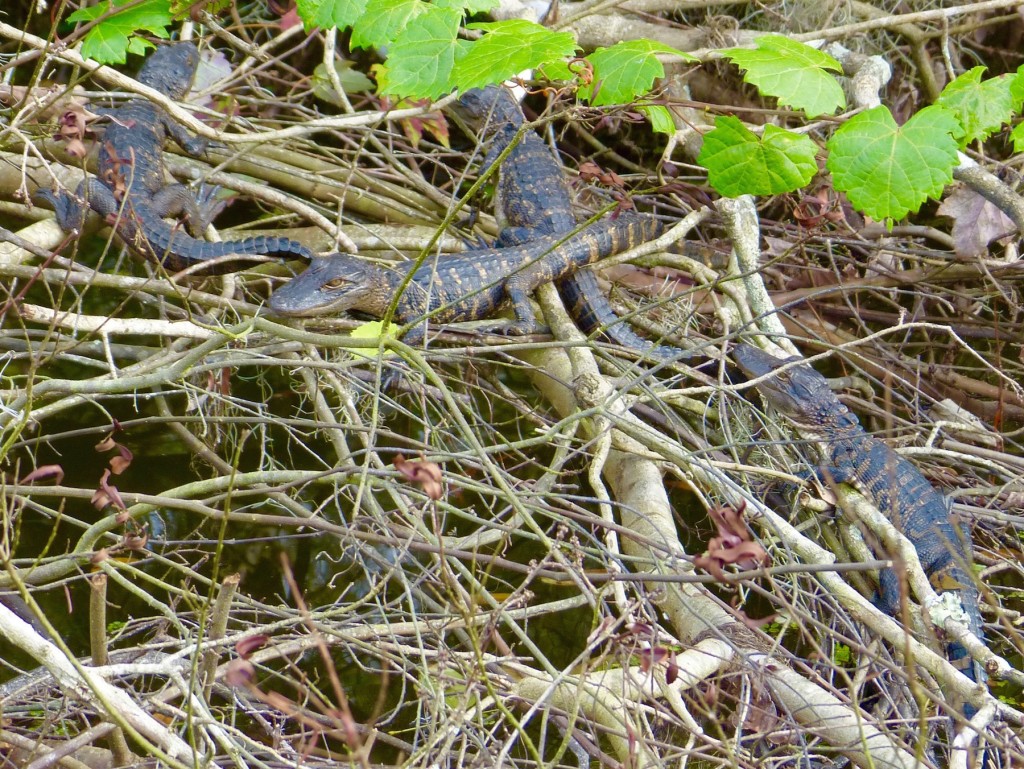 Our captains shrewdly spotted and identified gators, turtles and all sorts of birds, including my favorite, the anhinga, a ubiquitous canal dweller frequently seen with its wings outstretched on the banks or in a tree. The captains explained that the anhinga dives into the water and swims to catch fish, but it doesn't have oily feathers like ducks. If it stays underwater too long, it will get waterlogged and drown. After awhile, it has to find a safe spot to stretch out and fan its wings in the breeze until dry enough to resume hunting.
Here's one drying out on someone's boat.

On another day, we checked out the Ellie Schiller Homosassa Springs Wildlife State Park. From the visitor center, we took a boat ride through cypress-lined canals to the park. There, we encountered all sorts of indigenous species, from birds to foxes.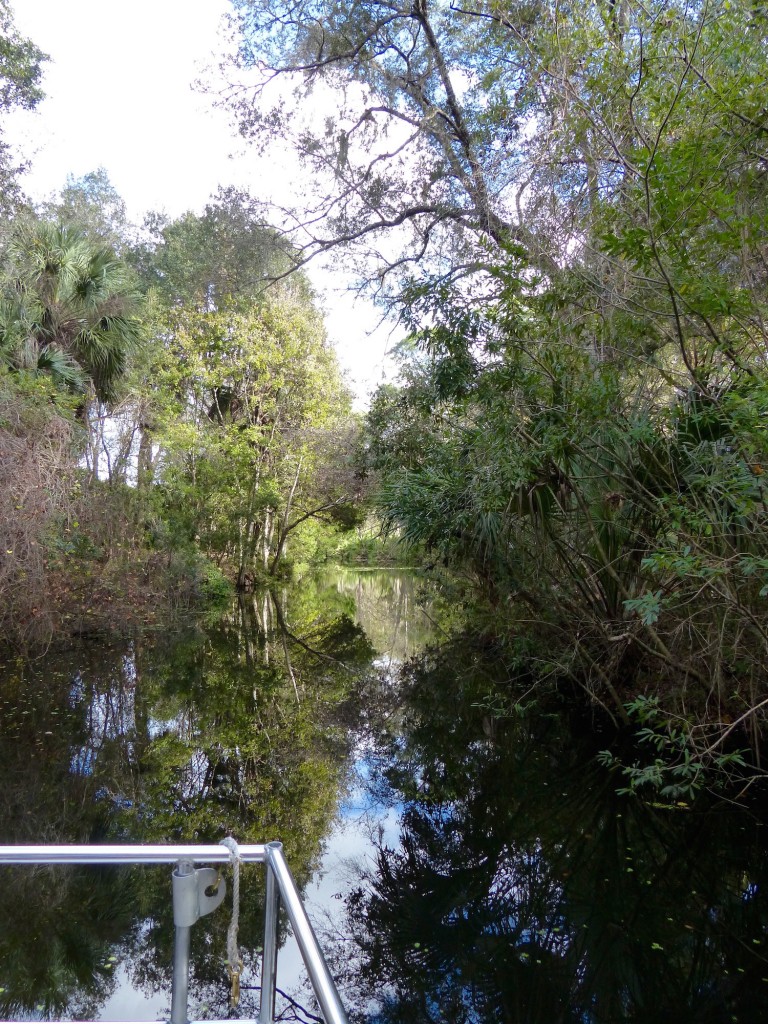 According to the Florida State Parks website:
Ellie Schiller Homosassa Springs Wildlife State park has been a tourist attraction since the early 1900s, when trains stopped to let passengers off to walk the short trail to the first-magnitude spring. The tracks ran alongside what is now Fishbowl Drive. While passengers enjoyed a view of Homosassa Spring and its myriad of fresh and saltwater fish, the train's crew were busy loading their freight of fish, crabs, cedar and spring water aboard the Mullet Train.
The 50-acre site and surrounding 100 acres was purchased in the 1940s and was operated as a small attraction. In 1964, the Norris Development Company bought the property and expanded it as Homosassa Springs "Nature's Own Attraction," with an emphasis on entertainment and with a variety of exotic animals and some native species. Ivan Tors Animal Actors housed their trained animals at Homosassa Springs Attraction for several years. These animals were trained for television shows and movies. When they were not performing they were kept at Homosassa Springs. One of the most popular of these animals was Buck who was stand-in for Gentle Ben in the famous television series. Lu, a hippopotamus, was one of the Ivan Tors animals and still resides at the park after being declared an honorary citizen of the State of Florida by then Governor Lawton Chiles. Norris owned the attraction until 1978.
From 1978 until 1984, the land went through several changes in ownership. The Citrus County Commission purchased the attraction to protect it as an environmentally sensitive area until the State of Florida could purchase the property as a Florida State Park. Modern thinking about captive wildlife has influenced how the park is now managed. Both visitor safety and animal welfare are of utmost importance at Ellie Schiller Homosassa Springs Wildlife State Park.
Lu, the hippo referenced above, lives in a tank at the entrance to the park and twice put on a nasty show of projectile pooping, which attracted even nastier vultures looking for a snack. Fortunately, the park warns you to stand clear.

Speaking of poop … we encountered quite a bit during another outing to Uncle Donald's Farm, a somewhat ghetto petting zoo/working farm not far from my parent's neighborhood. The boys fed chickens, petted a sheep and rabbits, cuddled (and got scratched by) some farm cats, milked a goat, took a hayride (complete with sloppy cow kisses), ran through a hay maze, and climbed on old farm equipment. It was pricey and not the most polished operation, but the kids had a blast.

Oh, and of course, we went to Star Wars 3-D!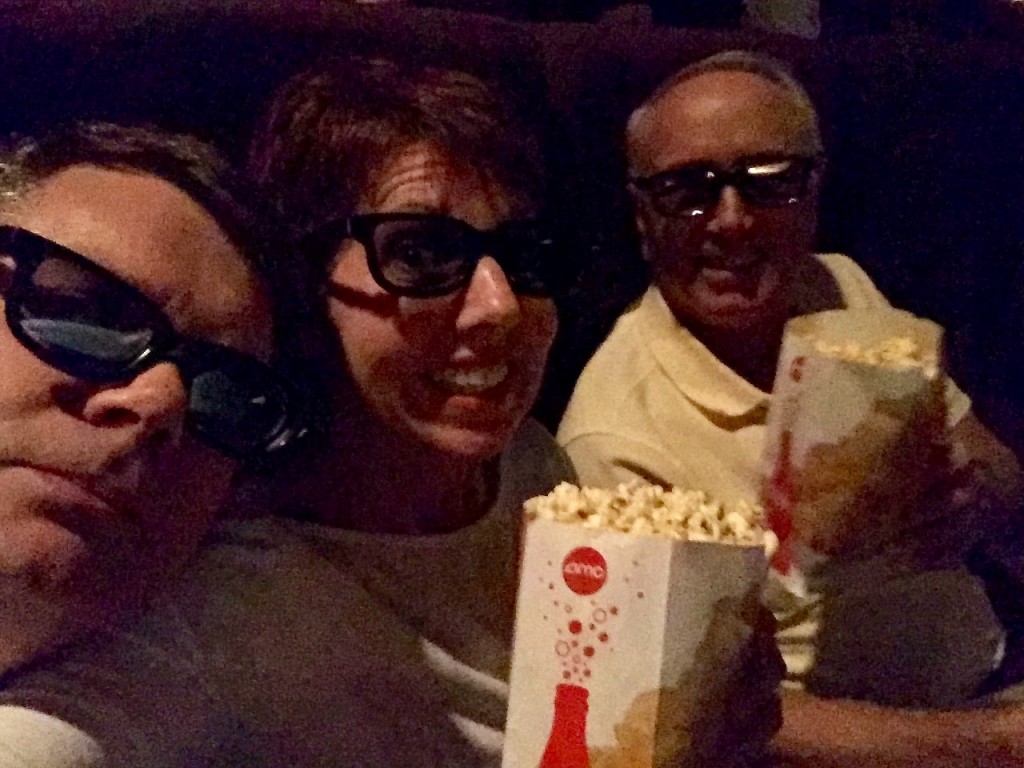 Every family gathering has its share of drama, and we were no different. Still, I felt grateful for every minute with this nutty crew. I only wish the rest of the gang could have been there.
So long, America. See you in June!