Less than a week before heading to the coast for a three-day weekend, I stood in my kitchen making butter chicken for dinner when the sliding glass door to the laundry balcony began to rattle. I thought it was the wind at first, but then a cheese grater fell out of the dish drainer onto the floor and I realized everything was shaking. Tony poked his head in the door and asked, "Is this an earthquake?" He had been lying in bed rocking out to Van Halen and assumed what he felt was "Eddie bending his Floyd Rose," whatever that means. It was in fact a 7.1 earthquake with an epicenter just 35 kilometers off the coast of Chile.
We dashed to a bathroom doorway, which we now know was the wrong thing to do. On Friday, another coastal earthquake, measuring 5.9, reverberated in Santiago, sending teachers and students under tables to "duck, cover, and hold."
Those quakes were among more than 280 temblors created by the shifting ocean floor in Chile's waters, just as we were preparing for a long weekend at the shore. Those red dots? Earthquakes. That blue pin? Our airbnb rental.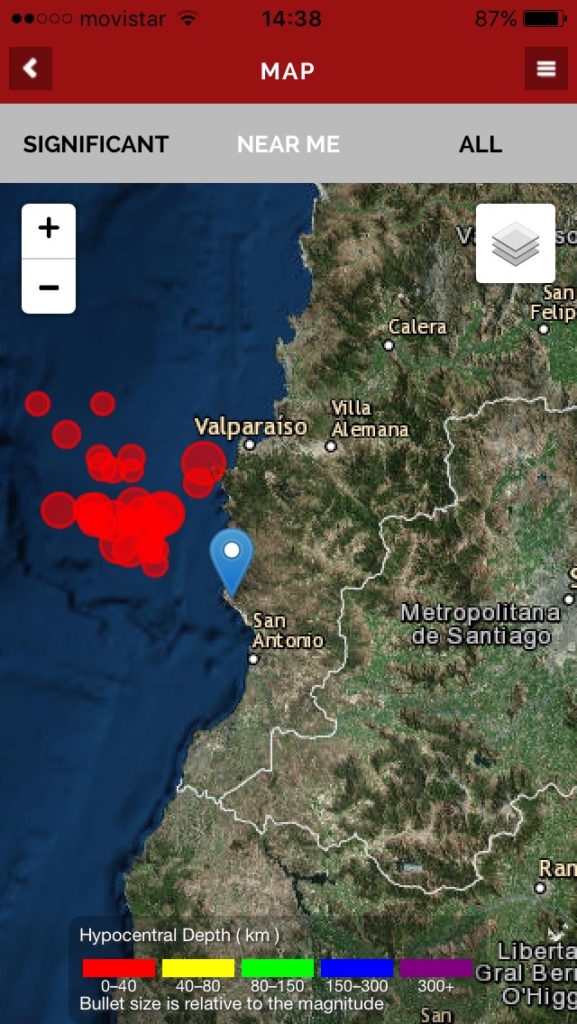 Although earthquakes are scary, our real fear was of a tsunami. With a few friends, we had booked a house right on the Pacific coast, where we could relax on the deck to the sound of waves crashing on the rocks. Unfortunately, an offshore earthquake could send a really really big wave right over those rocks to wash us off the face of the earth. We were all getting a little anxious about our trip.
One colleague said, "Don't go! Why would you take the risk? The small quakes mean a larger one is on the way." Another insisted, "Don't worry! These little quakes don't predict a bigger one. They are actually releasing the pressure." One Chilena told us a renowned earthquake prognosticator swore "the big one" was coming this weekend, and another dismissed our concerns, saying everything was just fine at the beach.
In the end, the deciding factor was our nonrefundable airbnb payment. So, we packed up the car and drove to the coast as soon as school let out Friday afternoon.
Our house in El Tabo was old but comfortable. We laughed at the owner's vast collection of breakable knick-knacks teetering on narrow shelves, a seemingly odd decorating choice in such an earthquake-prone zone. Tony and I claimed an upstairs bedroom. Looking out the window, we could see the small pool below (which would be wonderful in warmer weather), the rocky shore to the north, and the Pacific Ocean stretching from just below our house to the horizon.
After unpacking, we drove to a nearby restaurant. The chatty waitress, Maria Paz, said there had been 14 earthquakes that day. I asked if you could see a difference in the sea during an earthquake, but she said the most noticeable difference was the sound. "It's very noisy," she said.
As we watched the sun set, Craig asked Maria Paz what time the notoriously late-dining Chilenos would arrive. "Because of the earthquakes," she said, "they will stay home." That was disconcerting.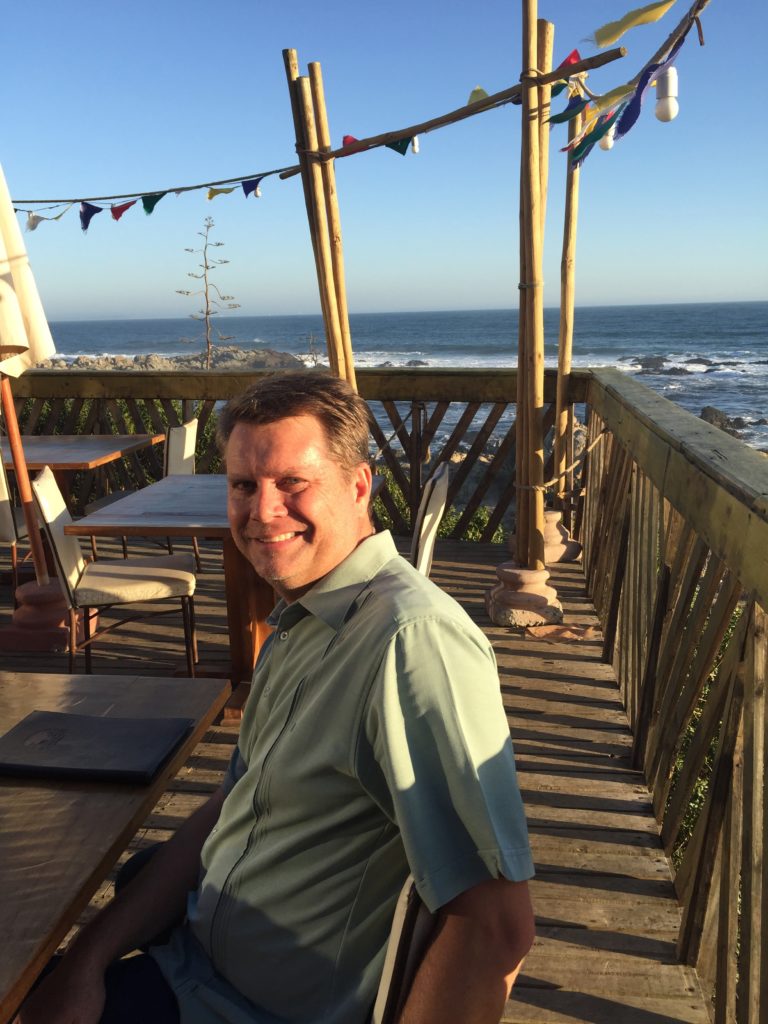 Back at the house, we chatted and played cards. At one point, we all felt a quick jolt, the first temblor we noticed since we had arrived. We nervously joked about our tsunami evacuation plans and made sure Travis parked his car facing out of the narrow driveway so we could make a quick get-away. I slept with my shoes next to the bed in case I had to walk through broken glass in the morning.
The next day dawned peacefully. My LastQuake phone app repeatedly buzzed with reports of small quakes off the coast, but we never felt them.
Our sunrise view.

We spent the morning lounging around and strolling on the beach.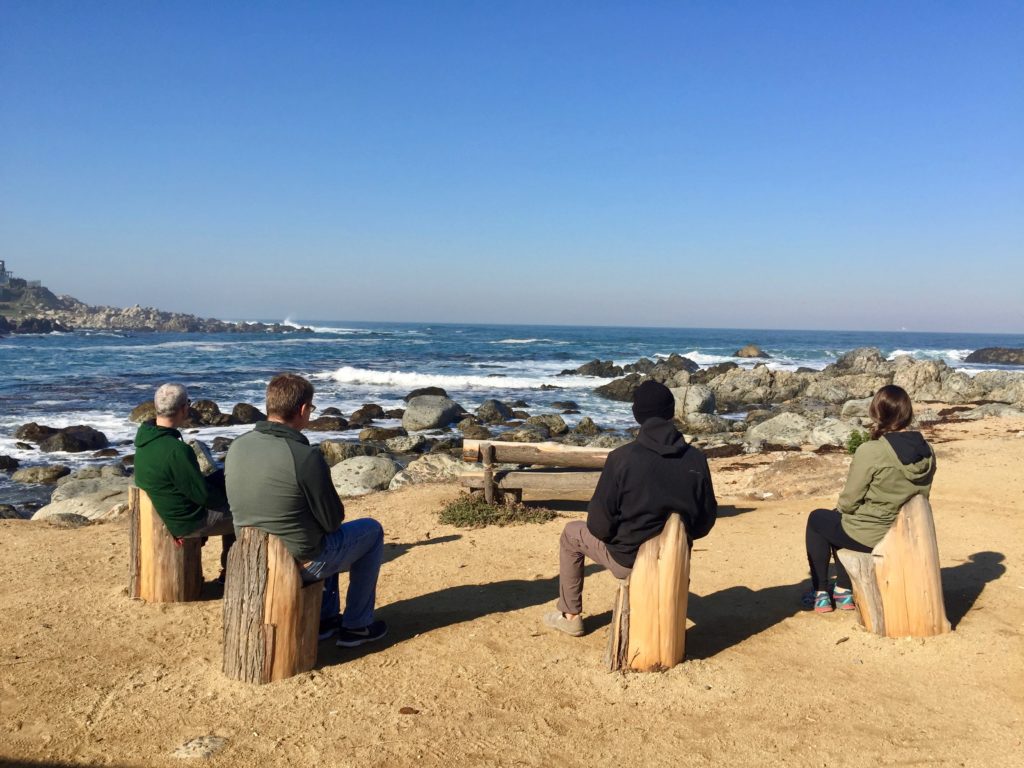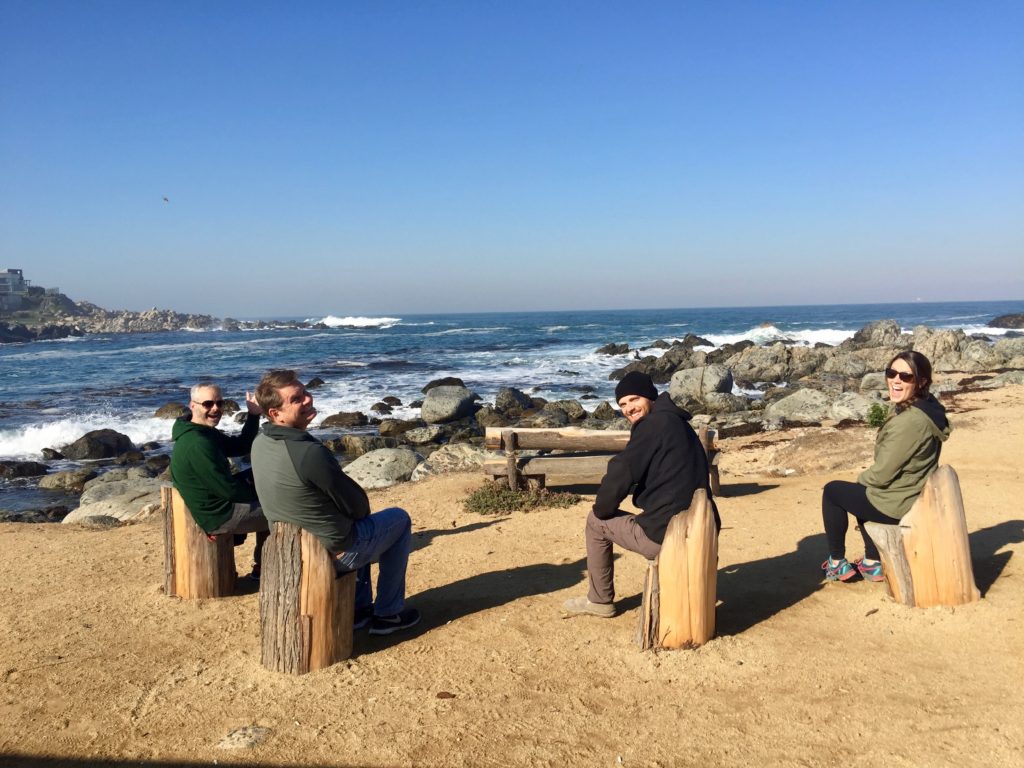 After Stella and Ian arrived, a few of us toured the nearby Casa de Isla Negra, the seaside home of the late poet Pablo Neruda, which has been transformed into a museum. Neruda had two other homes in the region: La Sebastiana, which I visited in Valparaiso earlier this year, and La Chascona in Santiago, which I have yet to see.
Neruda bought the property and a stone hut in 1938 after returning to Chile from diplomatic postings in Europe, and he began a long process of building and renovation. All materials were transported in ox carts across the estuary. He left Chile again as Consul to Mexico, and when he returned in 1943 he was elected to the Senate and joined the Communist Party. The Chilean government soon moved to the right, outlawing communism. Neruda went into hiding until 1952 when the order to arrest leftist artists was lifted. He married his third wife, Matilde Urrutia, and spent the next 21 years living and writing at Isla Negra. He died on Sept. 23, 1973, just 12 days after a military coup toppled Chile's democracy. In 1992, at the end of the dictatorship, Neruda's remains were moved to Isla Negra and laid to rest next to Urrutia, fulfilling a wish expressed in his poem "Disposiciones":
"Friends, bury me at Isla Negra,
before the sea I know, before each wrinkled stretch of stones,
and before the waves my lost eyes
will see no more…"
(Canto general, 1950)
According to a 2014 article on the BBC Travel website about the Isla Negra house,
His personality is evident throughout. A closet-sized bathroom is filled with vintage photos of women in various stages of undress, and frightening masks were hung above the door to scare women away from using it. A stuffed lamb rests on his bed, and the house is packed with swords, bottles, masks, pipes, bugs, butterflies and an entire room filled with seashells. For a communist, Neruda was quite an obsessive shopper. And thankfully, most of his collectibles have survived. After the coup, soldiers raided the home. "Look around," Neruda told them, "there's only one thing of danger for you here – poetry." They left without confiscating any of his priceless items.
The house at Isla Negra reflected Neruda's eccentric lifestyle and appreciation of all things nautical. The layout evokes a ship with narrow rooms in a single file, creaky wooden floors, huge wooden figureheads looming over the rooms, shelves filled with ships in bottles, framed maps and astrological imagery, and windows revealing the frothy turquoise waves pounding the rocky beach. A large anchor in the yard seems to secure the house to the hillside. An audio tour shared many fascinating anecdotes about the poet, a complicated, passionate man who saw beauty in the mundane world around him. Over the years, he wrote odes to the tomato, his suit, bread, a box of tea, and so many more random items. The cluttered chaos of his home seemed to emphasize his need to be surrounded by interesting things.
Unfortunately, we weren't allowed to take pictures inside the house. Here are some outside shots.
This quote means something like, "I return from my travels. I sailed building joy."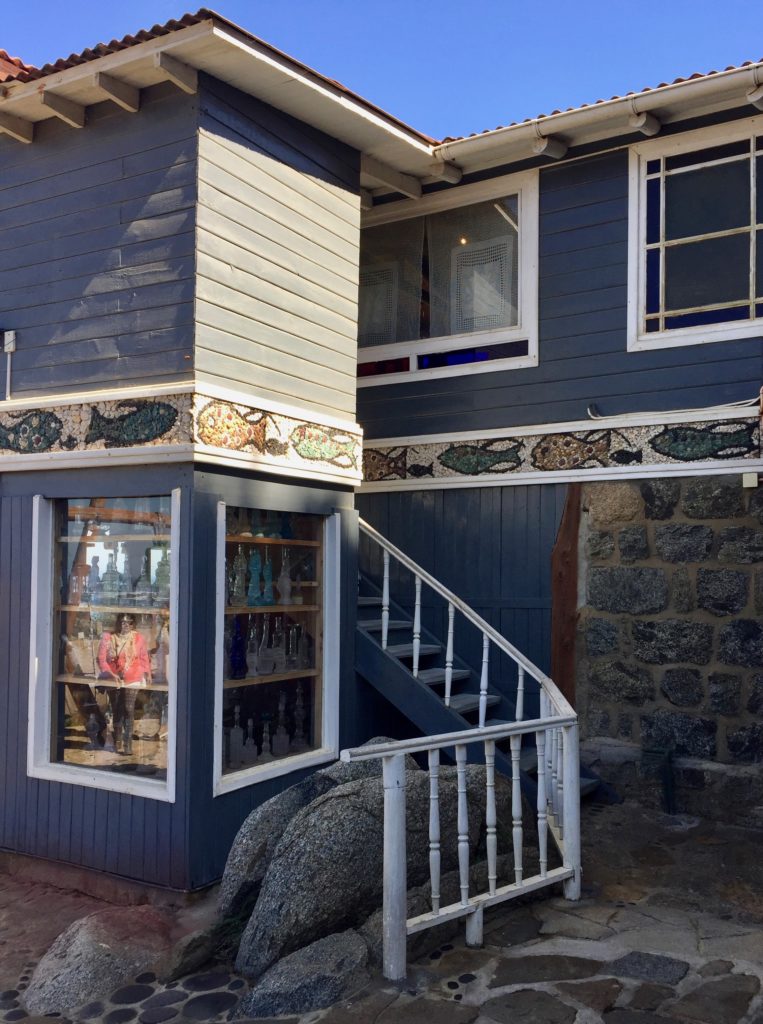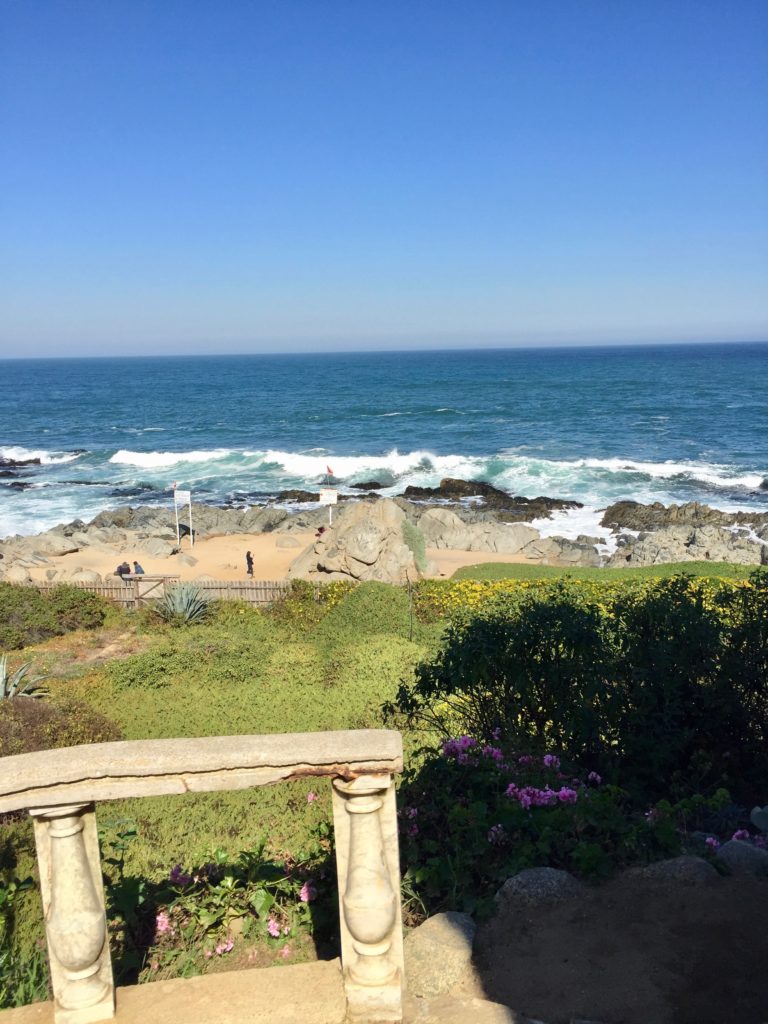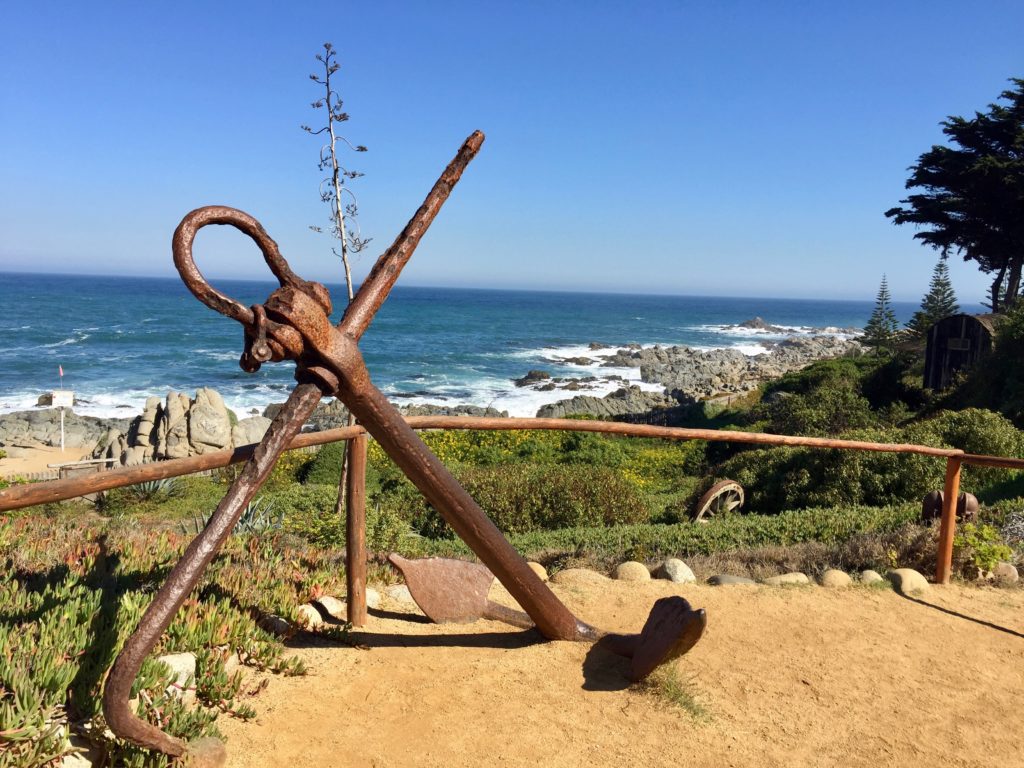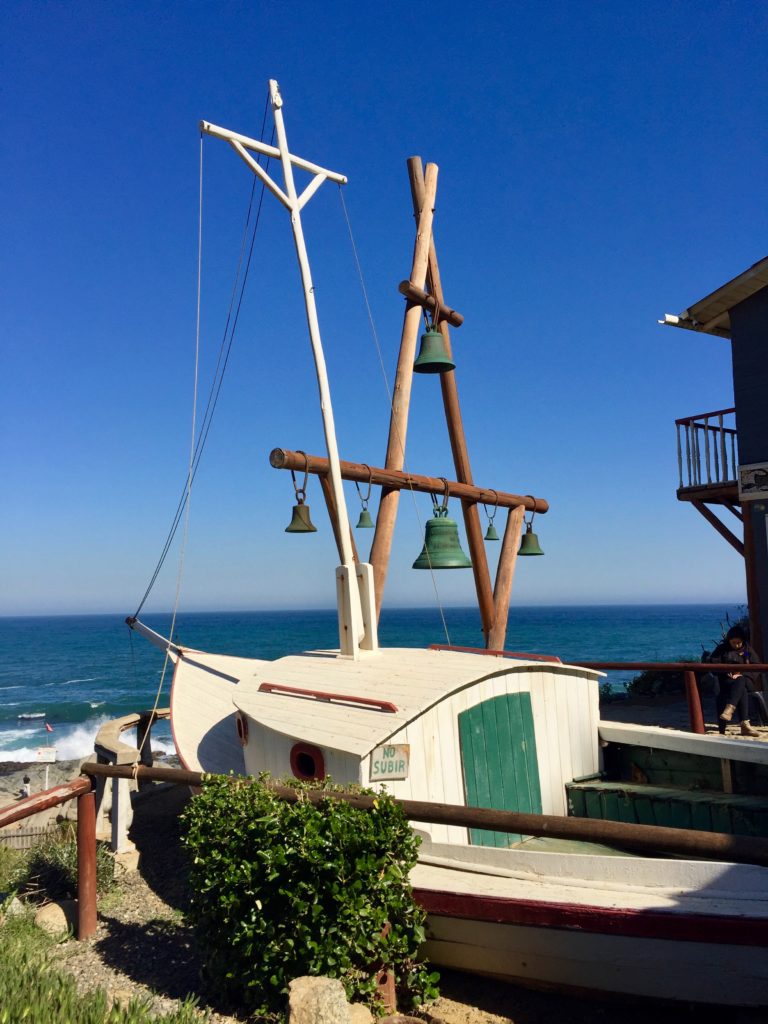 After our visit to Neruda's waterfront home, we returned to our own, where some other Nido teachers had popped in for a visit. They were staying at another house in the same neighborhood. Later, we climbed around on the rocks (which I think is now officially a sport called "bouldering" … that sounds so much more athletic) and then enjoyed our own version of the Chilean asado (barbecue), including steak masterfully grilled by Ian.
A view of our house from the shoreline.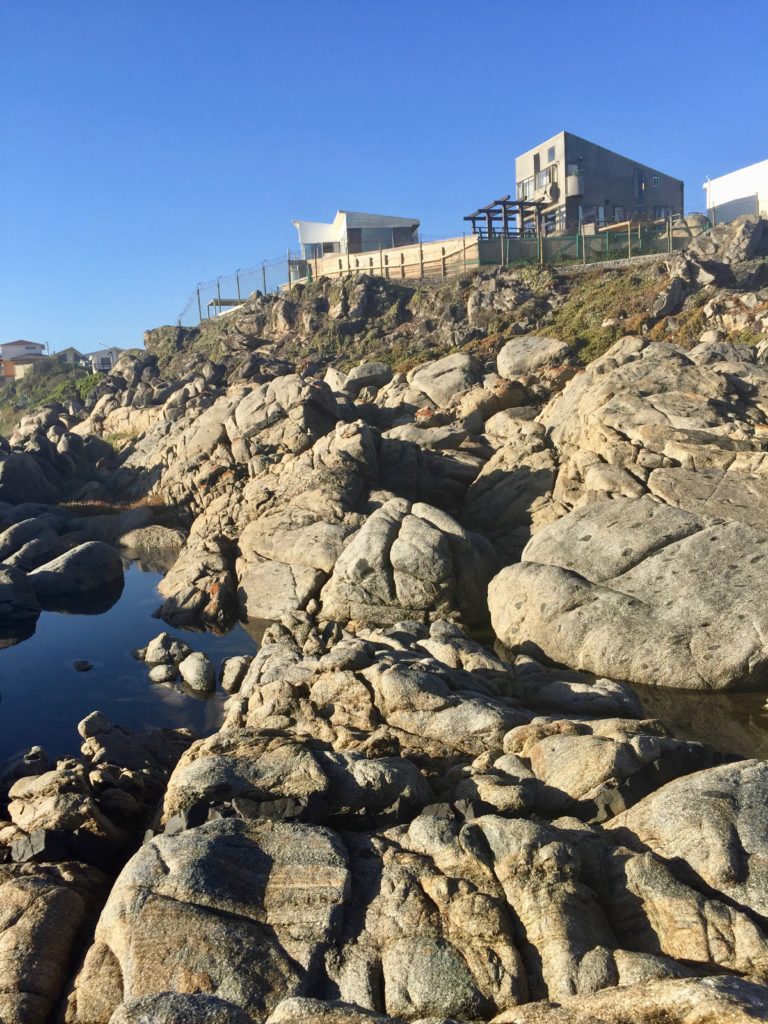 Posers. Me …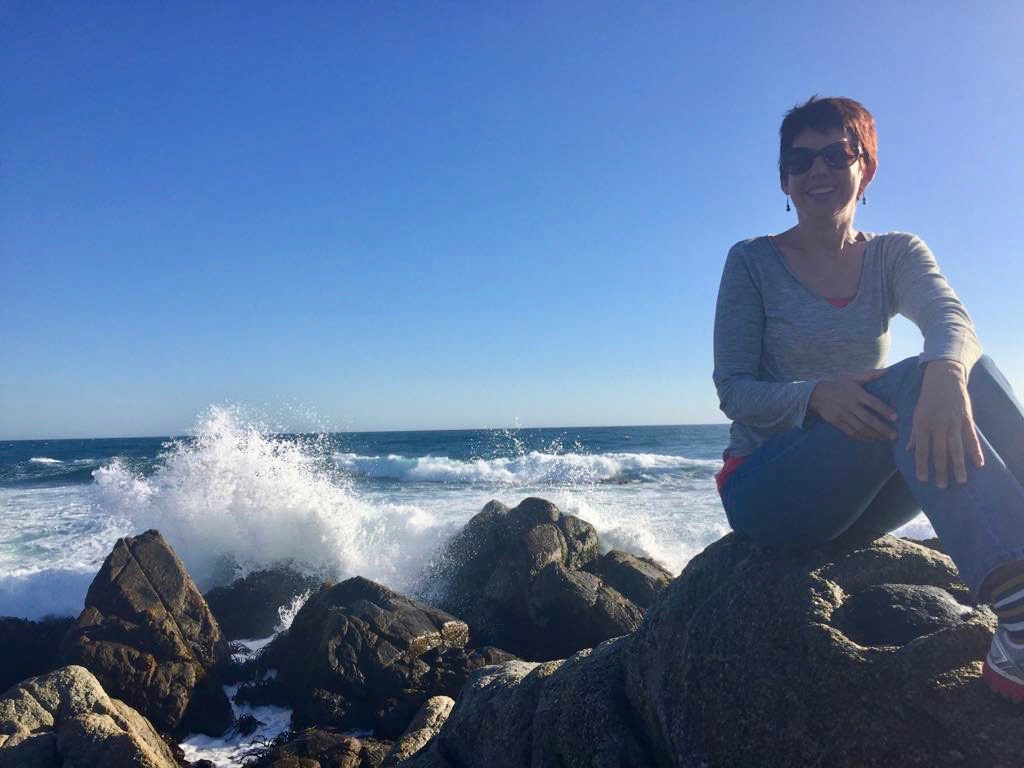 … and Craig.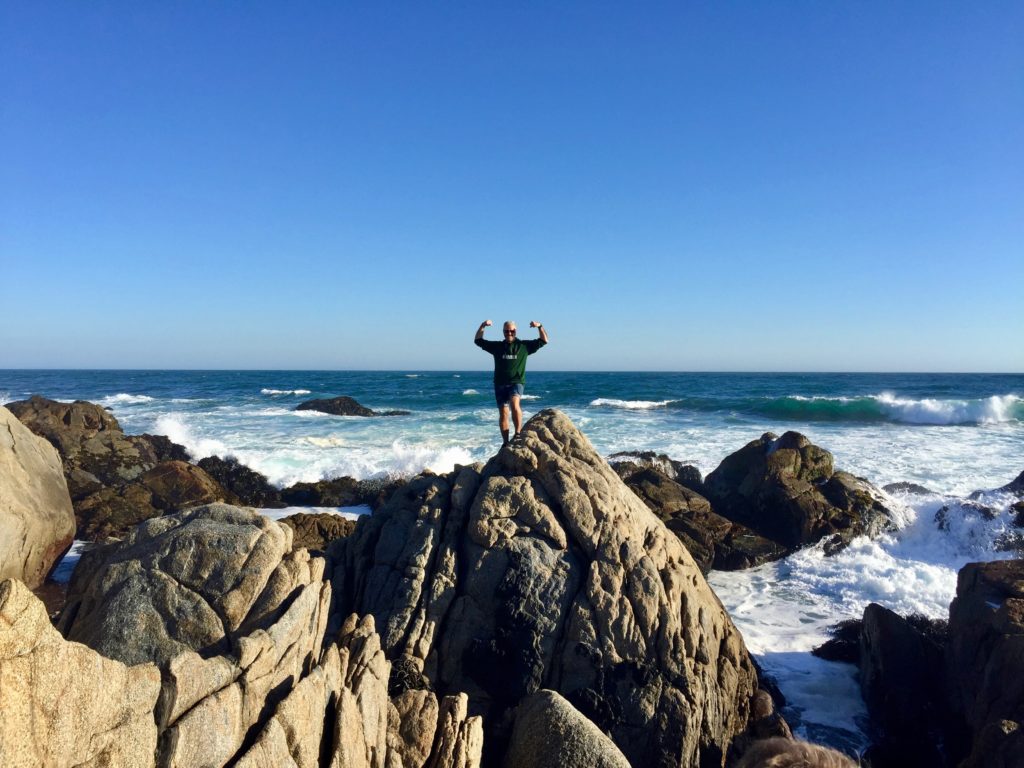 Hanging out on the deck after dinner. Photo courtesy of Travis.

We awoke Sunday to a chilly, foggy morning. Despite my app's occasional announcements of off-shore earthquakes, we still hadn't experienced anything dramatic. After a lazy morning of huddling by the space heater with a mug of tea and shivering at the sight of surfers in the icy waves, I was happy to see the sun burn away the fog. Tony and I enjoyed some more bouldering, although we mostly climbed to a good spot and then sat on a rock to watch the crashing surf. The deep blue water swelled until its crest appeared bright teal, spilling over with the white froth and ultimately pounding into the towers of volcanic rock with a dramatic explosion of spray. I found myself clapping and giggling like a toddler. I hope I can channel that joy at work this week.
Laura snapped a few photos of us from the deck of our house.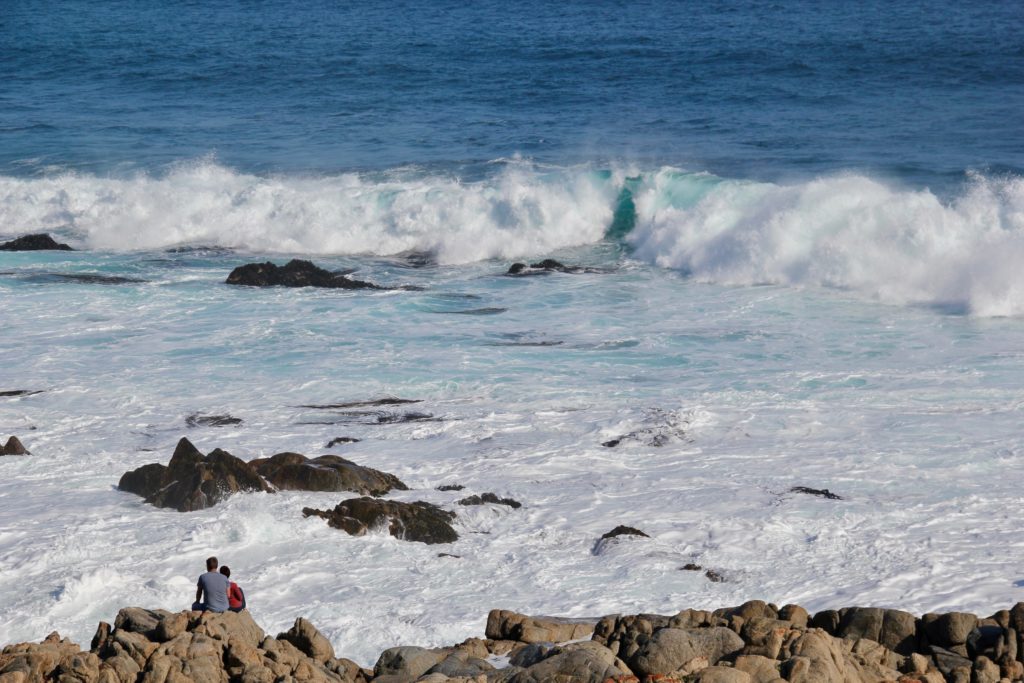 For much of the afternoon, Travis, Laura, Craig and I played a card game called Dutch Blitz while Tony graded papers.
Today, the skies were gray and drizzly at the coast. Rather than linger till our check-out time of noon, we all decided to pack up and hit the road. I won't lie to you: After all the earthquake drama of the previous week and predictions of tsunamis, I was surprised and deeply relieved that our journey to the earthquake epicenter (or close enough) was uneventful and mellow. Whew!
Back home in Santiago, we're counting down to the end of the year: 34 more school days!