One of my favorite events of the year in Santiago is MOVInight. Not MOVIE night. MOVI without an E. It stands for Movimiento de Viñateros Independientes, or the Movement of Independent Vintners, in English. Small Chilean wineries showcase their wares in a festive setting with music, food trucks, and a hip lively crowd. I wrote about last year's event here. This year's MOVInight took place on Nov. 10 in a different but equally fabulous venue. Unfortunately, I didn't snap any photos worthy of posting. I did, however, sample a delicious rosé from a boutique winery called La Recova, and I knew I would have to pay that place a visit.
A month later, on Dec. 2, I hired a driver and piled into a van with four girlfriends – Nancy, Clare, Hillary, and Lisa – for the 2-hour drive to Casablanca Valley, one of Chile's premier wine regions. Several mass-producing wineries line the highway – called Ruta del Vino, but La Recova hides off the main path, outside the village of Las Dichas (which translates to "good fortunes"). The small-scale winery produces its wines from a single variety, Sauvignon Blanc.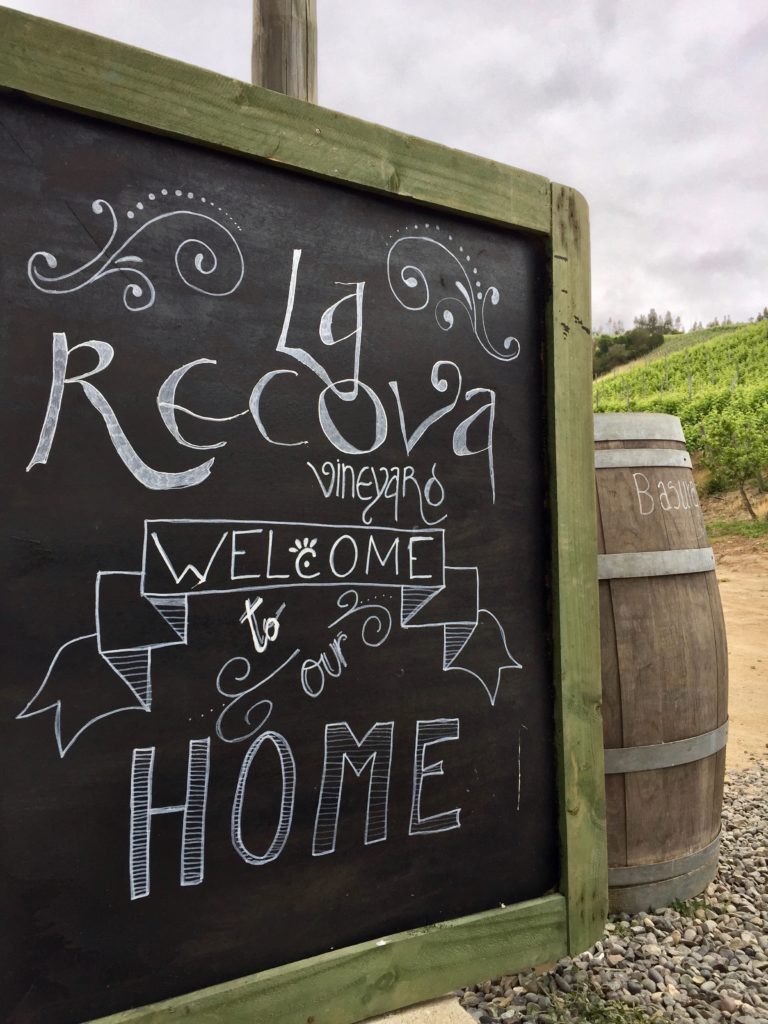 We were woefully underdressed for the chilly temperatures (except for Clare, who kept pulling layers of clothing out of her bag like Mary Poppins). Nevertheless, we kicked off our tour outside with a glass of rosé, made from La Recova's Sauvignon Blanc grapes mixed with Syrah skins. Overlooking hectares of vines that crawled down the hillside and back up surrounding slopes, we learned about the vineyard and its unique wine from a friendly and patient guide named George.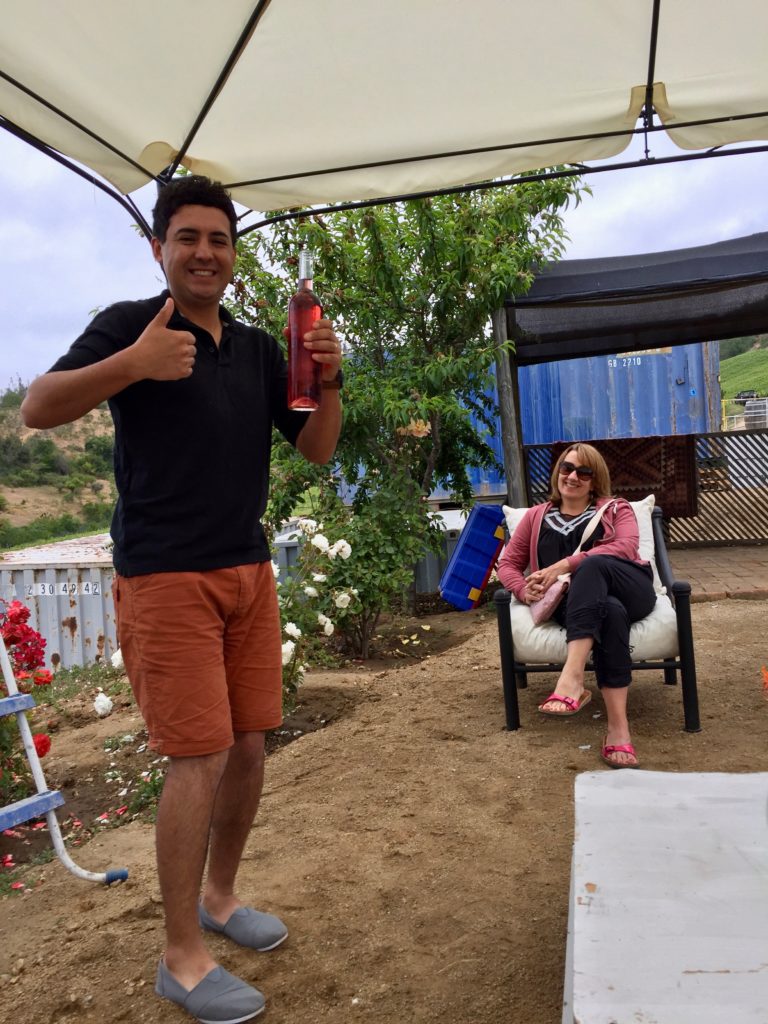 Fat fragrant roses framed the scene, perfectly matched to the wine (and my cardigan).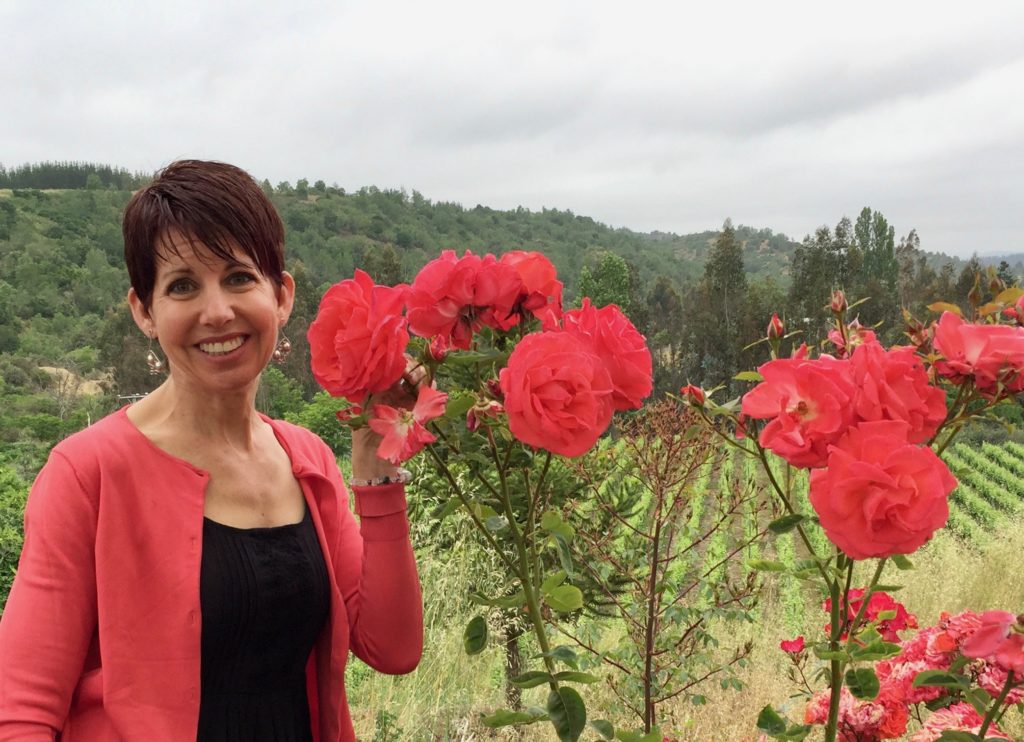 George led us into the rows of grape vines, where he showed us some Sauvignon Blanc baby grapes.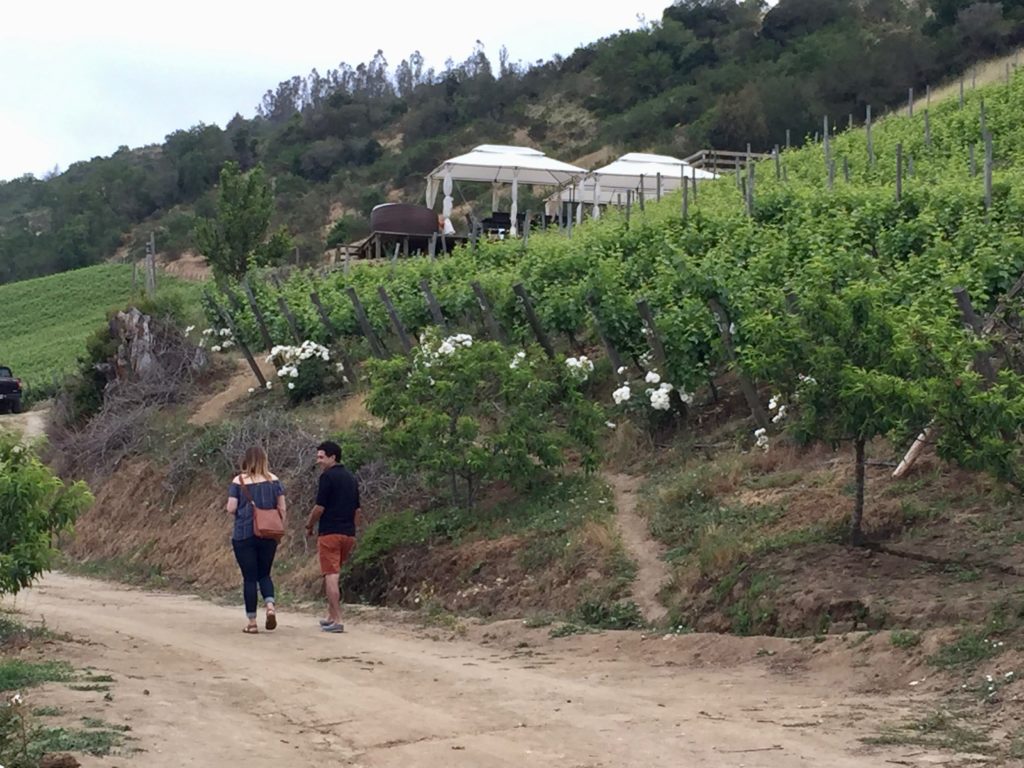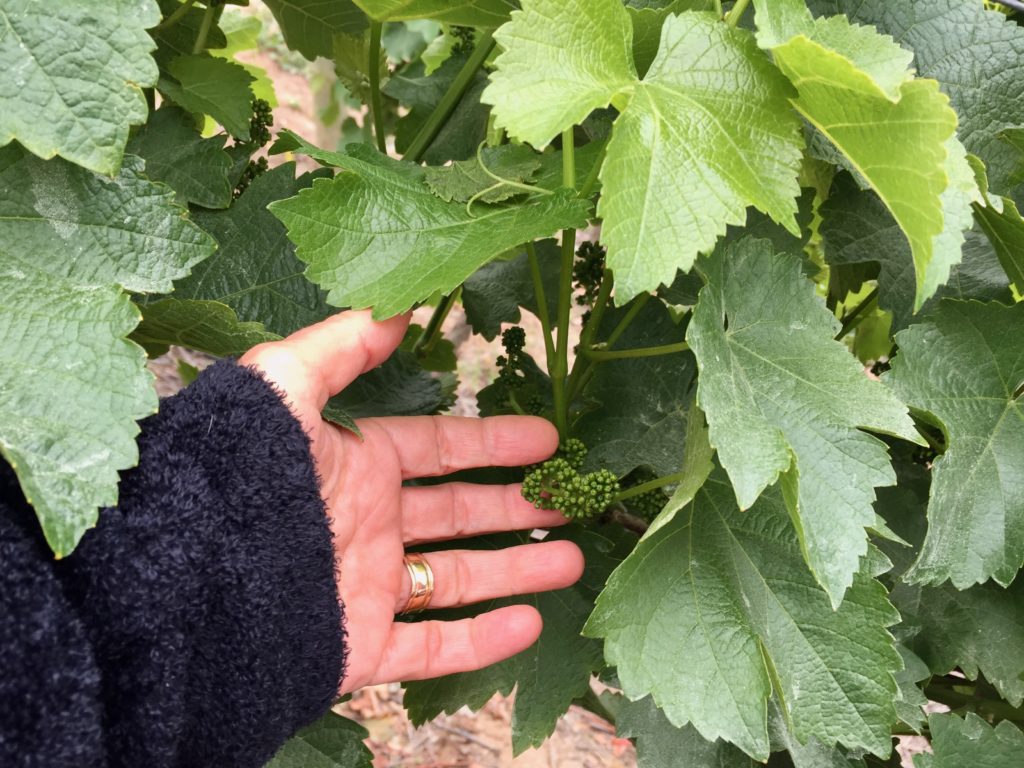 From there, we walked to the roof of a small building, where grapes are fed into tanks below. George lifted a cover so we could see the cloudy soup that would eventually become wine. On ground level, he let us each tap the tank to try a sample.

By then, we were all a bit tipsy and getting peckish. Fortunately, it was time for lunch! We climbed the steps to a hilltop terrace, where we were greeted by Chef Ivan Parra and his assistant, Fernanda. We sat at a table with more cutlery than I knew how to use, and George rustled up some blankets for us. I wish I had done a better job of recording what we ate and drank.
We started with bread and pebre, a typical Chilean salsa. Chef Ivan also brought out a pebre made with a popular kind of seaweed. I think we drank Sauvignon Blanc with that course. Next, we had this … I have no idea what they were, other than tasty chunks of meat. It's possible we drank one of the two varieties of rosé at that time.

The next course was … hmmm, I think it was a twist on ceviche with a quinoa cake, plus a different rosé, if memory serves.

A gourmet version of the Chilean chorillana came next, paired with the winery's Merlot-Cabernet Sauvignon blend.

Finally, a lovely maracuya sherbet satisfied our sweet tooth … with more wine, of course.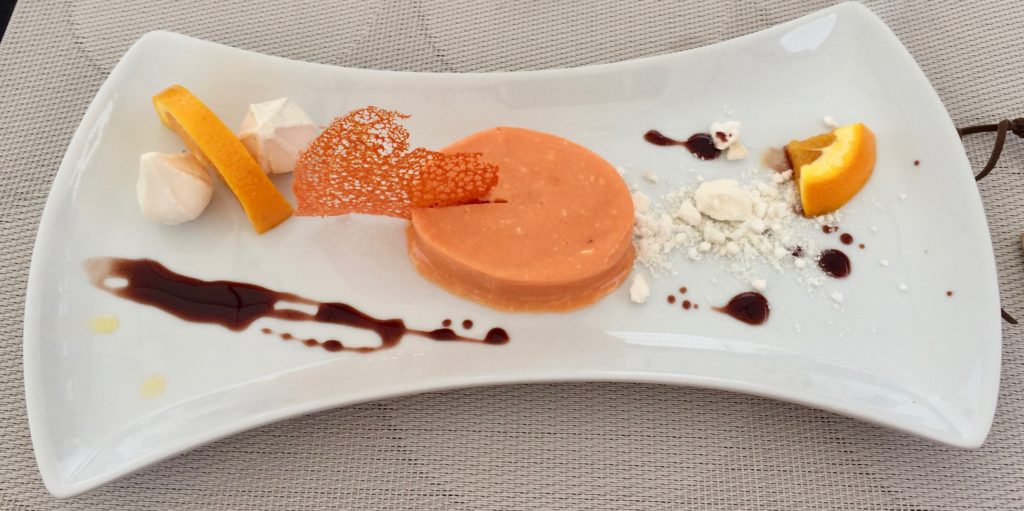 La Recova was the perfect place to recharge our batteries. I look forward to another visit, and I'll dress appropriately next time!