Chile burst into celebration this week with Fiestas Patrias – commonly known as Dieciocho, a catch-all name for two important dates: Chile's independence day on September 18, and Armed Forces Day on September 19. Chile's actual independence from Spain occurred on Feb. 12, 1818, but Dieciocho recognizes the town meeting that led to Chile's first governing body in 1810.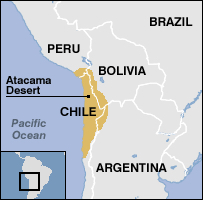 For the week-long Dieciocho holiday, we headed north to explore the Atacama Desert, a 600-mile-long stretch of land sandwiched between the Pacific Ocean and the Andes Mountains. The desert bleeds across Chile's borders into Peru, Bolivia, and Argentina. Tony and I flew to San Pedro de Atacama, along with our friends and fellow Nido teachers, Craig and Nancy, and Nancy's fiancé Jim, who traveled to Chile from England.
San Pedro de Atacama, a small town comprising dirt roads lined with squat adobe buildings, served as our jumping off point. We joined a surprising number of tourists strolling through the warren of restaurants, souvenir shops, and travel agencies, pausing in the town square to snap a few photos of the church, and popping in to the crafts market.
The 5,916-meter Licancábur volcano watches over San Pedro.

Poking around the shops.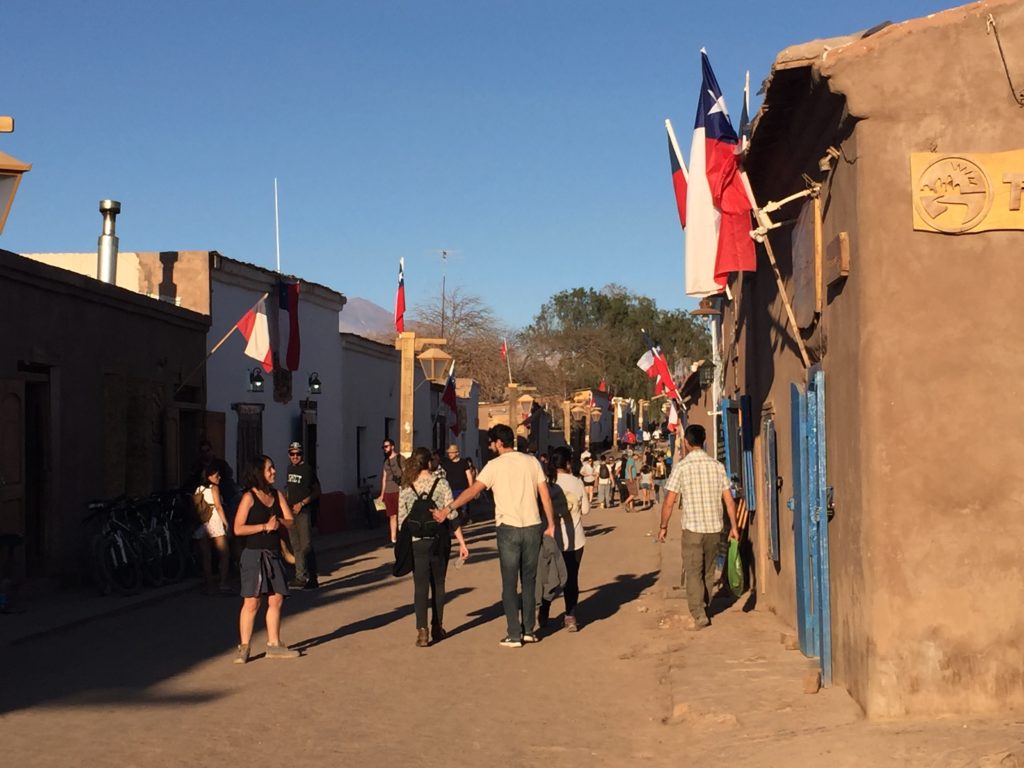 When we stepped off the plane in San Pedro, we had gone from an elevation of 520 meters in Santiago to 2,408 meters. The impact was subtle. We all reported feeling out of breath if we tried to walk too fast, and some of us experienced short bouts of nausea.
We stayed at Parina Atacama, a small hotel off the beaten path, in part because we thought it would be quieter than staying in the middle of town. It was not. San Pedro's Dieciocho fonda was in a field right around the corner. A typical fonda features dancing the cueca, playing traditional games, eating asado (barbecue), drinking terremotos (pipeño wine with pineapple ice cream) and lots of loud music all night long. (One morning, we were waiting on the corner for our tour bus at 7 a.m., and several people came stumbling down the street from the fonda.)

Anyway, the hotel had comfy beds, hot showers, and a big terrace where we could all hang out, so no complaints.
In San Pedro de Atacama itself, I really only wanted to check out two sites: the renowned archaeological museum and the little church in the central plaza.
The Museo Gustavo le Paige was named for a Belgian priest who arrived in San Pedro in the 1950s and amassed a significant collection of ancient artifacts. Unfortunately, a walled-off construction site is all that remains of the museum. According to a notice posted by the Universidad Católica del Norte, the museum structure had deteriorated to the point that the collection was in danger. The items were moved to safer temporary storage, starting in 2014, and the museum was razed with plans to build a new, more modern facility. However, the project has been stalled for some reason.
At least we got to visit the church. According to Lonely Planet, the Iglesia San Pedro "was built with indigenous or artisanal materials – chunky adobe walls and roof, a ceiling made from cardón (cactus wood) resembling shriveled tire tracks and, in lieu of nails, hefty leather straps. The church dates from the 17th century, though its present walls were built in 1745, and the bell tower was added in 1890."
We booked a four-day tour with Sol Atacama Expediciones to see the region's highlights. Were we even still in Chile? It felt like another planet! Stay tuned …