Our Atacama adventure continued on Tuesday with a full-day of high-altitude happiness. Craig opted out, but the rest of us piled into a van with a few other tourists at the crack of dawn for the journey up to 4,400 meters (14,435 feet).
Our driver, whose name I have regrettably forgotten, was extremely enthusiastic and knowledgable, and he spoke clearly and slowly so I could understand quite a bit of his Spanish. Good thing because the guy who tagged along as our English interpreter was sweet and friendly but unfortunately didn't actually speak English. For example, here's the explanation of how the salt lagoons formed:

At one point, we pulled off the road for a photo shoot. I ate some Altiplana snow; couldn't resist. God only knows how long it had been there.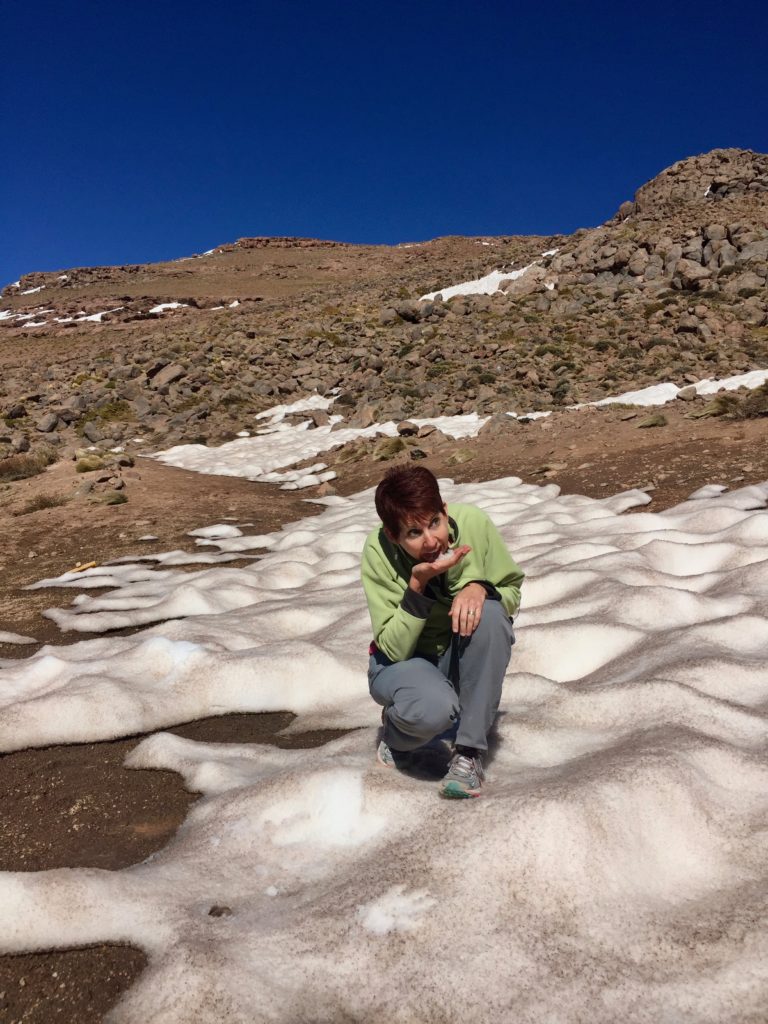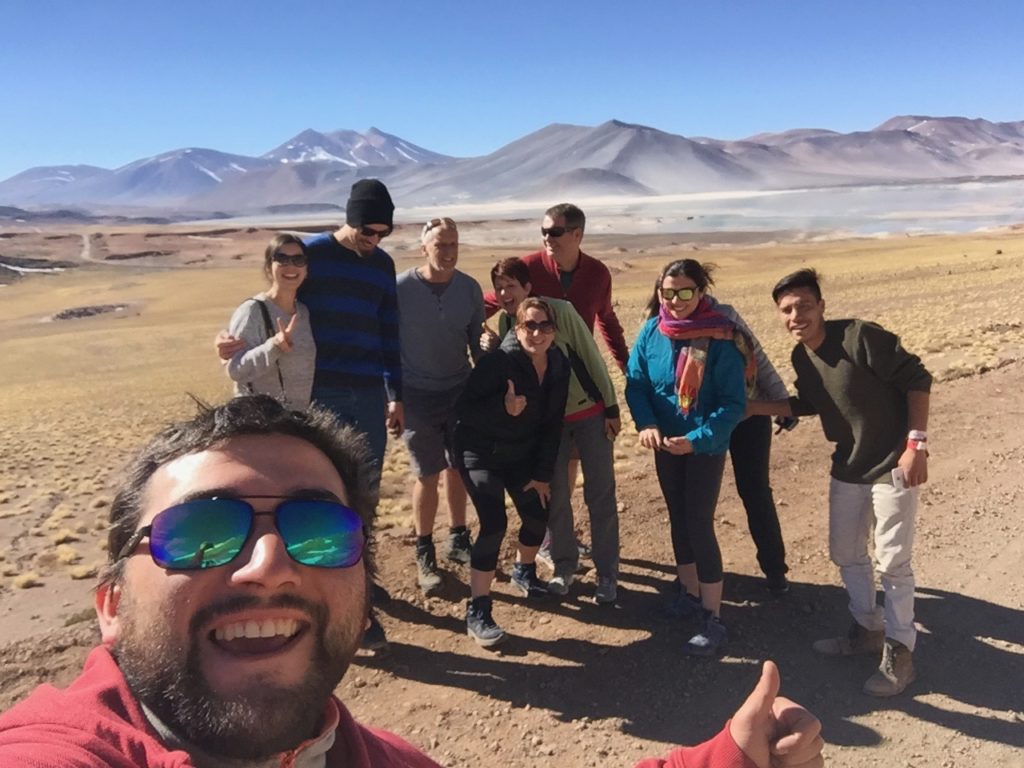 The driver pointed out vicuñas as we bounced along the mountain roads. I can't tell a llama from a guanaco; they are all adorable. Vicuñas are protected in Chile, but poachers herd them across the border to Bolivia, where it's legal to kill them for their meat and wool.

At our first destination, Piedras Rojas – or Red Rocks, we strolled around the smooth-sculpted terracotta-colored rocks and marveled at the snow-capped Aguas Calientes volcano reflected in the glassy aquamarine lagoon.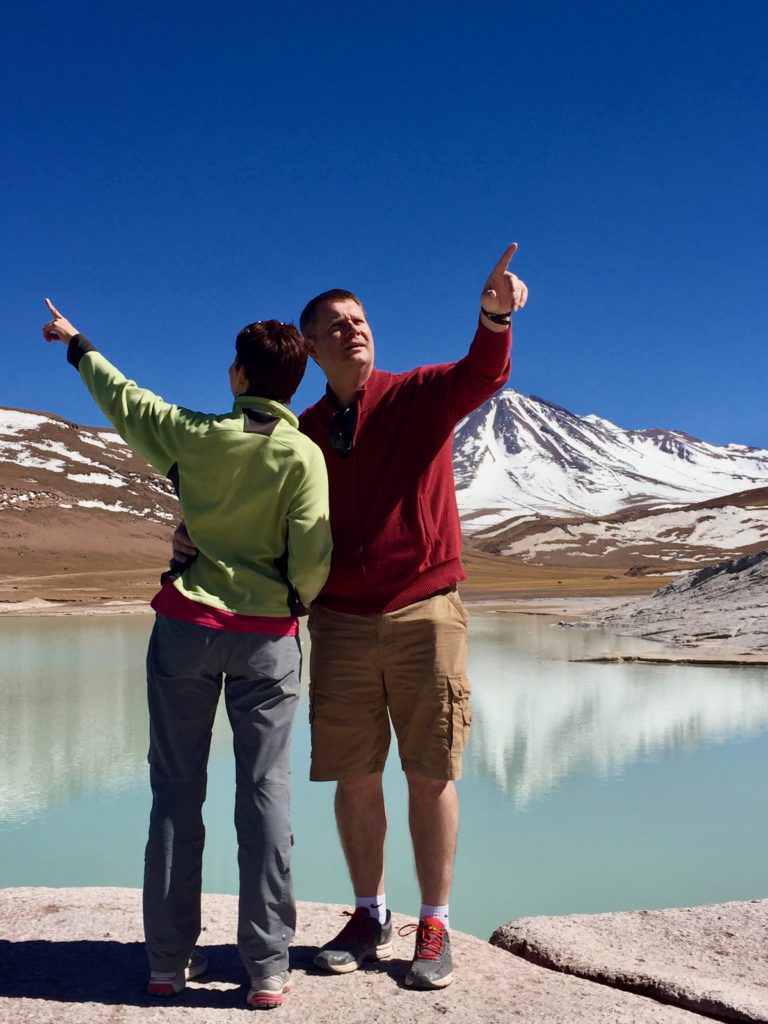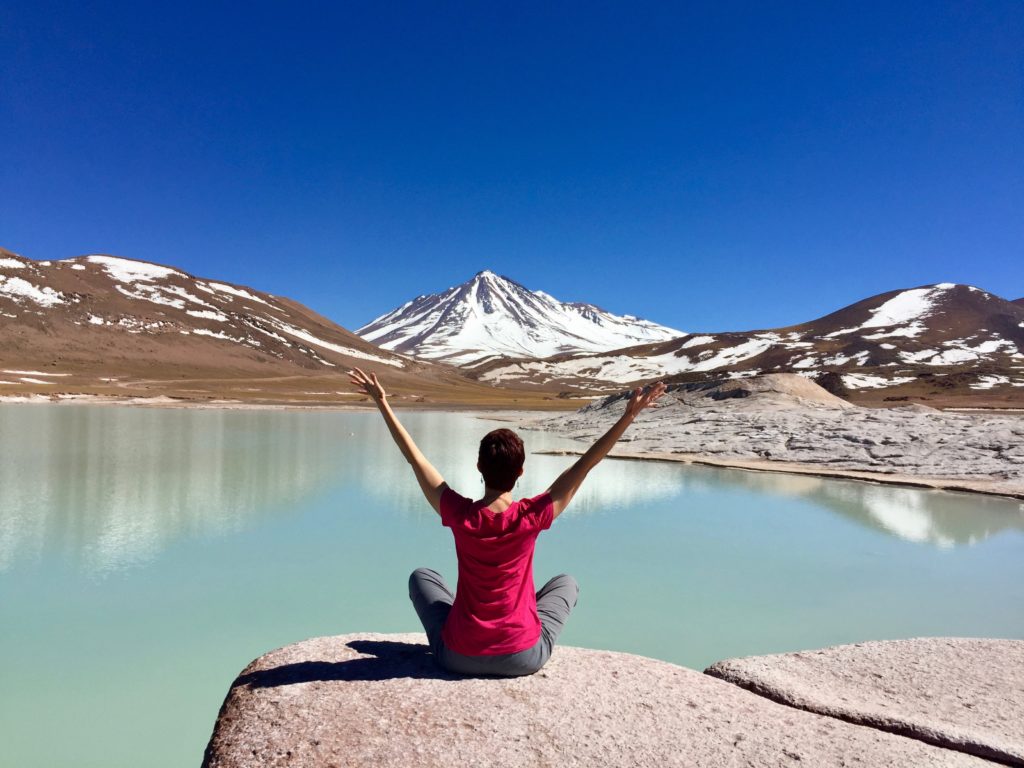 From there, we drove to a small village and crowded into a tiny restaurant (or someone's home?) patriotically decked out for Dieciocho.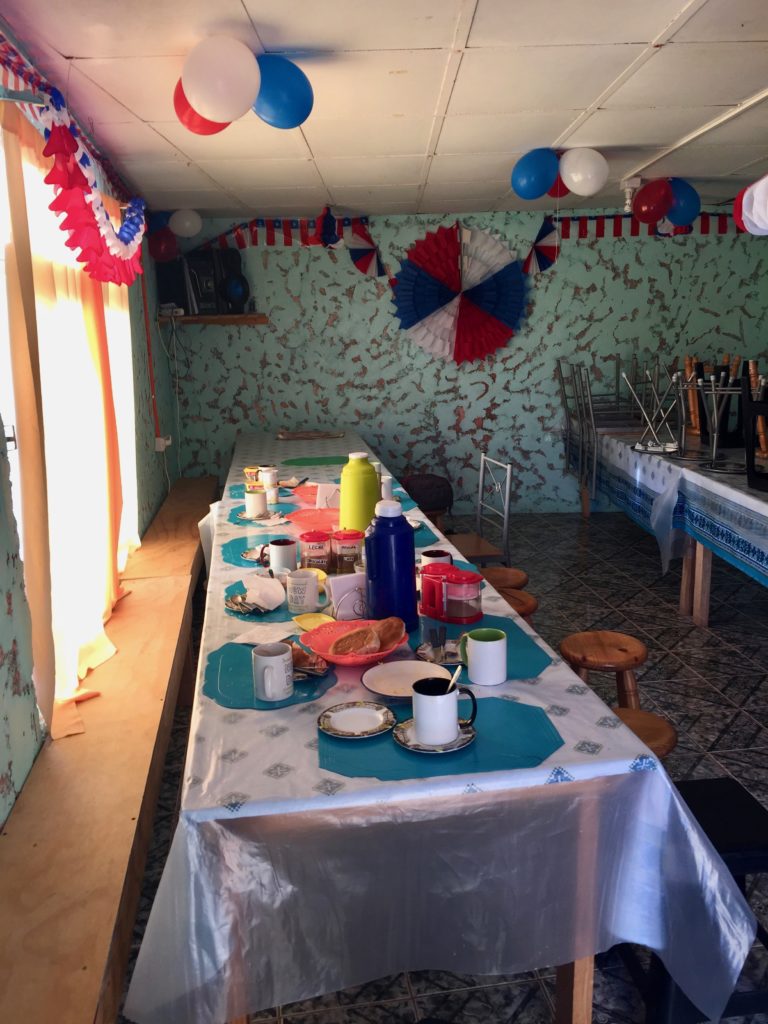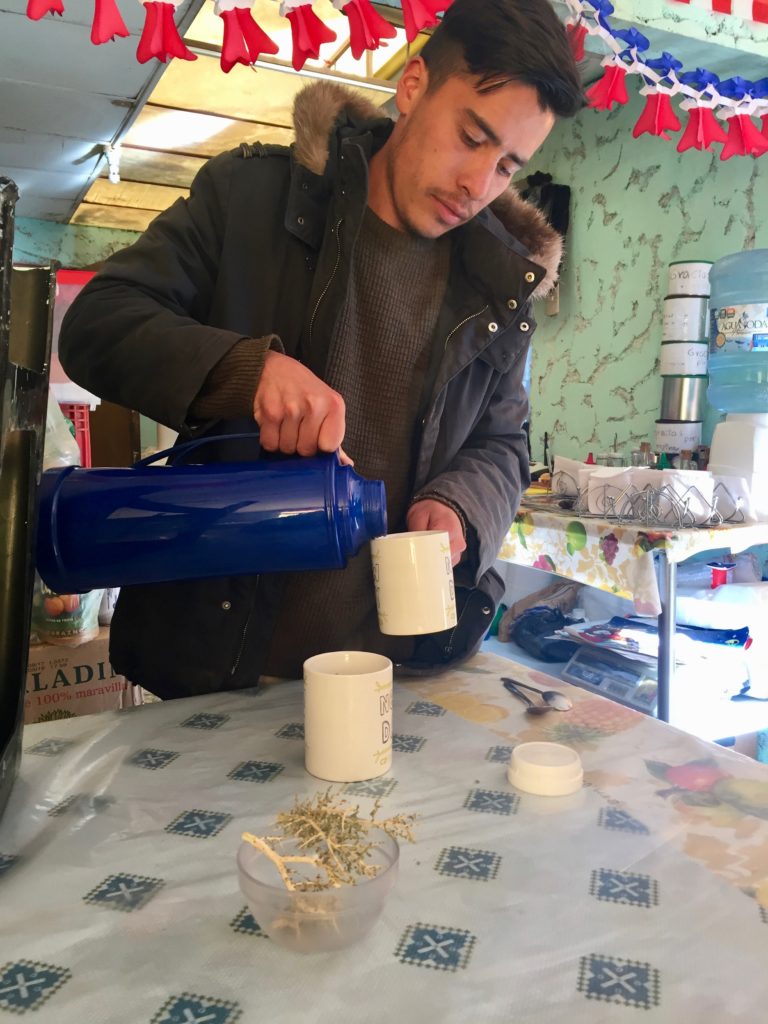 Sitting in plastic chairs, we clasped our mugs of steaming instant coffee while smiling ladies served up toast and scrambled eggs. The driver sat next to me, and I used all my Spanish to have a good chat with him. He introduced me to rica rica, a thorny shrub that grows in high altitude. Considered a medicinal herb, it can help with altitude sickness, cure tummy aches, strengthen your circulatory system, and provide many other health benefits, the driver told me.
I tried the rica rica tea at breakfast and found it very soothing. Back in San Pedro, I sampled some refreshing rica rica ice cream and even bought a branch of rica rica at the market (although I ultimately gave up on packing it to take home).
After breakfast, we hit the road again. We visited two more lagoons: Miscanti and Meñiques. Each lagoon sits at the foot of its namesake volcano, and together they cover almost 11,000 hectares. They are fed by an underground water supply and serve as breeding and nesting sites for many highland birds.
One more quick roadside photo shoot before heading back to the village for lunch…
Jim's awesome shot.

Lunch was soup, followed by a meat dish. When Nancy asked what the options were, our "interpreter" explained that she could have "meat or kitchen."
Nancy: You mean chicken?
Interpreter: Yes, kitchen.
Nancy: You're saying "kitchen," but you mean "chicken," right?
Interpreter: Yes, kitchen.
We were dying. And this placemat didn't do much to stifle our hysteria.

After lunch, we walked outside, and I looked up at the mountains. "Is that salt or snow up there?" I asked.
Interpreter: (quizzical look)
Me: Esta sal o nieve?
Interpreter: Nieve.
Me: Snow? But it's so dry here.
Interpreter: Invierno …
Me: Winter?
Interpreter: Si, winter… before, no … after, no … because, no … verano …
Me: Summer?
Interpreter: Si.
Me: Ohhhhh…
Although most of our day had been spent exploring areas encompassed by the Reserva Nacional Los Flamencos, our next stop – the Laguna Chaxa Visitor Center in the Soncor Sector – put us face to face with those gorgeous pink birds.
The Convention on Wetlands, called the Ramsar Convention, is an intergovernmental treaty that provides the framework for national action and international cooperation for the conservation and wise use of wetlands and their resources. The Soncor Hydrological System is a Ramsar site that promotes the rational use of wetlands, primarily as a habitat for migratory aquatic birds. According to Ramsar, "Located in the catchment area of Salar de Atacama, this site is characteristic for presenting a crust of different types of salts, mainly chlorides and sulphates. There is also a hydrological system conformed by a series of superficial channels and lagoons, that together constitute a perfect habitat for waterfowl, many of which are endangered such as the three High Andean flamingo species …"
Here are the three flamingo species found at Laguna Chaxa (from the website BioExpedition). I'm newly obsessed. I started to post an obscene amount of information about flamingos, but you can click the links to read more about them.
The Visitor Center offers an interpretive trail through the bizarre crunchy crusty salt flat, which includes four lagoons full of life forms adapted to highly saline conditions. The micro-algae, brine shrimp, copepods, and daphnias serve as food for flamingos and other water birds. The pigmented algae is believed to be the source of flamingos' rosy hue.
On our way back to San Pedro, we stopped at the village of Toconao, mostly so everyone could get some ice cream. The traditional Andean town is known for its houses constructed from a light-colored volcanic stone called liparita. The church, Iglesia de San Lucas, and its separate bell tower date from 1750.

Whew! That was a long, incredible day! Off to bed to dream about flamingos and salt.